"Project Clubsport" a '97 2.5 build

04-18-2014, 07:02 AM

---
Yeah, lots of small things do tend to add up. As I mentioned earlier, I'm now at 2700 lbs. I bet my car was 3100 stock.
Here's a list of the big items:
Stock muffler swapped for Borla
Cat less headers
Top, transmissions, motor, and hardware gone
Full power seats swapped for fiberglass shells
Rear spoiler and motor gone
Fiberglass trunk lid w/ aluminum pins
CF hood w/ aluminum pins
A/C and condensers and lines gone
Washer reservoir gone
All carpet and sound deadening gone
Battery swapped for smaller model; battery tray swapped for acrylic sheet
Radio and amp swapped for small amp& iPhone
Carrera LW wheels/ Nitto tires
LW flywheel

If I get a trailer, I'll ditch the door windows and motors, wipers and motor, and go with a Lexan windshield. I've seen spec Boxsters at 2500#, and that's my goal

04-30-2014, 03:40 PM

---
I'll have some more updates soon, but for now just a question.

Does anyone know the minimum Cold Cranking Amps needed to start a 2.5 flat-six in about 60 degree weather? I'm looking at a super lightweight battery (less than a pound), but it has super low CCAs.

If anyone could tell me, that'd be super helpful.

Thanks,

Brad

05-05-2014, 04:39 PM

---
do you mind using a battery tender, or can you go without? if you do NOT want to use one, get the deka ETX30L (20.7LB). if you don't mind using a battery tender, you can use the ETX14L (12.0LB).

deka makes braille batteries. same core, different case, 1/5 the price.

05-07-2014, 01:41 PM

---
Last night was a night of progress. I'm getting pretty good at removing the center console and putting it back in.
First, I started with the short shift kit installation.
Step 1 - Remove center console
Step 2 - Mark the spot where the cables exit the shifter assembly. Detach cables.
Step 3 - Remove shifter base and install short shift components.
I was lucky in that the used Agency Power shifter I purchased was already installed in a good OEM base.
For 250 dollars, I got
this piece
, and
this piece
, already mounted in the factory housing. Plus, I didn't have to pay shipping, tax, or have to wait for it to arrive, and I didn't have to install the shifter components in the base.
Luckily, I was driving through the bay area on my way to Laguna Seca last weekend, so Saturday morning, I picked it up from Spyder_Man! Nice guy, great price, pretty good product! And people say Porsche guys are jerks...
Step 4 - Reinstall cables
https://fbcdn-sphotos-a-a.akamaihd.n...66913980_n.jpg
Step 5 - Admire the shiny bits before you cover them back up with the center console.
The shifter, after a short drive to work this morning, is fantastic. The shifts are much shorter, and the engagement is much more positive. Where the old shifter could just flop into gear, the new one feels "chunkier" if that can be described as a good thing. It feels almost like a gated shifter now, and I like it. It'll be interesting to give the thing a workout in the mountains this weekend.
While the center console was out, I picked up a few of these buggers.
And some of these.
In an effort to clean up my audio install from last month, I shortened some of the cables, soldered in a stronger USB outlet with space for 2 cables, and rerouted some wires around the shifter base.
I was using an aging Moto Droid 4, and recently upgraded to a new Samsung Galaxy S5. The problem is that the Droid used a micro-USB charger, and the S5 uses a USB 3.0 charger. The significant-other's new phone still uses micro-USB, though, so I had to keep that ability.
I also picked up a micro-USB to Apple 30 pin so that I can charge my old ipod.

05-13-2014, 02:59 PM

---
Not much to add. I installed a decal from Blipshift last night!
And my 2 pound battery arrived from Amazon today. I'll see if I can't get that installed in the next couple of days. It'll be nice to have all of that weight off the front of the car.

05-14-2014, 12:35 PM

05-15-2014, 04:13 PM

---
Took the old battery out.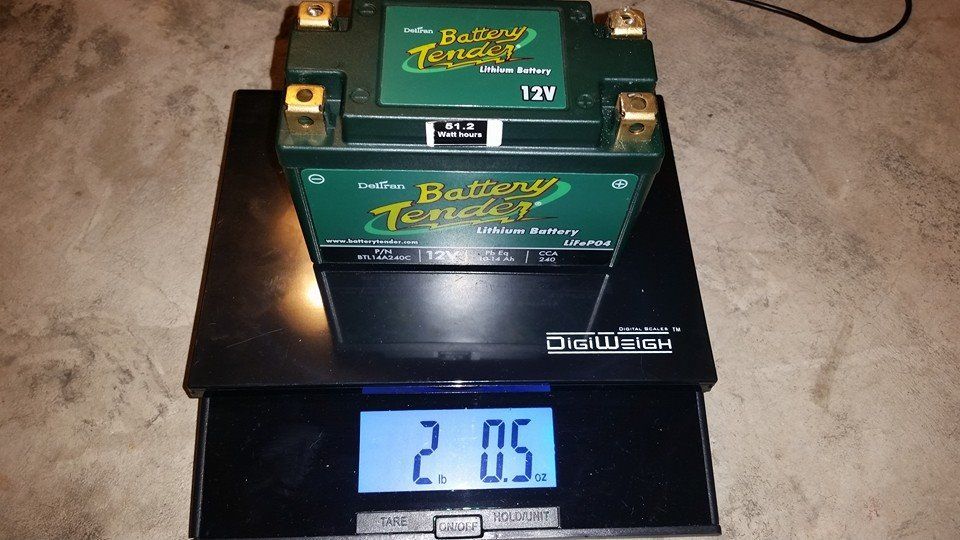 Popped the new battery in.
Starts the car without issue. Charges without issue. Saves 37 pounds.
Not bad, IMHO.
Final install pictures will be loaded later tonight.
---
Last edited by Turb-OH Brad; 05-16-2014 at

02:05 PM

.

05-16-2014, 05:25 PM

---
I don't foresee any issues, but I will certainly keep you all apprised of the situation.
LiFe batteries have been used in motorcycle applications for a couple of years now (that's what this battery was intended for). I haven't seen anyone complaining that they don't work, or have diminished battery life over longer periods of time. LiFe is pretty stable, and with this brand's integral cell-balancer, it should have a very long use life.
So far, the only downside I see is that they aren't recommended for use under 15 degrees F. I still have my old battery, so if it gets too cold to use this battery, I can quickly swap it out for the old lead-acid.
The battery cells will naturally warm themselves during discharge, so supposedly if you turn the key on for a minute before cranking the engine, the battery will still provide enough juice. I guess we'll see come November...

05-16-2014, 05:28 PM

---

http://www.amazon.com/Battery-Tender-BTL14A240C-Lithium-Phosphate/dp/B00F9LPJ8S
Here's a link to the battery I used. If you want some added peace of mind, you can probably use the slightly heavier (and slightly more expensive) 300, 360, or 480 cold crank amp versions also available on Amazon.

05-21-2014, 02:23 PM

---
Hey Brad,
I'm just getting caught up to speed on your 986 CS project. Great work so far! I hope the SSK treats you well for many thousands of miles ahead. Let me know when you're ready for my OEM Aerokit 1 wing.

I definitely still have a soft spot for the 986. Don't tell the boys over in the air-cooled forums, but I'd be damn tempted to sell my '95 993 and return to the water-cooled world for this beautiful custom 986 Spyder. (I was tempted back when it had its 2.7L engine. Now with a 3.6L inside...)
Perhaps you can get some inspiration from this build. I'd still like to see someone come up with some good CS/RS-style door panels for the 9X6 models.

05-21-2014, 02:30 PM

---
Hey, thanks!

That shifter works great, by the way. I love the chunky feel to it, for sure!

An RS style door panel would be fantastic, and I'm crazy enough that I might just try to make it work. If I can figure out a way to adapt a manual window-winder, I might do that, too. Haven't taken the door panels off to investigate yet, but I'm taking the door speakers out this weekend, so I'll have a look under the skin to see what is in there that doesn't need to be!

05-21-2014, 02:40 PM

---
Forgot to update with these minor changes -
Factory amp removed - 2 pounds 8 ounces
Tool roll removed - 2 pounds 4 ounces
Owner's manual removed - 2 pounds
Various hardware - 9 ounces
Spare tire and tools removal - 29 pounds 9 ounces
(no picture)
Total weight removed last weekend - 36.875 pounds
Add in the weight removed from the battery swap, and the center console/radio delete, it's already down over 80 pounds!
The driver is down about 30 pounds, so together the ensemble is 110 pounds lighter!