Want info on cat bypass pipes for a 98

07-20-2011, 03:14 PM

Want info on cat bypass pipes for a 98
---
I have an all stock car except for the B&B muffler I had installed years ago. I'd like more sound! In my limited research, it sounds like secondary cat bypass pipes may do what I need without throwing a code/ck engine light. Do they make it louder?? Any ideas where to get them from for a reasonable price? I have a 1998. Fabspeed has them for $495 (expensive), don't really want to spend that much on 2 simple pipes. Their site says for 97-2004, but then again says 2000-2004 later in their description. 1 other site says thiers needs their headers in order to fit the 97-99 years. Anybody know of any that may directly fit my factory header setup and B&B aftermarket exhaust? Any ideas would be appreciated.

07-24-2011, 08:21 PM

---
You will get a CEL with cat delete. You should buy some of the cheap headers on eBay, you can get a set for $50 plus shipping, installed for less than $100! The Boxster has crappy designed headers, and the new ones will make a better sound. Probably not much HP gain, but better sound!

07-25-2011, 02:45 PM

---
Yea, I see them for about 100. Wow, price sounds too good to be true. Do different headers really make the car sound louder?

07-25-2011, 04:20 PM

---
I had these made up for my 98 Boxster as well as some of our customer cars. I use them for tracks with sound restrictions and we cant use our straight pipes. I run theses pipes into a B&B muffler and stock headers.
Some of the later Boxsters had primary and secondary cats, our '98's only have one set. If you remove them, you will get a CEL without modifying your DME code or something. Removing the cats will increase the sound level, but it's REALLY tame compared to my straight pipes that I'm used to. I think I get readings from 88-90db at the race track with the cat bypass and B&B combo. Straight pipes are well over 100...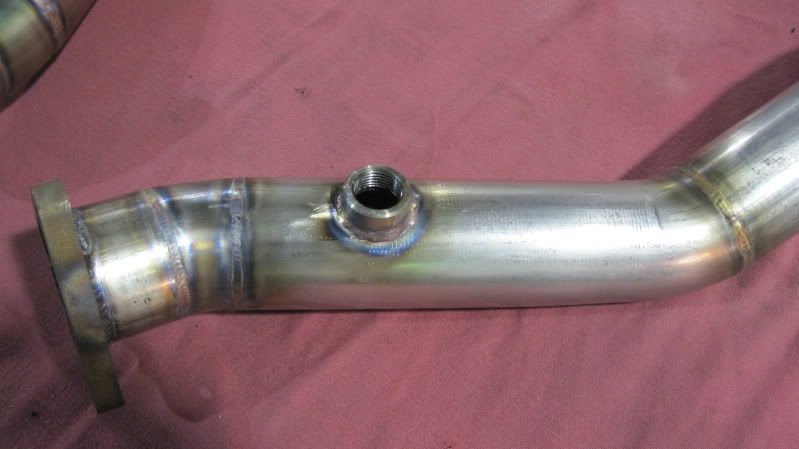 07-25-2011, 04:25 PM
User
Join Date: Jun 2010
Posts: 8

Muffler mod
---
I didnt want to go to all of that trouble to make our 98 stock 986 sound a bit better so we had the factory original muffler removed and a local custom exhaust shop cut the top off and gutted the inside baffles and then rewelded the top back....not much HP gain but you now hear the car before you see the car...and there is not much of the tell tale drone....it does become a bit droney at the 2700 to 2900 RPM range but the quickly smooths out.
Also no CEL or thrown codes and it passes PA inspection every year.


04-06-2012, 03:18 PM
User
Join Date: Sep 2010
Posts: 12

---
Thanks for sharing those pics, and your experience with the stock muffler and bypass pipes.

I am ready to change or replace my factory muffler on my 986S too. It is far too quiet! Would it be easier to replace the heavy, stock unit with an aftermarket muffler such as Borla or Dynomax? Does anyone have experience with this modification?
Thread
Thread Starter
Forum
Replies
Last Post
924/931/944/951/968 Forum

Posting Rules
You may not post new threads
You may not post replies
You may not post attachments
You may not edit your posts
---
HTML code is Off
---