Alcantara Horror - Rant & Guidance Needed

07-11-2019, 11:37 AM
Addict
Rennlist Member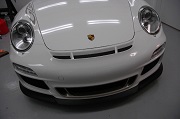 ---
I love alcantara! Both of my setups are fairly worn but I don't have issues with the material on my seats, steering wheel, or shifter.
I just paid a local upholstery shop to re-do my all leather GT2 carbon bucket seat cushions in alcantara! I love the stuff.


07-11-2019, 02:13 PM
Addict
Rennlist Member
Join Date: Apr 2010
Location: Bay Area, California
Posts: 211
Likes: 0
Received 0 Likes on 0 Posts

---
Wow. No one I've ever met (on any continent) has liked the Alcantara on Porsche's. I stand corrected. Apparently there are many who do like it!

The issue isn't cleaning (although I could clean the C4GTS), I don't like the feel or look, on the track or off it. My takeaway is that no one here has done a leather wheel swap (not wrap), and has a list of 997/987 steering wheels that are compatible with the GT2.

07-12-2019, 12:28 AM
Super User

07-16-2019, 03:21 PM
User
Join Date: Jul 2019
Posts: 12
Received 0 Likes on 0 Posts

---
I agree. I like it sparingly.

Those that are saying the steeringwheels get shiny... umm... take the lotion off your hands before you drive.


I can't stand 100% alcantara interiors. Some ferrari guys have done this and it just looks like cheap velour. Its hideous.... especailly in tan... BLECH.... looks awful

Im not sure why this fake suede thing ever became a thing.

07-18-2019, 11:59 AM

---
Some of the Ferrari guys have to option leather. Since I bought my Challenge Stradale alcantara has been the default on the special V8s. If you want to slide around like you're on ice get leather. If you want resale value to tank get leather and if you want to change the oem designers vision for the car then get leather. I for one believe a) screw resale and 2) absolutely get what you want. However just my market experience. And c'mon alcantara is not fake suede. Imagine how gnarly sweaty gross suede would be in a hot auto interior. Alcantara is nothing more than one of the dozens of materials used in your interior. My approach to this issue. I've gone from the defroster vents to the rear shelf and replaced parts with the specific option I prefer. Two materials I hate are 997 black plastic and volcano grey. If you have a vision for your interior you can build it piece by piece with all OEM pieces. I replaced all the volcano grey in my .1 and almost all the plastic with alcantara or leather. JBO PS Ferrari enthusiasts used to call it "mouse fur" when a similar material was used on dash components. For example the mouse fur on my F40 is perfect. Hilarious.

07-18-2019, 08:16 PM
Addict
Rennlist Member
Join Date: Aug 2011
Location: Santa Monica, CA
Posts: 229
Likes: 0

Mouse Fur
---
Is dreadful on steering wheel and shift **** IMHO. At least on the 997.2 you can upgrade to leather wheel from 991.1. I loved the thicker wheel rim and easy care nature of leather. Also, blacked out the garish gold P emblem.
As for shifter, there is a 997 part in black leather. I had the chrome do-dad on the front facing surface covered in leather so the only chrome remaining was the shift pattern cap. Loved every minute of it.
Left the parking brake alone as it wasn't worth the effort (and still matched the seats).
---
Last edited by Matrog; 07-18-2019 at

10:20 PM

.

07-19-2019, 11:52 AM
User
Join Date: Nov 2010
Posts: 95
Likes: 0
Received 0 Likes on 0 Posts

---
I have a scud, owned for 8 years and put 13,000 miles on it and a GT3 for 5 years. The scud has a full leather interior, it was a more expensive option than the alcantara. I have not had any experience of sliding around in the seats, no different than the alcantara in my GT3. The car is now 11 years old and when you open the doors it still has the wonderful leather fragrance, It has required only a light rub down with a damp cloth, no wear. It is also beautiful to look at, red and black leather with contrasting stitching. For many of you GT3 owners that want to experince a F car this is a great value, low maintenance and a exciting drive.

07-19-2019, 12:10 PM

---
I have no experience with the Scud. I couldn't get past the aesthetics. Maybe the seats are different. However I had several friends with Stradales and I know the broker who literally bought and and sold more of them than anyone. He wouldn't buy them with leather. The seats looked great but they were useless. Like I said it was like sitting on ice. Another funny experience. I was at Concourso standing next to a spectator who looked inside my car saw the leather and said " hey this guy built a fake Stradale. The interior and the stripe were the defining features of that car and mine didn't have them. Hurt resale bad. BTW my F40 had leather on the steering only. JBO