So... a Turbo S wasn't good enough for you?

05-24-2019, 09:29 AM
User

So... a Turbo S wasn't good enough for you?
---
Seriously though - what were your motivations to making the leap to a GT3 or GT2 ?

What did you drive before and why was it not enough ?

Do you track ?

How do you typically use the car ?

Miles per year ?

Do you have other 911s for 'normal' drives ?

Thanks - Signed,

GT Curious in Dallas


05-24-2019, 10:32 AM
Quit Smokin'
Rennlist Member
Join Date: Dec 2003
Location: Columbus, Ohio
Posts: 2,025
Likes: 0

---
I spend my free time doing autocross events and a small number of track days. I got tired of maintaining old inexpensive track cars that were not incredibly reliable. I've had a 3.6 swapped torsion bar 911 for a long time that is a blast to autocross, but there's no class for it. The GT3 is basically the more modern equivalent of my 3.6 swapped aircooled car, but it *does have a competition class.

My advice would be to buy one for a year and see how you like it. I would never want a softer 911 even for street driving. If you keep it for 12 months and decide it's not for you, it can always be sold for a relatively small amount of depreciation.

05-24-2019, 10:58 AM

---
No track driving here. I went from a 996TT to the GT3 platform. The turbo was great on the highway but around town and on drives etc it was soft unless really pushing it.

If I wanted a 911 to DD the 996/997TT would be at the top of my list, but for a fun car the GT cars hit the mark for me.

05-24-2019, 03:53 PM
User
Join Date: Feb 2007
Posts: 50
Likes: 0

---
50/50 street/auto-x here.

To keep it short, I love the unforgiving nature of the GT3 and the sensation (both sound and response) of the engine. Plus, the dudes in GTs seem cooler than dudes in Turbos.. from what I've met.

I will however, gladly take a 964 Turbo ... how can you say no to that tray table on the back?

05-24-2019, 08:44 PM
Addict
Rennlist Member
Join Date: Jul 2012
Posts: 834
Received 0 Likes on 0 Posts

---
Bought a new 991.2 GTS 7 Speed manual. After doing full bolt ons realized it was too refined for me. Sold it and bought a car 10 years older and 20,000 more miles and couldn't be happier (997.1 GT3 Sharkwerks 3.9 stroker, full track suspension, brakes, ect).

I know frequent my local track often.

05-24-2019, 11:45 PM
Addict
Rennlist Member

05-25-2019, 09:03 PM
Addict
Rennlist Member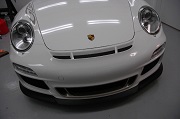 ---
The Turbo models are fairly soft compared to the GT cars, at least on the 996 and 997 era cars that I'm familiar with. I assume that is still somewhat the case on the 991 and beyond too.

I had a 2001 996TT before my 2010 GT3 RS and really didn't miss the 996TT that much. Years later I added another 2002 996TT but just recently sold it and another car for a 2008 997 GT2. You can say I prefer GT series cars for sure, and I prefer mine to be rare ones. I'd say the only thing you may miss will be the prodigious and easy torque curve, but once you learn to drive less 'lazy' it isn't a big deal at all. GT3s set your senses on fire in ways that are hard to describe, but the sound and immediacy of responses have a LOT to do with it. Best wishes!

05-25-2019, 11:55 PM
Addict
Rennlist Member
Join Date: Feb 2016
Location: Triangle Area, NC
Posts: 127
Likes: 0

---
My last car before the 997.2 GT3 was a 2003 996 Turbo X50. It had a tune and exhaust and packed a much bigger torque punch in the midrange.

What sold me on the GT3 over the Turbo was handling. The GT3 feels so tight in the way it responds to inputs and how it handles body motions. You don't need to push beyond even 6/10ths to know that this is a very serious car. I spent a lot of time putting together and tuning the set of suspension upgrades for my 996 Turbo's Ohlins coilovers, monoball shock mounts, big adjustable sway bar, etc., but the GT3 is on another level. The steering is the best that I have ever felt. There is this continual stream of feedback about the road surface and what the front wheels are doing.

05-26-2019, 12:39 AM
Addict
Rennlist Member

---
MexicoBlueTurboS ... sounds like an awesome car. Would love to see a pic or 2 of it here as well.

As Noro said above, it's tough to pass up those hips & tray on my 964 Turbo. Hence the reason that my wife & I did not sell it once we bought a 997.2 GT3 (in Aqua Blue). The two are very different, but both very rewarding. We still enjoy driving both, but the 964T is a car we've owned for 15 yrs now and have a LOT of family memories in it. Our 2 kids still love it too (they're now in their mid 20's and can appreciate it even more than when they were much younger). So we decided to keep it.

Many good points by all the RLers above,... so I guess the only additional thing I can add is that during the last 3-4 yrs of searching, we drove various water cooled 911's (& even a GT4) to see how we might like something newer. To be honest, none of the "non-motorsport" 911's gave us the thrill that our 964 Turbo gave us,.... and that even included a 2017 991 Turbo that we drove for a week in Germany. Unbelievably capable car for sure, but it really shined the brightest when we had it at full tilt out on the Autobahn & bigger German roads. We kept saying to ourselves "if we had this 911 in the States, we would not even use 1/4 of its capabilities on US roads".

Plus it was VERY clear to us that a MANUAL Tranny was going to be the ONLY thing that would provide us slower speed, full engagement thrills. Wife & I are both street drivers. We AutoX too, and yes she bangs gears just as hard as I do.

So once back in the States, we started driving 991 GTS's (both the NA '16 model, and the '17 bi-turbo),... and other variants. Once we finally determined that only a high reving screamer of a NA engine would give us what we were looking for, we had to target a GT3. Problem for us was that it is VERY difficult to actually get behind the wheel of a 997 GT3. Dealerships have the attitude that either you are "IN", or you're "OUT". Either you KNOW you want to buy one, or you're just another tire kicker. So a leap of faith was required to make the purchase. We could not be more happy.

As Steve Theodore said it very well above,... it sets your senses on fire.

Good luck with your decisions!
=Steve

05-26-2019, 09:53 AM
User

---
Thank you all and great posts everyone.
bweSteve
The best photos are here -
https://bringatrailer.com/listing/20...911-turbo-s-3/
I didn't win this auction but bought from the winner after he had it a year and got his wait-listed GT40 allotment confirmed. He had to make room - so lucky me.
One teaser -

05-26-2019, 10:18 AM
Addict
Rennlist Member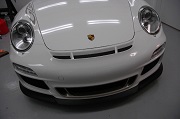 ---
MexicoBlueTurboS,

That is a very special Turbo S that you own. Before I made the move on the GT2 I bought I did catch wind that it would be available again and made some brief inquiries about pursuing your car. The reality was that I could not move fast enough to procure it as I had to sell two cars, and your car was snatched up (by you I guess?) in extremely short order. I did call the folks at Avant Garde and talk about it though. Ultimately I know that having GT cars is more my thing, but that is no garden variety Turbo S that you're considering giving up.

05-26-2019, 10:38 AM
Addict
Rennlist Member
Join Date: Apr 2017
Location: Escondido, Ca
Posts: 6
Likes: 0
Received 0 Likes on 0 Posts

---
MexicoBlueTurboS, I had that car as my screensaver for quite a while before I was able to buy the 991 TTS I have now. I gave the auction a run, but didn't have deep enough pockets! Beautiful car and congrats!

05-26-2019, 02:41 PM

---
I had a 997.2 C2S, a GT3 is what I am wanting to get next.

My take having driven a 997.1 GT3 and also a 997.2 Turbo is that the Turbo is what I would want if I was driving 5k+ miles a year. It would also be what I want if I was looking for the quickest thing out there.

In my case, I will be using it on weekends, driving 2-3k miles a year and my main want is sound. The GT3 has to be one of the best sounding cars out there.

Both are great cars, just depends what you want. One is not better than the other.