Numeric Shifter Review and Installation - Part 1 of 5

12-25-2014, 12:00 PM
Addict
Rennlist Member
Join Date: Dec 2012
Location: Philadelphia
Posts: 3,337
Likes: 0

Carpet and springs
---


I suspect the biggest advantage of alt cables would be a thicker gauge and removal of those plastic pieces. I did not do the cables as Numeric tells me it is not an easy DIY job and you need a lift. I am buying a lift in the next few months... maybe put the cables in at Spring time.

Carpet!! I think I may have missed an opportunity when I installed the numeric... There is an edge of carpeting under where you fasten the unit to the tunnel.... I should have peeled back the carpet and bolted the unit direct to the the tunnel, metal on metal. I suspect Porsche used the carpet to isolate the unit from chassis vibration.

Anyone peel the carpet back? Feel the vibration?

Peace
Bruce in Philly

12-25-2014, 01:50 PM
Super User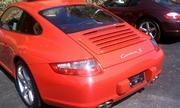 Join Date: Feb 2011
Location: Austin, TX
Posts: 3,024
Likes: 0
Received 0 Likes on 0 Posts

---

12-26-2014, 01:57 PM
Addict
Rennlist Member
Join Date: Nov 2013
Location: Indiana
Posts: 46
Likes: 0
Received 0 Likes on 0 Posts

---
Bruce,

I did not peel the carpet back. And there isn't any vibration. I also cannot "feel" the carpet through the stick when I shift. Thought that might have been a problem but all is well.

05-26-2015, 10:13 PM
Addict
Rennlist Member
Join Date: Dec 2014
Location: Central Florida
Posts: 1,029
Likes: 0
Received 0 Likes on 0 Posts

---
Installed mine tonight. Works perfect and is a fun addition. Pretty straight forward install. Believe it or not, the hardest part was removing the actual boot.

05-27-2015, 12:39 AM

Shifter
---
I have numeric shifter + numeric cables for sale. PM or email me if interested. Practically brand new (under 20 kms in my car).
Just to clarify: twenty kilometres, not twenty thousand kilometres.
Will ship anywhere.
=L=
---
Last edited by Luxter; 05-27-2015 at

09:08 PM

.

05-27-2015, 11:09 AM

06-28-2015, 11:06 PM

---
This is a great write up. I found that there is no need to disengage the shift **** from the boot since you can take the whole thing off as a unit. It will cause issues if you do since the leather can separate at the connection point.

Dan

09-01-2015, 10:21 PM

---
Addendum to Console removal;
1. My 2009 Cayman S has an AUX iPod port in the Console storage. After removing three screws, you need to lift the aux panel from the front to remove it and access the fourth screw in the storage area.
2. The side panels can be removed completely if desired. After removing the two screws, pull directly to the back at the bottom, as recommended. There's an last clip at the top that can also be pulled, though it is hard to get leverage on it. You'd need to do this to access the radio head unit.

09-01-2015, 10:46 PM
Super User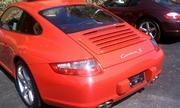 Join Date: Feb 2011
Location: Austin, TX
Posts: 3,024
Likes: 0
Received 0 Likes on 0 Posts

---
Very cool contribution bernb6.

I have a buddy who is looking at a Caymen S as his DD after driving my 997 with the numeric. He recently acquired a new Viper and now wants a Porsche DD. Another convert!