cocoa interior

07-19-2011, 12:20 AM
User
Join Date: Aug 2007
Location: California
Posts: 36

cocoa interior
---
I'm in the process of selecting the options/colors for a new vehicle and have been somewhat intrigued by the Silver/Cocoa combination. However, I wonder if one would easily get tired of the combination? The reason I ask is if it's such a desirable combination, why are there so few used silver/cocoa combinations for sale, both on dealer lots and used? I would love to hear from someone who currently or previously owned the cocoa interior. Would you or did you purchase it again?

Also, I see now that Porsche offers an Espresso labeled color rather then Cocoa. Can anyone describe the difference between the two colors?

Any other thoughts?

Thanks

07-19-2011, 01:06 AM

---
I recall two different cocoas. One is a cocoa natural leather, the other is the painted on one that looks like a couch you would find in an attorney's office.

Many who order cars (dealer's sales guys) order very conservatively. Silver over black. Cocoa looks really nice if it's the natural version. The other one looks a bit fake to me.

Have not seen the Espresso for a 911 yet.

07-19-2011, 01:18 AM

---
Originally Posted by
mulepacker
I'm in the process of selecting the options/colors for a new vehicle and have been somewhat intrigued by the Silver/Cocoa combination. However, I wonder if one would easily get tired of the combination? The reason I ask is if it's such a desirable combination, why are there so few used silver/cocoa combinations for sale, both on dealer lots and used? I would love to hear from someone who currently or previously owned the cocoa interior. Would you or did you purchase it again?

Also, I see now that Porsche offers an Espresso labeled color rather then Cocoa. Can anyone describe the difference between the two colors?

Any other thoughts?

Thanks
One of my P cars is an 2004 Anniversary Model Boxster S with GT Silver exterior and Cocoa Interior and Roof. I LOVE it! It's very rich looking and I would definitely do it again. I was unsure before I got it but I like it SO MUCH more than plain black.
I've included 2 photos I took to show someone a few years ago. The quality of the photos is terrible but hopefully you'll get the idea.

07-19-2011, 01:21 AM

---
I specifically looked for silver/cocoa combo. The cocoa I have came with a almost full carbon fiber interior which makes it just great.
The combination of the elegant brown with the ultra modern cf is very special (to me at least)

In time if you get used to cocoa (or any other interior color) you can always spruce it up with cf or other accents.

07-19-2011, 01:24 AM

---
I have Arctic Silver/Cocoa and absolutely love it. I also had it in a Boxster S that I owned for a couple of years. I think it is a beautiful combo and I have never regretted getting it. Had some trouble with getting a decent color representation with the silver and darker interior together, so the pics really don't do it justice. BTW, Espresso is a shade or two darker than Cocoa, but would also look good with Silver, IMO.

Edit: I don't know if it's just the photos, but the cocoa in post 3 looks quite a bit darker than mine.

07-19-2011, 01:25 AM

---
I have a Basalt Black exterior and Cocoa interior. I have to say owning the car for several years that I have not grown tired of Cocoa. If anything, I've grown to love my Cocoa interior even more. Black and Silver are pretty common exterior colors, so having a Cocoa interior makes my 911 feel a bit more special to me. I've not seen the Espresso, not sure how it's different.

07-19-2011, 01:27 AM

---
If you do leather to sample you can get cocoa, but besides that, Porsche doesn't have cocoa for any of it's current cars. It's been replaced by, as you said, Espresso. Cocoa is my favorite interior colour, and in my opinion, espresso is hideous. It's lighter, and very de-saturated.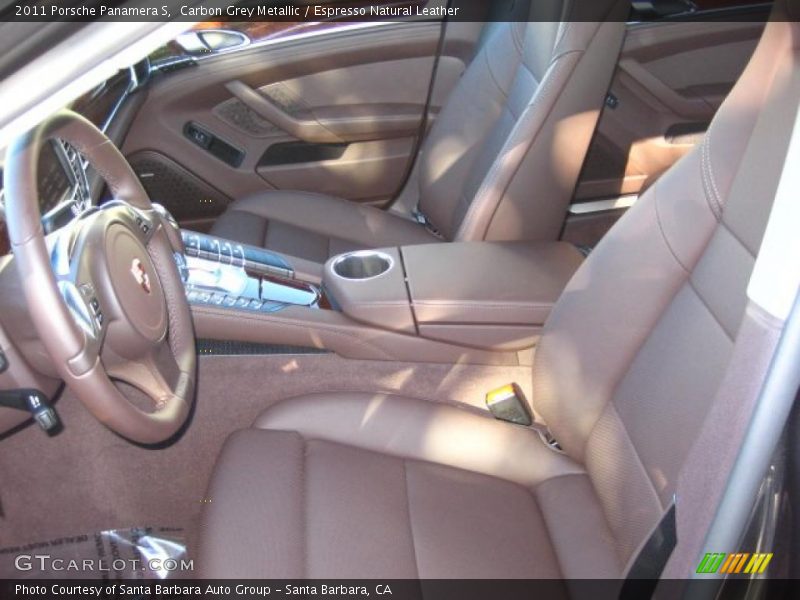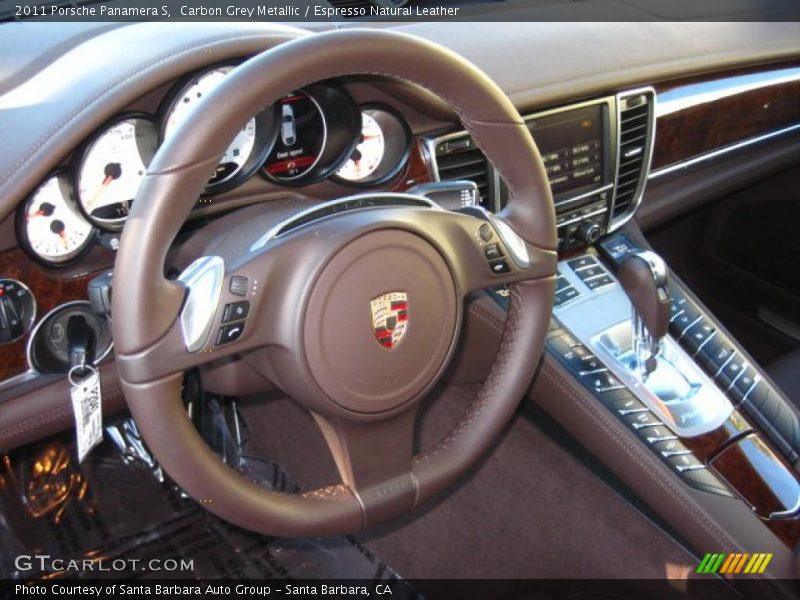 Espresso is nothing like cocoa at all. Cocoa is absolutely gorgeous, espresso, not so much.

07-19-2011, 01:37 AM

07-19-2011, 01:44 AM

---
Hmm, it's funny, the pics posted here just doesn't inspire sportiness... it sure looks great on Panamera and oozes luxury, but honestly (no flame pls), it looks out of place in 911 IMO (and that is ONLY MY 0.2).

07-19-2011, 01:58 PM