couple of pictures of new project, non gt3 related

07-08-2013, 12:09 PM
Addict
Rennlist Member

couple of pictures of new project, non gt3 related
---
Ive purchased this porsche boxster S 2004, 50e anniversary, with 34000miles
engine, trans, interior are in A-1 condition. Car was hit in the right side.
im currently stripping the car, i will build some sort of spec boxster. but it will run in PCA and DE only.
ive spent 6-7 hours on the stripping so far...
problem so far, i dont know how to remove the rollbar, there is some bolts near the suspension(i think) and i have an hard time removing the windshield washer reservoir.
some pictures


07-09-2013, 08:55 AM
Addict
Rennlist Member

---
so yesterday, i ordered
-nrg steering Wheel with quick release and hub
-Getty design roof
-Getty design headlight cover
-Sparco pro avd driver seat
-Sparco Sprint V passenger seat
-bilstein pss9
I also have an idea on the rollcage, i will probably go with stable energy(safety devices)
Ive removed a couple more parts yesterday night

carpet is out, windows are out, door actuator are out, rollbar is out,
NOW, what to do with all that wiring harness???? is there any plug somewhere or you just cut somewhere??? i have no clue at all!!!!
And, do i need to remove the rear mechanism on the panel behind the roof( grey panel) ??? if so, is it still going to work manually?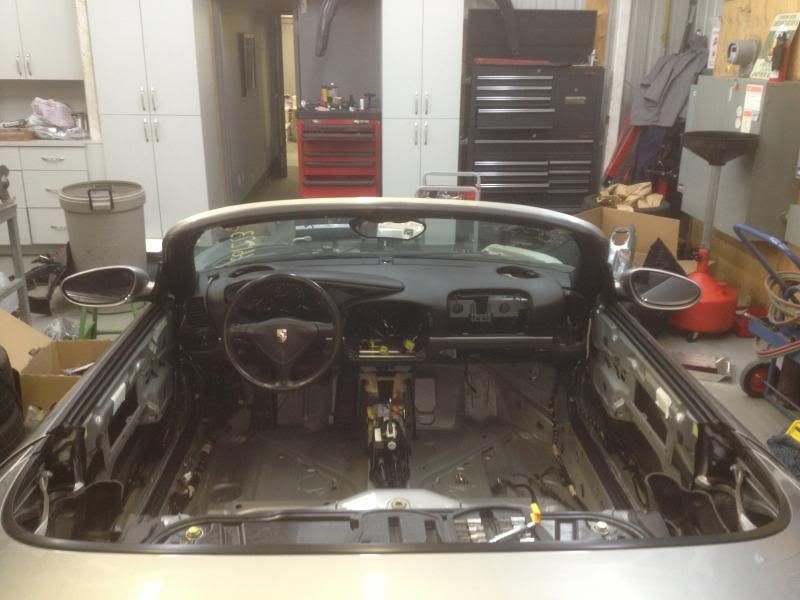 07-09-2013, 10:23 AM
Addict
Rennlist Member
Join Date: Aug 2001
Location: san francisco
Posts: 10,662
Likes: 0
Received 0 Likes on 0 Posts

---
Hey Seb. Nice project. Was helping out a fellow RLstr(speedoflight) on stripping his bsr. Boy it is fun taking useless stuff off : ). Question with your doors do u plan to gut them more ie cut the center section from top of that rectangular one and hollow it out. Mike

07-09-2013, 05:18 PM
Addict
Rennlist Member

07-13-2013, 12:24 AM
Addict
Rennlist Member

---
another 2 hours of work today,
Doors removal, windshield washer tank is out, another AC line is out, top motors and bracket are out, some more insulation out, etc..
ive also received the seats and steering wheel with quickrelease, Ive installed it to see how it looks.
Ive also found a set of 997,2 gt3 shifter and cables, should be a good upgrade over the oem boxster setup.
Overall view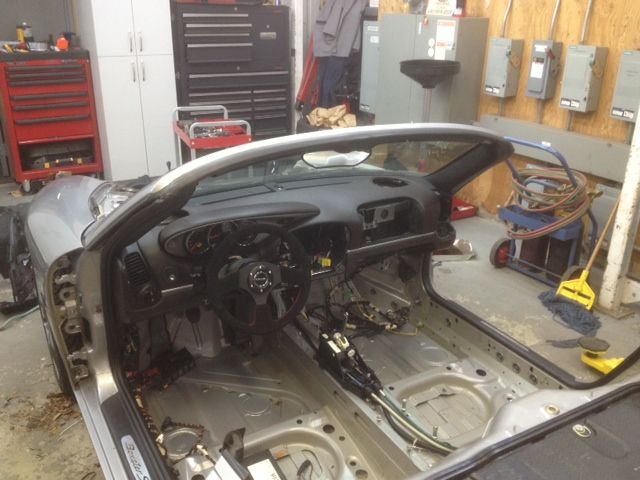 Bunch of parts everywhere, i just dont know where to pack them
doors are removed, gutting time tomorrow!!!