F/S Volk TE-37 Wheels with Khumo Tires

10-24-2012, 10:54 AM
Addict
Rennlist Member
Join Date: Oct 2004
Location: West Palm Beach, FL
Posts: 204
Likes: 0
Received 0 Likes on 0 Posts

F/S Volk TE-37 Wheels with Khumo Tires
---
I have a set of Volk TE-37 Wheels in excellent condtion, hardly used, mounted with Khumo V710 R compound tires with only 3 heat cycles. $1,900 plus shipping.

10-26-2012, 12:12 AM
Addict
Rennlist Member

---
I have a set of these and they are some of the best quality wheels I've seen. They are very light, appear to be very strong, and look good.

I would pay that price for the wheels alone, tires are a bonus.

If I was semi-local, I would buy these.

Gratuitous picture of my poor precious sleeping outside cause the garage of the house we just bought is full of our junk.

10-26-2012, 01:14 AM
Addict
Rennlist Member

---
BTW, picture above has 5mm spacers at the four corners, so the wheels would be in a bit more without them.

Spacers are to widen the track, not for fitment. I believe that the offset of these wheels is almost identical to that of the stock wheels.

10-26-2012, 01:17 AM
User
Join Date: Jul 2006
Location: North Vancouver, Canada
Posts: 1,771
Likes: 0
Received 0 Likes on 0 Posts

10-26-2012, 02:40 AM
GT3 player par excellence
Lifetime Rennlist
Member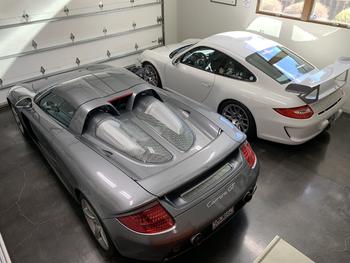 Join Date: Apr 2002
Location: san francisco
Posts: 38,676
Likes: 0