"Semi-Semi-Solid" Engine Mount Upgrade from FUNCTION-FIRST for your 996

05-24-2017, 03:36 PM

"Semi-Semi-Solid" Engine Mount Upgrade from FUNCTION-FIRST for your 996
---
Engine Mount Upgrade (version2)
964/993/996/997
by
FUNCTION-FIRST Performance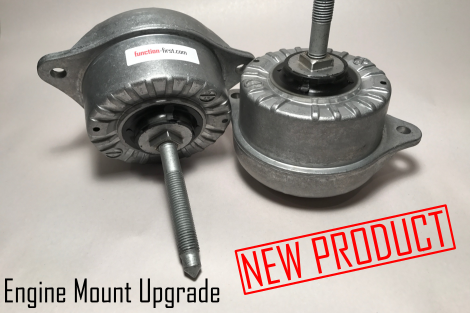 HIGHLIGHTED FEATURES:
Direct drop-in replacement
Increased sportiness and performance
Added reliability
Quieter than semi-solid mounts
Preserved compliant ride
No more sagging exhaust tips
In terms of added stiffness and NVH, our Engine Mount Upgrade strikes a nice balance between OEM mounts and semi-solid mounts - we refer to them as "Semi-Semi-Solid" Engine Mounts.
Not too hard - not too soft - JUST RIGHT!
They are the perfect solution for those of you looking to replace your worn engine mounts with something a touch sportier and more reliable, but you don't quite want to go with a full semi-solid engine mount for fear of too much added noise, vibration, and harshness.
We achieve this happy medium by adding a pocket of urethane in the bottom voids of brand new OEM engine mounts. This results in moderately increased stiffness that limits excess drivetrain movement and prevents the mounts from prematurely sagging, all while preserving a compliant and quiet ride - it's the perfect compromise for a performance street car!
Restore performance and reward yourself with...precise turn-in, predictable handling, reduced weight transfer, minimized wheel hop, and direct and confident shifts.
Please
CLICK HERE
to check out the product page for full details!
__________________
.

aftermarket | porsche | performance | solutions

05-25-2017, 01:00 PM

---
We are using Rein mounts for this.
And thanks for the offer, but no beta-testing needed

These are a milder iteration of Version 1 of our Engine Mount Upgrade (discontinued), which were true semi-solid mounts. Whereas those were urethane filled in both the bottom of the mount AND replaced the hydraulic fluid up top as well, Version 2 (listed here) preserves the hydraulic fluid up top and adds urethane in the bottom only for some added performance and reliability.
If you're intent on getting true semi-solid mounts, you'll want something more aggressive than these. But if you're looking for an OEM replacement, our upgrade is the perfect option that keeps NVH at bay.
Basically, you get better handling and shifting performance that will last longer than the plain OEM mounts.
__________________
.

aftermarket | porsche | performance | solutions

05-29-2017, 10:48 AM

---
For anyone considering adding this upgrade before the summer season, now is a good time to order.
(Our shop will be closed from June 5 thru July 10, so we won't be shipping any orders in that time period.)

Place your orders by this Thursday to make sure we can ship your items in time!!!
__________________
.

aftermarket | porsche | performance | solutions

06-02-2017, 10:36 AM

---
A couple people have PM'd asking what the part number is on these mounts.
They are
993 375 049 08
, which is the equivalent engine mount used on the 996.
It is compatible with all 996 model years.
BTW, only 2 sets of the FFP Engine Mount Upgrade left in stock!
Next production run won't be ready until July 15.

06-04-2017, 12:19 AM

---
Installed mine today! Crazy how much my old ones sagged. Test drive showed slightly increased NVH but not much at all. Definitely tightened up the feel of the car especially from a standing start. I'm very happy with these mounts.

08-12-2017, 03:13 PM

---
Thank you for the pics! Glad to hear the upgrade delivered the desired outcome.
__________________
.

aftermarket | porsche | performance | solutions

08-13-2017, 10:05 AM
Addict
Rennlist Member
Join Date: Nov 2014
Location: Melbourne, Australia
Posts: 2,430