Engine Rebuild Part 3 (the finale)

01-21-2012, 04:04 PM
User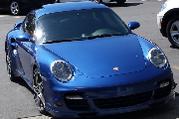 ---
Well just like any 3 + month project, life usually goes on at the same time. I had planned to be out of town for the next couple weeks and the project is going to have to wait. So this is my last update for a while.

Coolant/oil pump housing bolted on, fresh gaskets, bolts, and orings everywhere.




Oil gears lubed up and new seals. There's a LNE billet hex pump driver behind those gears.




New ramps and hardware bolted in.




New oil seperators, gaskets, pickup tube, dipstick guide installed.




I started cleaning the oil pan. I will probably clean it again when I get back before bolting it on, there is still some old sealant that I need to work on.




L8R!

01-21-2012, 06:49 PM

---
When it comes to removing the old sealant from that pan, I'd suggest trying a scotchbrite sponge (blue). I tried a variety of methods and this was the best by far. It took the sealant right off without damaging the light texture on that face. The red/brown scotch brite pads were too aggressive for my taste.

-Shawn

01-22-2012, 12:07 PM

---
Agreed, the red/brown pads are awesome for heavy cleaning. I was just worried that I was removing the texture on the seal surface so I went with a lighter option.

You're in the home stretch so I'm sure the excitement is building... Good job!

01-24-2012, 11:55 AM

---

01-24-2012, 07:37 PM
Addict
Rennlist Member
Join Date: Oct 2004
Location: Vacuuming Cal Speedway
Posts: 7,294
Likes: 0
Received 0 Likes on 0 Posts