9m93 Speedster S #4 from 8000 mile RHD 993 Convertible. What colour?

05-16-2013, 01:32 AM

---

AMGfan
's:

05-16-2013, 05:50 AM
Addict
Rennlist
Site Sponsor


---
Hold on. If Red in Slate Grey is AMGfan's idea I'm definitely not going to steal it. Come on lads, you have to try harder than this. Maybe what's happening is that someone suggests a color and it takes a few weeks before the acceptance dribbles back into our psyche, then all of a sudden it is the most popular color in the World because we've forgotten what context we read about it but now our subconscious is telling us it is the best?
You all know Ninemeister; so since when did we ever do anything conventionally? I should not have to say to you guys that we need to rearrange these words into a well known phrase: Box. Outside. Think. The. Of. Please have fun with this, you never know what we might conjure up between us.


05-16-2013, 06:11 AM
Addict
Rennlist
Site Sponsor


---
Summary:
White. Can't do it Carrara White because of Arpad's but I'm liking the retro 72RS theme with red (or blue) on GP White.
Grey. Yes, seeing that especially with an accent colour like the 997RS. Metallic Slate Grey is out because that's AMGFan's choice for his conversion.
Black. Nightmare to keep clean. Let's face it, we can do better although it is classy.
Silver. Hints of 550 spyder with red interior? This was the colour of the donor car so would be an easy choice, but really? Just how many silver cars are there on the roads these days?
Primaries:
Red. Sure JP & Jager would be delighted.......
Orange. Blood has been ear-marked for the new 9m93GT2 so that's out, maybe Continental?
Yellow. Ain't gonna miss it. My fave colour on an RS (wonder why) - but this is not an RS.
Green. I'm really liking green, in many shades and have always had a soft spot for Teal. Trouble is, it's the least popular colour of all in the UK but do we care? It would work well with the brown interior, but now thinking chocolate limes....
Blue. Maritime blue is an excellent Speedster colour but we've just built a 9m93RS in Maritime. Marc also hates pastel colours, so that probably eliminates Mint Green and Riviera even though I really like them. Pastel Blue is a 1971 Porsche colour, same as a car in our shop that is probably as light as we would go. Marc wants Blue Turquoise, I don't as the green in it does not photograph very easily.
Purples. Cadbury's purple would look stunning, but who wants a purple car? (Sale before/after completion is likely). Vesuvius would look great but not innovative enough on a 9m car.
What's coming out of this for me is a retro colour theme from a 27RS. Chartreuse, now there's an idea.

Keep 'em coming, I think we're gonna get somewhere soon.

05-16-2013, 08:04 AM
User
Join Date: Jul 2009
Posts: 563

---
Originally Posted by
NineMeister
Whilst I admit we love the Blue/Titanium theme on Graham's #1 9m93 Speedster S we simply can't do another one as it would definitely steal his thunder, so where is the fun in that?

That said, we've already got the hardback seats for colour coding and no doubt it will end up on a custom set of KW's, however IF the car stays around with us beyond completion we may be in a position to slot in one of our new special project engines for evaluation and testing. Let's see, eh?

Thanks for the suggestions, keep them coming.
You're right on the blue Colin, in that case I am going to stick with another Ferrari Combo....
....chestnut brown / tan as found on Steve McQueen's
beautiful
Lusso!
http://jalopnik.com/5252193/steve-mc...own-do-for-you

05-16-2013, 08:45 AM

---
Not an expert on all the historic Porsche colors, but is there a choice that's between slate grey, and a darkish blue or maybe a hint of subtle dark green?

Just a thought.

For my money, it would be the blood orange. Whoever the GT2 guy is, he will really have something! And it speaks volumes that you protect your customers like this.

05-16-2013, 09:25 AM

---
How about some kind of 356 inspired two tone paint job.
Something nice and contrasty...like a bright blue body with some a yellow nose and strips down the headlights.

Or the three strips like on the 74(?) Carreras. Maybe silver with red strips with a matching silver with red highlights in the interior (red leather though).

05-16-2013, 10:26 AM

05-16-2013, 12:32 PM

---
OK .. why not consider early colors .. the Speedster Porsche chose for the international introduction of the Speedster in 1954 at the Paris Auto Show was Terracotta enamel over dark blue leather, very unusual combo and it really looked beautiful. I can't find the photo of it from the archives but here's the Gmund Coupe from the museum and a die-cast Speedster in the same exterior paint color code 5409
How about trying the original red chosen for the Speedster in '54, Turkish Red, code 5402, or one of my favorites in 1956, Polyantha Red which is very close to it, but deeper, code 5602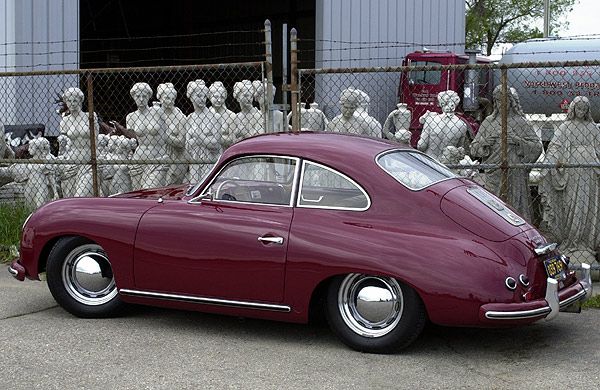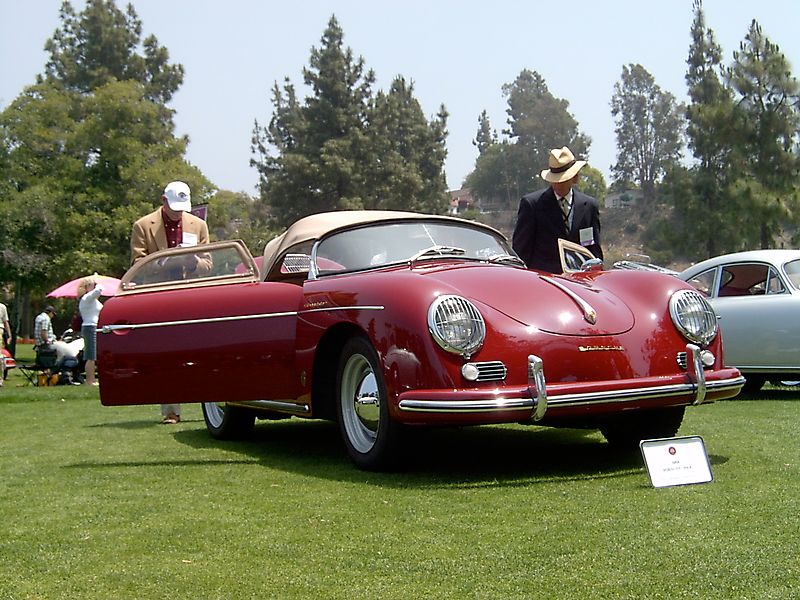 Teal Green? How about Wimbledon ...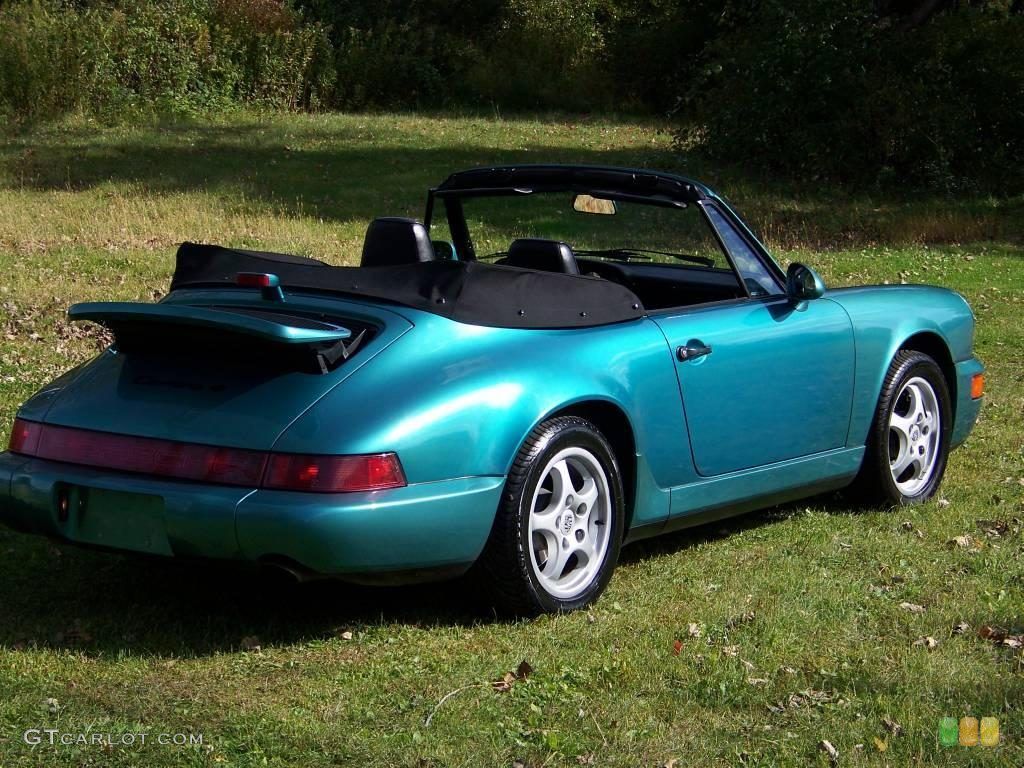 or the lighter version, Ocean Jade ...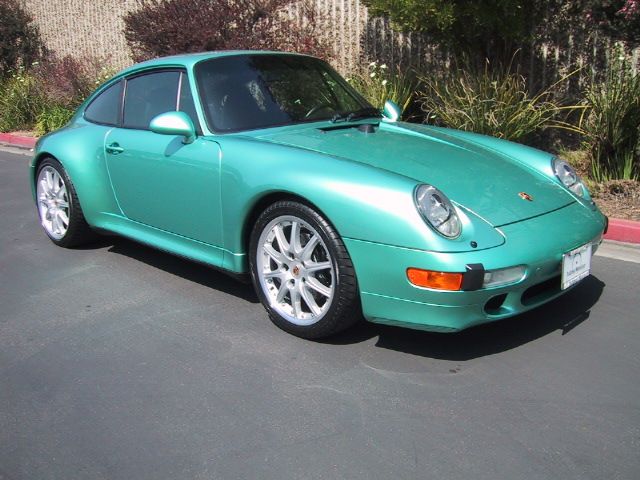 05-16-2013, 03:09 PM

---
Amazonas-green with light-grey interior
or
Viola-metallic with rubikon interior like the 964 Jubi
or
British-racing green with beige soft-top and beige interior
That would be my choice, when I had the chance to (in the background)...

---
Last edited by Marc W.; 05-17-2013 at

04:59 AM

.