9m93RS Clubsport #5 from USA origin Carrera 4

07-05-2014, 04:18 PM
New User
Join Date: Jul 2014
Posts: 2

---
I hope this is the right thread, apologies if it isn`t !
I was at DN10 with my MK2 Golf and from the Foxhole onwards, I had a great lap with a Blue 993RS, I`m pretty sure it`s this car from the photos of it on DN9 in this
POST
.
I went and had a good chat with the driver afterwards. Hopefully this is you, it was a really enjoyable lap !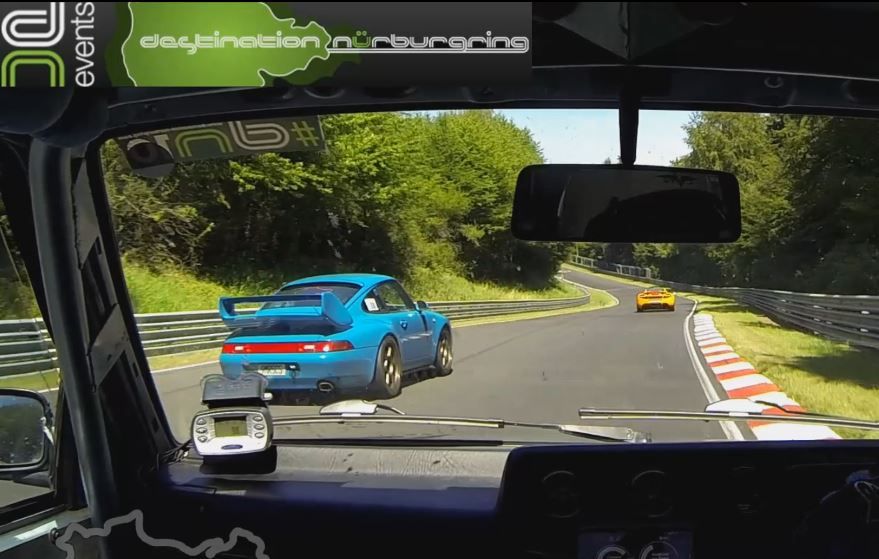 Video here:
Please feel free to delete this post if it`s the wrong car !


07-13-2014, 03:26 PM

Very fast Golf MK2
---
[QUOTE=wh00sher;11487931]I hope this is the right thread, apologies if it isn`t !
I was at DN10 with my MK2 Golf and from the Foxhole onwards, I had a great lap with a Blue 993RS, I`m pretty sure it`s this car from the photos of it on DN9 in this
POST
.
I went and had a good chat with the driver afterwards. Hopefully this is you, it was a really enjoyable lap !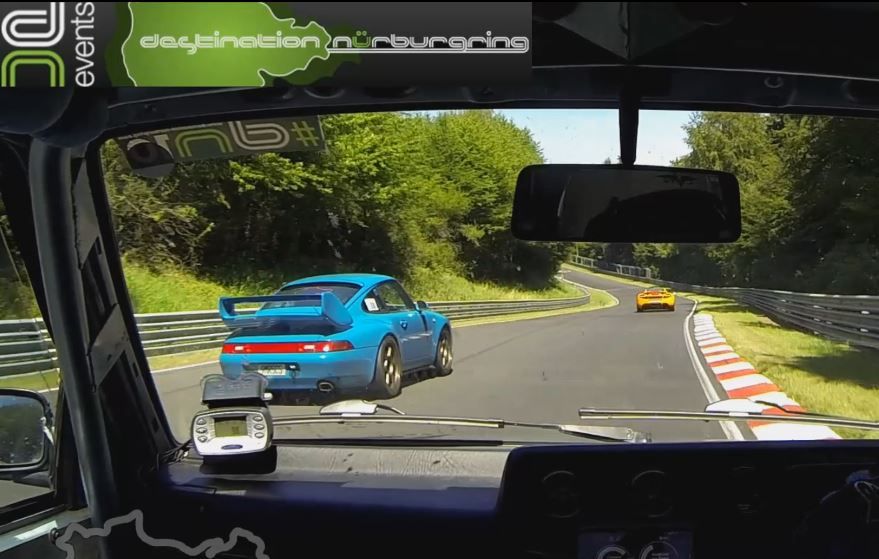 Sorry or not having replied until now Nigel but life has been hectic
It sure was the 9MRSCS which passed and I guess I have to thank the McLaren for providing the passage down the foxhole

I had my iPhone on filming this lap as well and here is the view from my car:
I understood that you had a bit more power than a standard 16V under the hood when I could not shake you off climbing from Bergwerk up to Hohe Acht.
The driver in the McLaren must have missed the flag at Wippermann and he had a good slide in the sanitation powder they had on the track as did the 997GT3RS. It spooked them so much we had to pass as they slowed down in Eschbach and Brünnchen.
It was great taking to you and I hope we will have opportunities in the future to share good laps as it is so much more fun when you have someone to follow or be followed by.
My iPhone use a VBox Sport for GPS update rate which is now 20Hz so I believe the speeds in Harrys Laptimer are accurate for reference. What system do you use, it looked very good?


07-13-2014, 03:46 PM
New User
Join Date: Jul 2014
Posts: 2

---
Thanks for the video. It`s always nice to see your own car from the outside

That McLaren scared himselfa little I think

I use a PBox for GPS data, GoPro 3 camera and ECU datalogging via an app for my ecu.
I combine all the various sources using RaceRender software. It requires manual intervention, rather than doing it all automatically like Harry`s laptimer.
Hope to see you on track in the future.
Nige.

07-13-2014, 04:19 PM

Mission Accomplished
---
We arrived in Nürburg on Sunday the 29th of June and the reason for this was that my friend MV was going to sort out suspension and set up on his car prior to DN 10 starting. We meet a Norwegian in Linderhof drinking beer in the evening and he had his car with GreenHellRacing and the proprietors name is Darius Drzensla. Darius is not only a very accomplished diver he also now how to use a wrench:thumb up:
MV had new springs fitted to his BMW and a set up to fit the Ring. It also turned out that Darius had competed with the 993 Carrera SuperCup in the mid-90ties so I asked him to set also my car up as he deemed suitable for the Nürburgring. This in combination with having fitted MPSC tires provided one step further in the evolution of the 9MRSCS. After having set the car up Darius took me for a spin on what he called his "own part of the ring"!! It was backroads above Adenau and they combined all parts of the ring. I have never gone so fast on a public road nor have I jumped my car as far...........

Safe to say that Darius was satisfied with the set up an me to still be alive
DN 10 was a very hot event this year and there where many participants, perhaps too many with varying abilities and experience of the Ring?
It resulted in the track being closed for approx. 4 hours on the first day and not far of the same on the second. As everybody wants to drive it means that as soon as the track opens after a shunt most cars are ready and goes out resulting in a situation where you are forced to overtake many cars. To go fast I need to have a few consecutive laps without too much traffic but this never happened during the two days we had this time.
My goal for this trip was clear - go sub 8 BTG.
Guess my surprise when I later checked my iPhone to find a lap time which started with the number 7 minutes...
Here is the lap and it is my friend MV who is driving his BMW in front of me after I let him pass before Flugplatz.
Some bastard had stolen his wing clad trunk lid outside our hotell Zur Burg during the night

But he had managed to source one from a junkyard with no wing why I was a bit scared to be too close to him as his back end was rather loose....
One feature of Harrys Laptimer is that it combine the best sector times to present you a virtual best lap and for this trip with few clear laps the vb for the 9MRSCS now stands at 7:54. Next years goal will have to go sub 7:50 for a timed lap, perhaps MPSC2 can help on the way as they will be available in 18" then.
I can not thank Colin and 9M enough for having helped me to have so much fun with this car and I hope to see many like it participating at various events on the Ring.
Next visit to the Ring will be in September as a participant of the Scuderia Hanseat.
Perhaps will I meet some of you Rennlisters there?
All the best - 9MRSCS


09-23-2014, 05:19 AM

Scuderia Hanseat 2014
---
We arrived in Nürburg on Saturday the 13th of September together with many friends from our car club RingRunners of Sweden to watch the VLN race on the Nürburgring. It was a foggy day and to everybody's disappointment the race was cancelled due to fog.
The registration for the Scuderia was opened at the Dorint hotell and we enlisted and received our stickers, numbers for the cars etc. On the Sunday we where allowed to drive all day on the Tourist Driving and the morning was wet why I fitted my spare wheel set on which I had fitted with new Michelin Pilot Sport tires to provide some safety as the Cup version is to slippery to go on the Nordschlife when wet.
Some slow laps and then a rest followed by a few laps as it was drying up, then the carnage started with too many crashes why I decided to call it a day as we had better weather forecast ahead and it was to risky to be on the track.
The format of the scuderia is that you have two full days of section practice and two opportunities of free driving, approx 3,5 hours free driving per day. The last day you have section driving in the morning followed by 1,5 hour of free driving after which you have your examination lap.
During the examination lap you are evaluated on the grand prix track at two positions and on 22 positions of the Nordschleife. You are started with a gap of 25 seconds between the cars in order to not catch each other and the starting order is set to even the speed of the respective cars.
I had a very good lap with the exception of the Adenauer Forst curve where as you will see in the films I had a little mishap. A late turn in ended in my ambition to hit the turn in point that my left rear wheel touched the left curb and the balance was lost resulting in my car railing the left curb. Luckily no damage to my car other than that the plastic lip under the front spoiler which will need a few screws to be as new. You are however allowed to discount one evaluation position hence not much lost in means of overall points.
For those of you who are aware of the scoring I ended up with 193 points which is my best result so far and only left me a couple of points short to qualify for Winners Group for next year - I´ll be back

The Scuderia Hanseat is a very good way to learn the Nordschlife and I recommend it to any of you Rennlisters who want to learn and enjoy this track. You can find more information here:
http://www.scuderia-hanseat.de/en/home.html
I filmed the examination lap using both Harry´s Laptimer and a GoPro.
I hope you enjoy the films and will post more films in 2015 as my car will now go into winter storage.
All the best - 9MRSCS
I enclose a selfie with my driving heroine - Sabine Schmitz. Taken during a fantastic evening event at her ranch.
Me and Sabine Schmitz
Sabine Schmitz´s Ranch/Saloon
---
Last edited by 9MRSCS; 09-23-2014 at

05:59 AM

.

09-23-2014, 09:47 AM

---
What a thread! I read it on one pass by this rainy afternoon in Corsica, and I'm really impressed. Congratulations to the 9M team, the owner, ... and the Norschleiffe track designer

And to discover on the last page that this was the car I saw in Nürburg this September is just too much. By the way 9MRSCS, this is a serious bunch of petrolhead boys your brought with you from Sweden seing the cars which were parked around yours. It would have been a pleasure having a beer with you guys. Hope to se you next time.