Brake Caliper Removal...don't be afraid...

03-07-2014, 08:08 PM
Rennlister Extraordinaire
Rennlist Member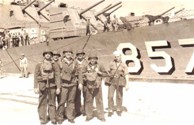 Join Date: May 2001
Location: Solana Beach, CA
Posts: 7,899
Likes: 0
Received 0 Likes on 0 Posts

Let make it simple...
---
For the rear brakes, just be certain the emergency brake is not set...after you have pulled the wheel off and removed the caliper, just observe...you will see a hole for adjusting the emergency brake shoe...I have never touched mine. Just be certain everything is put back just as it was taken off.
I have not done it in a while so my words may not seem so cogent. Just do it; it will all make sense. Besides, most anybody can take anything apart, it's putting it back together where the challenges may be.

I hope this helps a little.
Maybe I'll adjust my emergency brake some day....

03-07-2014, 08:48 PM
Addict
Rennlist Member
Join Date: Jun 2001
Location: California Boardwalk, Skanderborg Denmark
Posts: 3,467
Likes: 0
Received 0 Likes on 0 Posts

---
One trick if'n the rotors don't wanna come off hub easily. That's what those threaded holes between the wheel studs are for. Thead an 8 mm bolt in each and work back and forth with tightening them until rotor pops off.

03-08-2014, 12:03 PM
Technical Guru
Rennlist Member

Join Date: May 2002
Location: USVI
Posts: 7,740
Likes: 0
Received 0 Likes on 0 Posts

---