Will scan tool detect misfire ?

07-19-2010, 12:15 PM

Will scan tool detect misfire ?
---
Hi all, I have a NA 95 c2 . My question is will a obd scan tool detect which plug is not working?
I pulled the coil plug on the right side, top distributor cap ( #1 or 2, intake ? or exhaust? not sure ) facing the engine. The engine runs but has a bad misfire, crackle backfire!. other coil , engine runs smooth. This all started after a wire, plug cap and rotor change( kept original wire ends , not knowing until later that they should be changed as well ( trying to save $$$ DIY )

So I prob. have a bad resistor? . After the DIY I thought everything was fine because there were no warning, CEL lights. Then yesterday reading here that I can check codes on my dash with the lights , I went out to the car , and what do you know- NO warning or CEL light with ignition on ( 2 burnt out bulbs? PO messing around in there ? ) Now I have to find out why I dont have these lights, on top of the misfire, just great!!

Should I spend the money to have the hammer tool hooked up at the shop?

07-19-2010, 12:25 PM
Agent Orange
Rennlist Member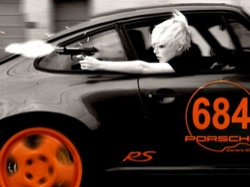 ---
Did you have the misfire before you changed the wires? If not maybe the solution is as simple as having a loose connection somewhere when you installed the new wires. But I do agree, changing the wires without changing the leads is pointless.
Regarding the warning lights, you can easily find out if they are burnt or missing. Just pull the gauge out with the help of a butter knife. If the bulbs are not there or are burnt you can use one from the clock temporarily - like the seat belt light.
To check your codes on a OBDI car you can use this method:
http://members.rennlist.com/billwagner/CheckEngine.html
- it works on 964s and I believe it works on the 95 993 as well.
Good luck!

07-19-2010, 12:29 PM

---
On my MB the scan reader does read misfires, infact I got one last week..P0305....lol

07-19-2010, 01:25 PM

---
ilko, I dont think there was a problem before , I will pull the gauge tonight and report back
Tony, Does that code tell you what plug/ cylinder is the problem?
Thanks

07-19-2010, 03:27 PM

---
On my scan tool (Actron 9180), a misfire shows multiple codes: P0300 is the general code for misfire, followed by P030X where X is the cylinder number, so if cylinder 3 and 4 have misfires, I get 3 codes, P0300, P0303 and P0304.

07-19-2010, 03:33 PM

07-19-2010, 04:25 PM

---
I had a situation where I was misfiring due to improper spark plug selection, and never got any codes at all. So no, I your ECU won't automatically throw misfire codes if you're misfiring, like if it's a plug performance problem.

Another time I had excessive fuel pressure that cause injectors to lock up. IIRC it threw a code for one injector in particular. Never knew why I didn't get multiple codes.

In my experience, our ECU is really bad at diagnosing problems for you.

07-19-2010, 05:09 PM

---
Thanks guys , a few questions. will there be a misfire if i'm down to 11 plugs, and can I harm the engine running it like so ?

07-19-2010, 10:12 PM

---
Just in case it helps - I started the engine and knew instantly there was a misfire - lumpy as heck. I instantly shut it down, crapped myself and then decided to start again. It fired up sweet and I drove home with the CEL on. I plugged in the Durametric and it indicated misfires on three cylinders, telling me exactly which three they were. I checked all connections, cleared the CEL and all was good (this was one year ago with no repeats). I would not drive if I knew for sure I had a continuing misfire - lumpy, noisy etc.

07-20-2010, 10:36 AM

---
You'll be down on power and there'll be some 'neat' (unburnt) fuel going out the exhaust port. This is bad for the catastrophic converters and will make them lose efficiency very quickly and will eventually give you a P0430 or P0420 (OBD-ii) emissions error.
Gerry

07-21-2010, 05:54 PM

---
Update. Chipped 95,s will not have a warning or check engine light due to program changes. OBD 1 . So the independant shop had removed those lights altogether.
Located the bad resitor ( spark plug boot ) changed it, and I'm happy to say she's running perfect !!!!
P-car diagnostic tool ( 19 pin connector , round ) hooked up, cleared a few old codes and were back in service
I love my baby !!!!!!! Gotta fly>>>>
Thread
Thread Starter
Forum
Replies
Last Post

Posting Rules
You may not post new threads
You may not post replies
You may not post attachments
You may not edit your posts
---
HTML code is Off
---