just got back, let's discuss value of porsches

05-21-2017, 09:47 PM

---
Landed 3pm yesterday.
Haven't seen 4.0l since August last year. Took cover and trickle charger off the car. Had some stuff to do. Brothers b day party. Drank sparkling water all evening. Told him jet lag is so hard if you drink.

Came back to the house at 11.30pm. Car started on first attempt. Rolled out slowly, got everything up
to temp.
Went for a long drive thru the night. Jet lag really helps sometimes.
Barely gets dark up here this time of the year. So sweet to just drive and listen to all the sounds.
Now time to go to bed.

05-21-2017, 10:04 PM

---
Originally Posted by
kfmcmahon
hahaha, yep
went to a
wet
C&C today (flame suit applied). But was sporting my new Girodisc PCCB-Steelie conversion, Ferodo ds1.11 and track alignment (-2.7F, -2.4R) and R7's for track season that (for us lowly north-easterners) starts next week.... some really nice air cooled cars today despite's the weather -- '71 911T, '86 Carrera 3.2 and a '79 930
you should try to make it down on a sunny Sunday if you get a chance Bronson--only 45 minutes from you...
http://carsandcoffeebuffalo.com
Thank you for the invite. I'll do my best and try to make it out in June. I'll keep you posted.


05-21-2017, 10:54 PM

---
Peter: you need to be here. 70-80's. Tracks nearby. Mind blowing new sushi. Oh, and we didn't even mention the big guns: we have BACON WAFFLES!!! I predict you eat one, you buy a house here. LOL

05-21-2017, 11:15 PM

---

05-21-2017, 11:18 PM
GT3 player par excellence
Lifetime Rennlist
Member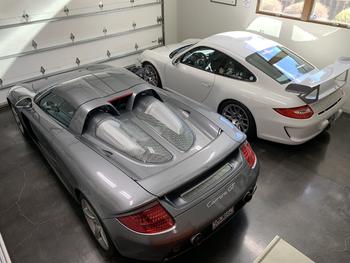 ---
nizer google "ca. o mow grass". they are meant to be tall like that. they used
ro be taller than kids
u only cut the grass once a year.
dinner time took 72t