just got back, let's discuss value of porsches

12-20-2018, 08:34 PM

---
Friend of mine sent me this pic of the 89a from a drone awhile back and it's been on my driving bucket list since.

12-20-2018, 08:42 PM

---
Great shot... that's the entrance to the Oak Creek Canyon...Let me know when you are in AZ and ready to kick this one off your bucket... maybe we can get other RL members for a drive ;-)


12-20-2018, 11:50 PM

12-21-2018, 02:18 AM
User
Join Date: Jun 2018
Posts: 532

12-21-2018, 02:23 AM

---
He does good work. He did my spyder. Not single stage paint. Itís got clear which Iím ok with itís easier to maintain.
ok. Maybe have to catch him here or next trip. Not sure service will be done.
Hard drugs.
Been driving Tang every day. Fun drive makes good noise and likes to go. 901 has massive character. Will put some pirelli old car tires on it next week for more classic feel. No hot rod here. Have 2 of those. Wife likes it a lot.
Cleaning up nice. Tackle interior tomorrow and engine bay.

12-21-2018, 10:41 AM
Addict
Rennlist Member
Join Date: Jun 2015
Posts: 570

---
I travel to Sedona several times a year for mountain biking. That road is a blast in my 3 series beater, always concerned I'm going to sling the bike off my roof, lol, can only imagine what a hoot it would be in a gt car. The best part of that particular drive is there's an interstate that runs parallel that soaks up most of the traffic.

12-21-2018, 08:14 PM

---
We have a vacation property in Sedona, just did that drive up to Flagstaff in my 993 in October with no traffic, a rare event.
Will be there over the holidays but without my GT3T, it's stuck in Benicia for another month awaiting my turn at PECLA.

12-22-2018, 03:18 AM

---

12-22-2018, 08:55 AM

---
I think the best time of the year to do an AZ drive are March/April/May or October/November. Other than that it becomes too hot in the desert or snowy in or around Flagstaff and Sedona. I think we can make a really nice itinerary... around Phoenix/Tortilla Flats and then going up north to Jerome and 89A Sedona/Flagstaff... meandering through side roads between the Sonoran desert and the mountains and visiting local eateries ... If we are going to host guys from out of state (such as our fellow RLs from Cali and other states) then we want to make sure we show them the real AZ ;-) ...

PHX folks, maybe we should try to get together early in 2019 for breakfast and drive? Anyone volunteer to suggest date and place to meet? If you guys are serious about an AZ drive we should discuss and get it done ;-)

Cheers!

Fernando

12-22-2018, 11:33 AM
GT3 player par excellence
Lifetime Rennlist
Member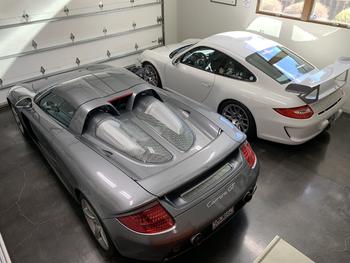 ---
Originally Posted by
Fdvigna
I think the best time of the year to do an AZ drive are March/April/May or October/November. Other than that it becomes too hot in the desert or snowy in or around Flagstaff and Sedona. I think we can make a really nice itinerary... around Phoenix/Tortilla Flats and then going up north to Jerome and 89A Sedona/Flagstaff... meandering through side roads between the Sonoran desert and the mountains and visiting local eateries ... If we are going to host guys from out of state (such as our fellow RLs from Cali and other states) then we want to make sure we show them the real AZ ;-) ...

PHX folks, maybe we should try to get together early in 2019 for breakfast and drive? Anyone volunteer to suggest date and place to meet? If you guys are serious about an AZ drive we should discuss and get it done ;-)

Cheers!

Fernando
count me in
spyerx too