Track prep DIY

09-23-2014, 08:14 PM

---

09-23-2014, 08:17 PM

---

09-23-2014, 10:30 PM

---

09-27-2014, 12:54 AM

---
Spartan/Paver - thanks for the clariffication (I was pretty certain I was on the wrong track re CL vs 5 stud!).

I got these shim part numbers with the size description from my Porsche parts guy on Friday. the last three part numbers are supposedly the shims for the front suspesnion (aka 997 GT3/996GT3 psrts).

I have been told as a general guide 10mm of shims = -1.0 degree camber. The factorty top mounts allow the camber to go roughly -2.0 front and rear so to achieve -2.5 degrees I would assume youd need around 5mm shims for teh front and probably 6-7mm for the rear (to be safe as theres just under -2.0 in the factory set up there).

I think by using the shims you also change the caster and the 991 GT3 is sensitive to this at the front as there isnt alot of room in the wheel well. The factory I believe specify 9.30 and this is probably where you want to try and keep it so as you use shims it might be an idea to use a lower control arm adjustable insert like Elephant Racing make to adjust for the altered castor?

09-27-2014, 12:58 AM
GT3 player par excellence
Lifetime Rennlist
Member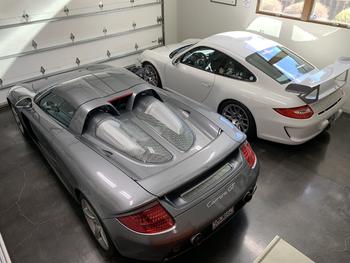 ---
Originally Posted by
Spartan
No no brake caliper studs. Since you have to remove the caliper to change pads you want to have studs to make it as quick and painless as possible just like the cup cars. Without studs your aluminum uprights will get tired from putting in a new bolt all the time and there is risk of damaging the threads. With caliper studs you can rip the nuts off with an impact, pull off caliper and put caliper back on with ease. You don't have to line up the caliper bolts either which can be a pain.
yes, that's why i do with 7 gt.
though i need a small impact to get the nuts out. now only manual ratchets.

05-01-2015, 02:57 AM
Super User
Join Date: Jan 2013
Location: The way to hell is paved by good intentions "Wenn ich Purist h÷re...entsichere ich meinen Browning" "Myths are fuel for marketing (and nowadays for flippers too,,,)" time to time is not sufficient to be a saint, you must be also an Hero
Posts: 3,242