GT3 for sale

07-10-2014, 05:07 PM

GT3 for sale
---

07-10-2014, 06:32 PM

---
German friend emailed me overnight. In his words:
"I heard 2 broke down at a Spa track day with broken radiators..this car is from A-Z useless it seems..in Germany they are sold only with heavy discounts"
997 GT3 and 997 GT2 owner, has moved on from Porsche though

07-10-2014, 08:23 PM

---

07-10-2014, 11:58 PM

---
My car is also listed on their site.

I was there today because they have a 918 Spyder on display and I went to check it out.

Wow!!!. The car looks great and very busy looking. Just so much going on and the car looks like it is moving as it sits there. Also, first time up and close with a $800,000 plus exotic. There was a guy there putting Xpel clear guard over the whole car. Actually, doing an exceptional installation that I spent some time admiring his work. I also got his name because I will make sure he will be the one doing my Gt3 in 6 weeks. I know they have been using the same Company, lately, because of their great work.

07-11-2014, 12:18 AM

---
That might be so...but this one is
used
and for sale to anyone '
right now
'! Here is a quote from their notes on the website:
"Don't let summer pass you by.......own and drive what is one of the only 991 GT3's currently availible for sale right now!"
You two are trouble-makers...wait until Nick hears about this!

Saludos,
Eduardo
Carmel
.

07-11-2014, 12:21 AM

---
You mean this?
https://twitter.com/hashtag/porschequalitynightmare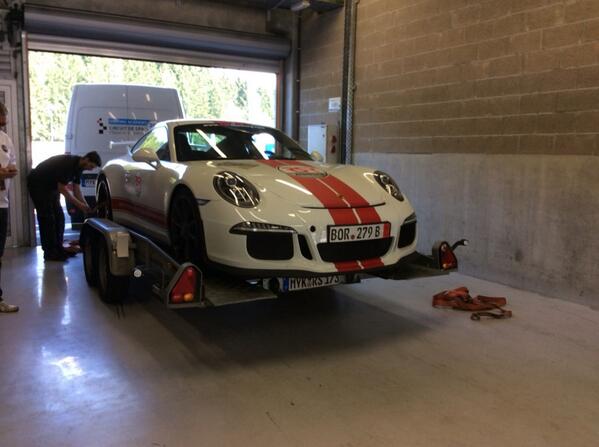 07-11-2014, 12:25 AM

---


Although I'm critical of the 991 GT3, I think values will remain firm through the medium term due to short supply. Long term - no way: zero race provenance, disastrous engine issues, and application of new technology which will have more sophisticated updates in the future. In a decade the 991 GT3's trickery will seem as antiquated as a 10 year old single clutch gearbox, if not moreso. The 997s are a different market altogether now.

That said, I made a few calls this week regarding 981 GT4 and 991.2 GT3 lists...