2019 Geneva Auto Show.. pics & thoughts.

03-06-2019, 11:42 AM

---
There is actually a Porsche presentation which almost nobody recognizes as such: PiŰch Automotive, a Swiss-German car company presented their fully electric sportscar Mark Zero.

The founder of the company is Anton PiŰch, one of the sons of Ferdinand PiŰch, who himself is - of course - a grandson of the late Prof. Dr. Ferdinand Porsche!

Specs sound interesting: The car is powered by three electric motors: one front-axle asynchronous motor which delivers 150 kW, and two rear-axle synchronous motors to produce 150 kW each. The cars shall weigh less than 1800kg, has a range of 500km and shall be rechargeable (80%) in under 5 minutes. Sounds like this should have been the car which we all hoped Porsche to bring to the market?

I wanted to upload some pics, but failed miserably... Maybe somebody else could step in?

Best
Tobias
---
Last edited by spydersmiley; 03-06-2019 at

12:46 PM

.

03-06-2019, 12:51 PM
Addict
Rennlist Member
Join Date: Nov 2007
Posts: 891

---
great pics and analysis.

It seems to me we are nearing the precipice where sports car (and super car) development results in cars that are further and further out of reach for the overwhelming majority and hence funding for the development may decline.

I wouldnĺt even know where to begin if I was fortunate enough to choose any of those cars. Itĺs like a Cheesecake Factory menu on steroids.


03-06-2019, 06:55 PM

---
I'd written a little piece on instagram about MAT, a company founded by one of the worlds most awarded and experienced automotive prototyping engineers, and my friend, Paolo Garella. Paolo and I became friends a few years ago.. but as a kid, i would cut out magazine articles about him and make collages of where he was included in an article.. some people like music stars or sports stars.. I followed automotive engineers like Paolo and Horacio Pagani and Gianpoalo Dallara and others.
Few people know, but the number of projects which Paolo Garella has lead is simply staggering... and his depth of experience is unlike that of any automotive engineer in the world that i can think of.
-Pininfarina Special Projects Manager
-Sultan of Brunei Prototypes.
-Apollo IE
-All the jim glickenhaus cars including scg003/s/ + ferrari P4/5 & P4/5 Competizione
-Ferrari Modulo restoration
-many others which can't be shared publicly...
Starting from the top though, Paolo was the special projects manager at Pininfarina, and most famously was the man behind most of the Sultan of Brunei prototypes. Like taking ferrari coupes and making them into sedans and wagons... with ferrari production quality levels.
Additionally, he built the Jim Glickenhaus SCG 003 Nurburgring race cars,
and the SCG 003S road car which I test drove last year.
Paolo also was the man responsible for the Ferrari P4/5, as well as the P4/5 Competizione...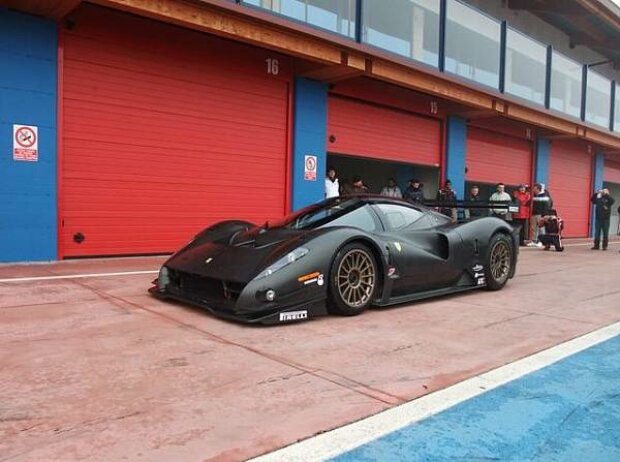 not to mention doing the restoration on an italian icon... the Ferrari Modulo (something which I covered here in a post after my visit to his shop last year.
Anyway, needless to say.. Paolo Garella is THE MAN you trust when you want a new car built. Period.
This year I was a guest of Paolo's team at Geneva, and with exhibitor passes in hand, i was able to access the show before the crowds, and just walk around and talk to all my friends, hear the gossip, share some stories.. and just relish in the whole gearheadness of it all. Of course i spent a lot of time inside the MAT booth here at Geneva past two days, and I interviewed Paolo about his time working with the Sultan of Brunei and all the crazy engineering projects he was tasked with. This was the man who managed the entire collection.. thousands of cars.. and hundreds of special projects.. from rolls royce SUV's built on range rover bodies, to paddle shift Ferraris with F1 paddle shifters.. before such a thing existed. To managing the Mclaren F1 collection.. the stories he can tell are endless... and simply jaw-dropping. He was the man who would wake up in the middle of the night to a phone call from the Sultan asking for a run of station wagon Ferrari 456's, and he was the man tasked with figuring out a way to take cars that simply didn't exist, and make them into production worthy machines.
When you look at small production cars, they look good from far away, but they fall apart upon close inspection. The difference, and the devil as they say, is always in the details. But when you look at the cars that Paolo's team builds like this Stratos, they look like production machines all the way down to the smallest attachment, all the way down to the perfection of the shut lines in the doors. Every little detail which the untrained may not see, but that the production engineer spots as equal or surpassing the quality of a mass produced car. When you look at the new Stratos machine which Paolo's team has built on a custom shortened F430 chassis, you are in disbelief at the precision and quality of the work. I drove the prototype this summer during pebble beach, it made me smile so much it hurt. We also put the car next to an original stratos and it was such a beautiful reinterpretation of the originals...
The Stratos is like nothing else on offer In today's supersaturated world of sports cars, super short wheel base, turns on a dime, very quick reaction.. not neutered and dumbed down, yet refined. this project truly stands out as something different… Not only is it so unique in it's setup as a modern but old-fashioned analog rally racer, but because of the intrinsic quality of every detail. This stratos stands apart from the insanity at Geneva because it's a usable sports car with a fantastic design.
---
Last edited by CAlexio; 03-06-2019 at

08:56 PM

.

03-06-2019, 07:51 PM

---
Originally Posted by rosenbergendo
Awesome! Your pics and stories are always ridiculous!!
Originally Posted by DJDelMar
Great shots, best Geneva coverage I have seen. You have captured the essence of the
show almost ... poetically?
Too kind.. and to think I told my wife I came to Europe to teach an entrepreneurship course.. it's amazing how the Geneva auto show timing was so perfect.. no idea how that happened (I really did teach the course)