JCR // Titanium Race Pipe (New Product & Intro Offer)

12-03-2018, 12:34 PM
Basic Sponsor
Rennlist
Site Sponsor

Join Date: Oct 2016
Location: UK
Posts: 413
Likes: 0

JCR // Titanium Race Pipe (New Product & Intro Offer)
---
Hey all,
As some of you may have read / seen already on our other social media channels we have been planning to release our latest and arguably most exciting new product to date. The JCR Titanium Race pipe suitable for all 991 GT3 based models.
I have attached our release information along with an introductory pricing offer for this week only below.
As ever, please feel free to ask any questions relating to the products and if you wish to order please just go ahead and do so following the links and instructions included at the bottom of this post.
JC
- - - - - - - - - - - - - - - - - - -
Introduction
There has been a calling since we first debuted our Titanium Centre Bypass products for some kind of 'race' system. The truth is that we have been working on this solution for almost 12 months, perfecting and finalising until this point where we are now.
We're very pleased to officially launch the JCR Titanium Race Pipe.
Light Weight
Due to the non silenced non valved 100% Titanium construction the JCR Titanium Race Pipe offers our most extreme weight reduction of the entire range - Any weight reduction is good news however reducing weight rearward of the 911's rear axle can yield huge improvements in handling balance too. This truly is a win win modification saving over 30kg of mass from the rear.
The Design
Through extensive testing and development we have perfected a number of key areas in the exhaust systems design to perfectly tune and accentuate the tone and pitch of the JCR Race Pipe's sound and performance. The system features 70mm pipe work, routed cleverly to achieve the desired overall length whilst offering an target back pressure level to maintain low down torque yet allow the engine to breath right up to the 9000rpm redline, in certain applications.
The system then merges into another key point, collecting the gasses and creating a scavenging effect whilst targeting unwanted drone frequencies then heading back out into a twin 70mm to the factory style 3-bolt flange allowing customers to retain OEM tips or upgrade for any aftermarket tips which utilise the OEM style 3-bolt flange.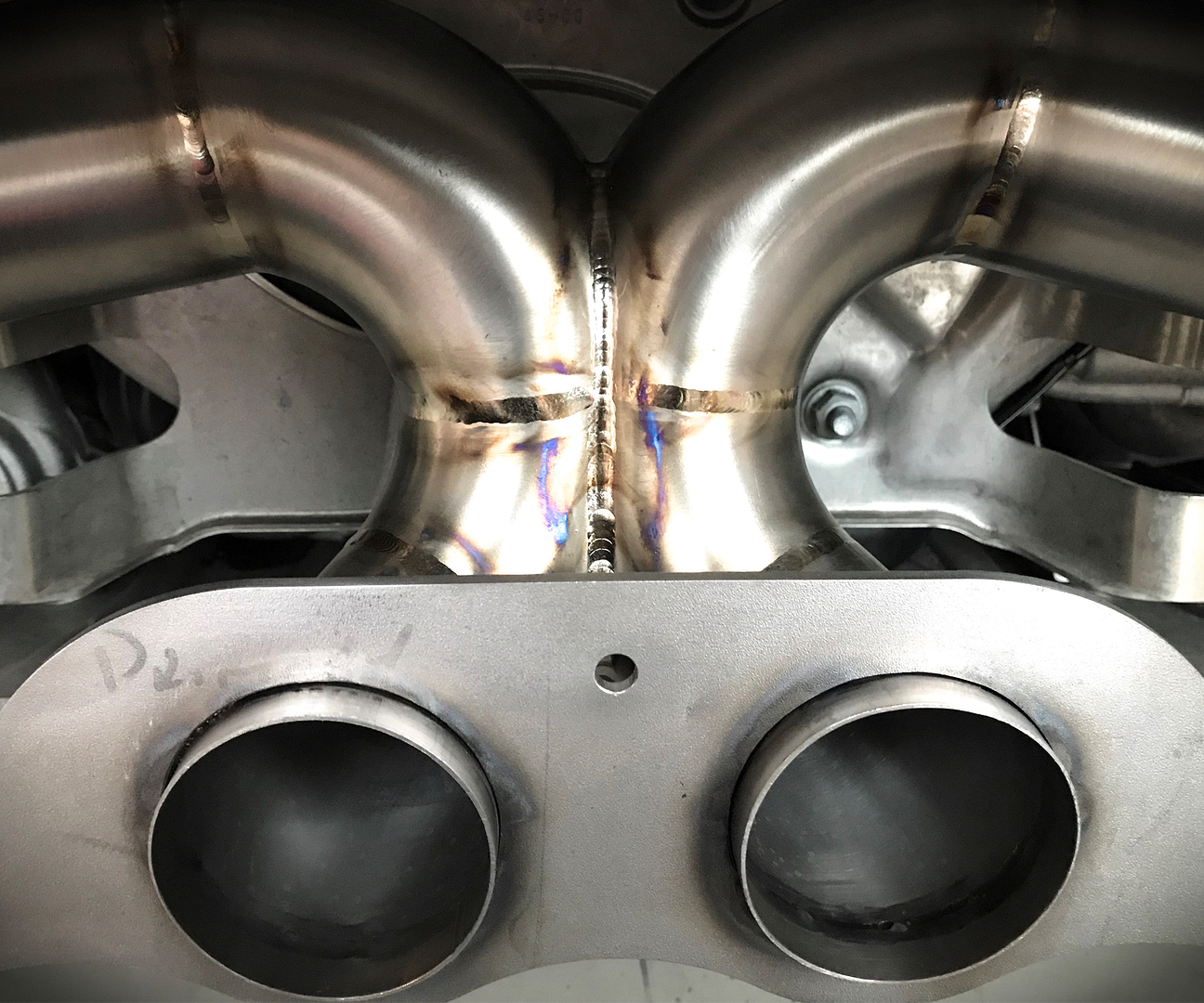 We have manufactured a light weight fixing, utilising the OEM side silencer brackets we support the Titanium Race pipe from both sides to ensure no additional load is applied to the header flange. This also enables us to mount the exhaust with a small rubber mount, isolating any unwanted vibrations from the cabin.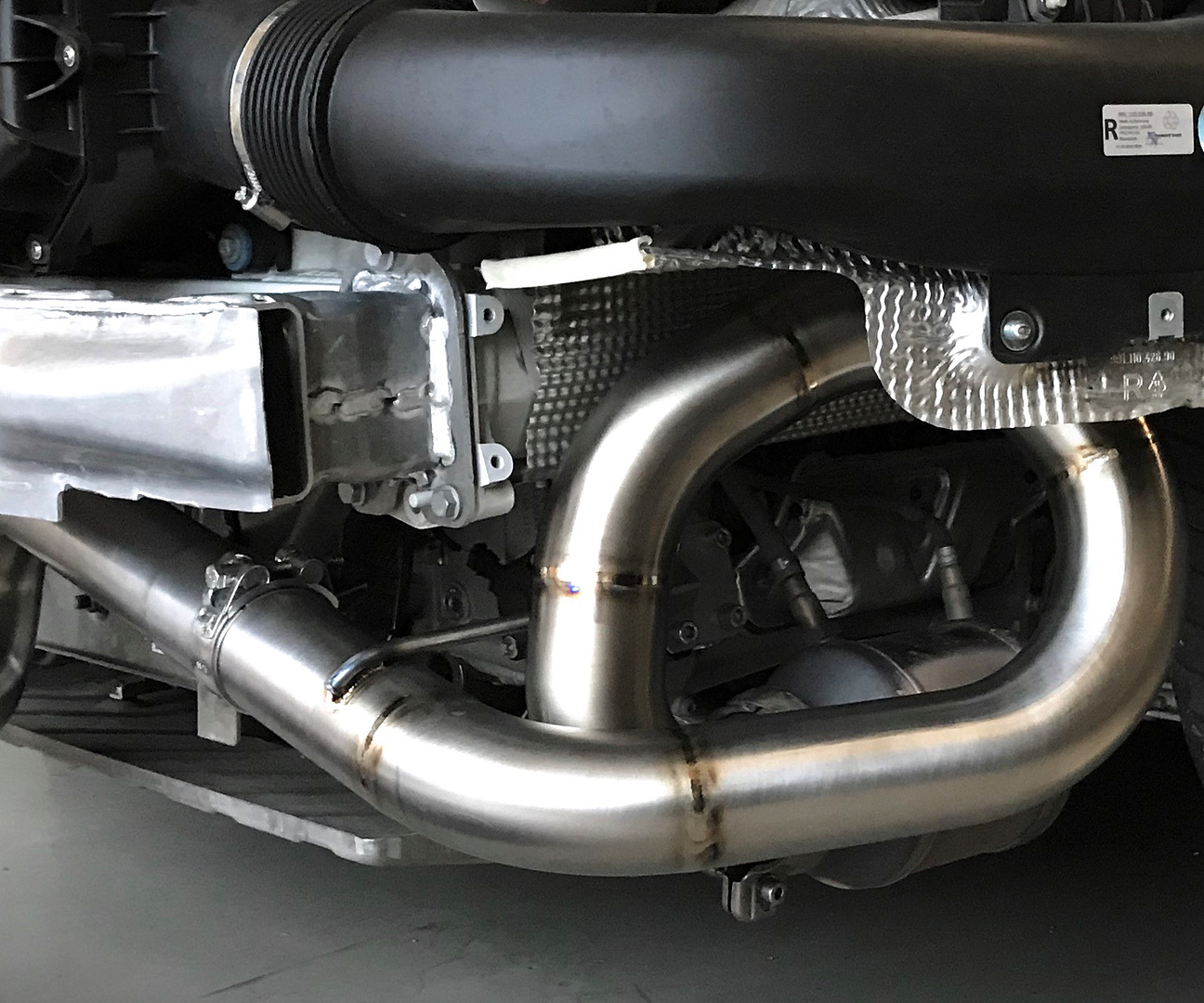 Performance Increase
Every component of the JCR Titanium Exhaust line is gurenteed to improve HP & TQ with to a varying degree dependant on the specific combination of parts. In combination with the OEM headers the JCR Titanium Race Pipe in testing saw peak gains of 10-15bhp and 10-12ftlbs or torque with little to no low down torque loss over the OEM header back system.
RSR Sound
For anyone who has heard the 2018 GTE 911 RSR in person they would be hard pushed to say that there is a better sounding race car. We feel we have managed to achieve that same glorious tone with the JCR Titanium Race Pipe, hearing truly is believing in this case.
* Its important to note that whilst the Titanium Race Pipe does not have terrible levels of drone the owner must understand that this system has no valves or silencing so the overall volume is much higher than OEM. Not for the faint of heart!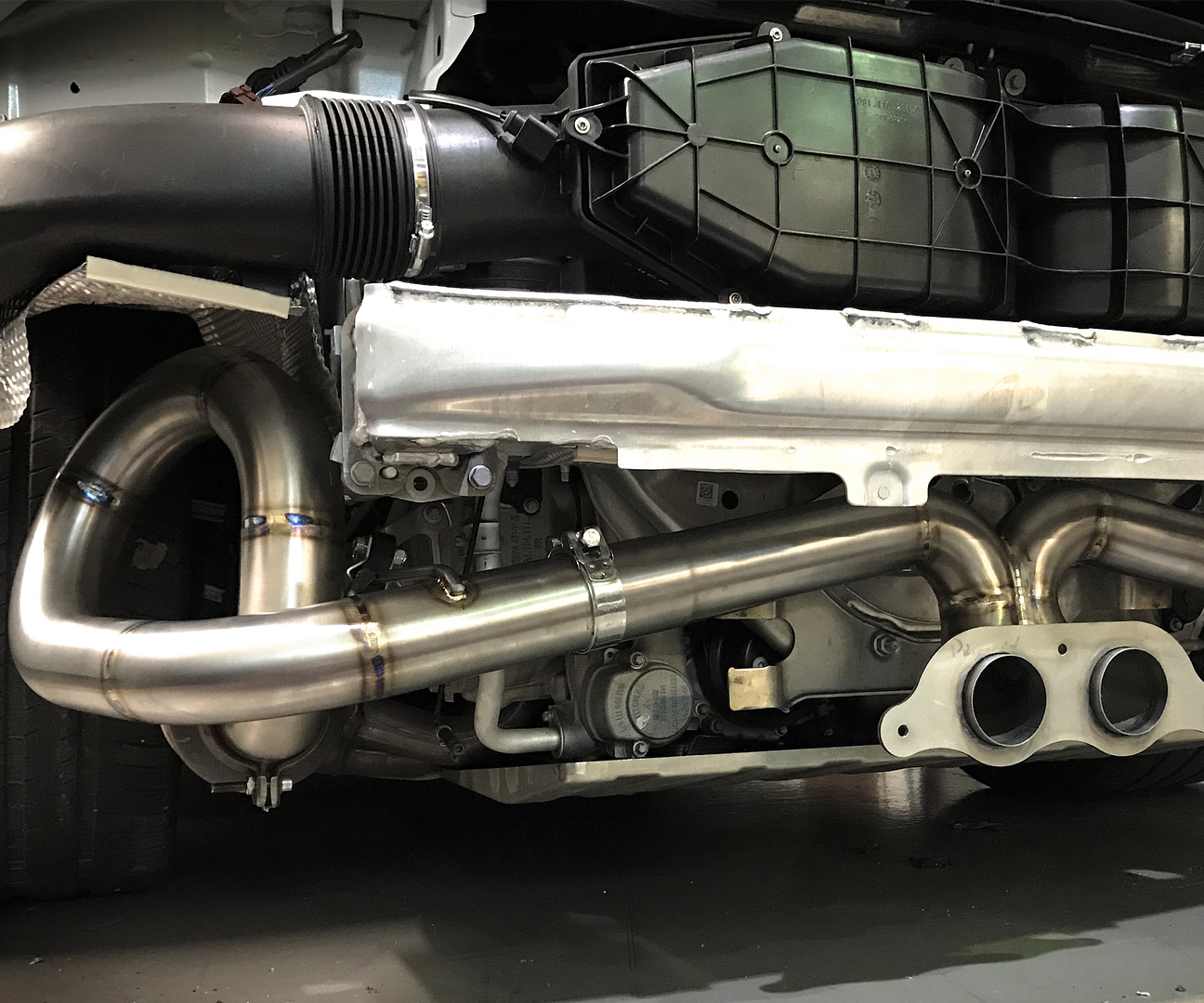 Key Features
100% Titanium Construction
30kg Weight Reduction vs OEM
Extreme Sound
HP & TQ Increase (possible low down torque loss depending on header specification)
OEM Style 3-Bolt Exhaust Tip Flange
Applications
991.1 GT3 / R / RS
991.2 GT3 / Touring / RS
Pricing & Availability
Pricing & Availability
* Orders placed between 3rd & 17th December guaranteed for 2018 delivery
** All orders must be placed before the end of Monday 17th to qualify for the promotion
ORDER NOW - TITANIUM RACE PIPE
ú2695.00 GBP ($3455.00 USD) + shipping
/
INTRO DISCOUNT - ú2425.00 GBP ($3100.00 USD) + free shipping
Now, who's ready?!

---
Last edited by JCR-Porsche; 04-17-2019 at

06:03 AM

.

12-03-2018, 12:39 PM
Basic Sponsor
Rennlist
Site Sponsor


---
That sounds sick! Nice work.

12-03-2018, 01:43 PM
Addict
Rennlist Member
Join Date: Dec 2015
Posts: 420
Likes: 0

---
I saw this on your IG account over the weekend and it sounds fabulous. For those that have to deal with sound restrictions at the track, is this even an option? Obviously one would have to be able to tolerate it on the street too so feedback there would be relevant as well (even if different tolerance levels exist for people).

12-03-2018, 03:20 PM
Addict
Rennlist Member
Join Date: Jun 2004
Posts: 2,508
Received 0 Likes on 0 Posts

---
I think the pricing is reasonable, especially considering most steel bypasses with less piping (rear only) are typically selling for $2K plus. This one has much more engineering in it and is titanium.

12-03-2018, 03:32 PM
Addict
Rennlist Member
Join Date: Nov 2014
Location: Danville, Ca
Posts: 940
Received 0 Likes on 0 Posts

---
I pressed play and as it was black, dark and silent I thought I hadn't got the volume up high enough. I turned up to max and then got the fly by and nearly blew my windows out!! I want that pipe so bad but I'd get busted so quick over here in California. And would even be able to short shift and coast past the sound booth at Laguna Seca!!!
Nice work though.


12-03-2018, 04:00 PM
Addict
Rennlist Member
Join Date: Feb 2015
Location: Dallas, TX
Posts: 1,718
Likes: 0

---
Steel bypasses are overpriced too

I run a titanium IPE exhaust with valves and side bypasses. I got it for a great price. I felt like it was more worth it because of the valves and the rear is actually a muffler versus paying 2-3k for just some pipes.

12-03-2018, 05:41 PM
Addict
Rennlist Member
Join Date: Jun 2004
Posts: 2,508
Received 0 Likes on 0 Posts

---

12-03-2018, 09:34 PM
Addict
Rennlist Member
Join Date: Jun 2005
Location: Florida
Posts: 1,551
Likes: 0

---
Amazing video. I have the comparable Akra set up (center w/ link pipe OEM headers/cats) and it sounds nothing like this system in terms of energy or intensity. Well done JCR.