Naturally-aspirated Porsche 911 GT3 to stay

11-30-2018, 06:35 AM

---
My view is it will be NA but with a electric motor in the PDK thus no more manuals. The new body apparently provides room for some batteries so look for an NA hybrid with Kers or something similar. Obviously Porsche has previously built a Kers "Cup Car" and has a lot of experience with hi performance NA hybrids. I would seriously doubt that 550-600 bhp from a 4L road car engine is realistically possible. In any event, the future of GT cars looks like they will be heavier which is not a great trend.

11-30-2018, 10:07 AM

---
---
Last edited by Buteo; 11-30-2018 at

10:26 AM

.

11-30-2018, 10:28 AM

---
If you have to have someoneís car taking up your parking space, a Gullwing is a pretty good option

I saw one just this week (Silver-Gray color). Maybe same one?

11-30-2018, 11:52 AM
User
Join Date: Nov 2018
Posts: 275

---

11-30-2018, 12:07 PM

---
Itís a fun car- a German muscle car with a bit of style. I like it quite a bit.
Not me driving the other day- havenít had it out in a while but it sounds similar in spec.
Here is his, obligatory Gullwing up!

11-30-2018, 12:19 PM

11-30-2018, 07:41 PM

12-01-2018, 05:39 AM

---

12-01-2018, 10:32 AM

---
[QUOTE=BCMgunner;15466473]

I meant S or RS spec (not necessarily original- my RS was only a T)

12-01-2018, 10:55 AM

12-01-2018, 02:43 PM
GT3 player par excellence
Lifetime Rennlist
Member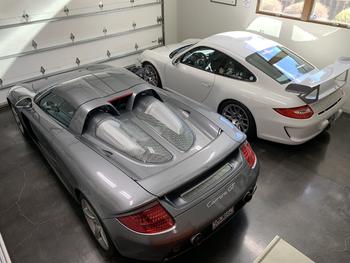 ---
[QUOTE=GrantG;15467529]
got ya, now I only need to sell one instead of both kidneys.
I drove them, lovely stuff.
but for now, I am ok with my mutt ;-)
LOL that aubergine is easily 150 today