GT2 RS Clubsport announcement (didn't hear of this last night)

05-15-2019, 11:38 PM

Allocation
---
How many of us received this note??
As promised a few weeks ago, I am writing you concerning an update on the Porsche 935 and 911 GT2RS Clubsport allocations. I realize that this is a longer than usual email, but please read the full email as there is quite a bit of important information covered.
To begin, even if we would have gladly done so, we regret that we are not able to fulfil your wish for a Porsche 935. The demand was exceptionally high - far higher than our limited production run of 77 vehicles.
That said, let me be the first to extend a heartfelt congratulations to you on receiving an allocation for the limited Porsche 911 GT2RS Clubsport!
We are excited to welcome you to the PMNA family with this limited production car. In the following sections, I will outline next steps to secure the allocation and hopefully answer some frequently asked questions. If after reading through this email you have additional questions, please email me directly so I can assist you. Please be advised that I will be out of office the remainder of this week supporting the teams at the Canadian Tire Motorsport Park races this weekend, so replies may be slower than usual. I will respond as soon as I am able.
Contract Details:
PMNA processes all contracts via DocuSign. In order to complete the contract and send it to you for review and signature, we will need the following information. Please provide this information
no later than Friday, May 24th
if you wish to move forward with the allocation. After that date, we can no longer guarantee your allocation.
Buyer's Name: (information must match the wire transfer)
Buyer's Address:
Spare Parts Shipping Address: (if different)
Preferred Phone:
Preferred Email:
Preferred Warehouse/Pick-Up Location: (choose one)
- Atlanta, GA USA
- Los Angeles, CA USA
- Toronto, Ontario CAN (Canadian customers only)
Vehicle Pricing:
To ensure that you have all of the information available to you to make a decision, please see the vehicle pricing break-out, by line item below. Please note that the estimated sales tax, and therefore the Total Price, cannot be calculated until information concerning attendance at one of the Factory hand-over events is provided. There will be more information about the Factory event later in this email.
ORDER DESCRIPTION AND PRICING:
US$
· 911 GT2 RS Clubsport, Model Year 2019
· Estimated Shipping (Race Car)
· Import & Duties (Race Car)
· Spare Parts Package
· Event Attendance
· Estimated Sales Tax
· New Tariff – Invoiced Separately
·
Total Price
$478,000.00
$24,900.00
$13,375.00
$25,000.00
$.00
$.00
TBD
$.00
New Tariff– In the event a customs duty or tariff not in effect on the date of this Agreement is imposed upon the Race Car as a result of importation of the Race Car into the United States, Buyer agrees to reimburse Seller, upon receipt of the invoice, an amount equal to such additional customs duty or tariff.
Please note the following:
- The Spare Parts package is mandatory with the purchase of the car and is taxable. The Spare Parts package will ship seperate from the Race Car to an address specified by you during the contract process.
- Sales tax on all US-based PMNA contracts reflects 10% of the total purchase price of the vehicle, including the Spare Parts pacakage. For Canadian customers, sales tax is 13%.
- Racecars cannot be titled or registered therefore, the sales tax process differs from a typical street car purchase. PMNA calculates the final sales tax liability based on where the car is delivered, not the company the car is held under or the address on the contract. Since the domestic shipping is the responsibility of the buyer, we use a signed Bill of Lading (BOL) from a licensed freight forwarder to determine the delivery address and the tax jurisdiction. If, however, you use a private vehicle, team transporter, or other non-licensed freight forwarder to pick the car up at the local warehouse then we will charge sales tax based on the warehouse location.
Leipzig Hand-Over Event:
Should you wish, you will have the opportunity to attend a hand-over event at the factory in Leipzig, Germany. The cost to attend one of the hand-over events is $12,140.
The hand-over event will last 5 hours and includes the following:
- Presentation & Briefing of the vehicle by a Porsche instructor
- Track Walk (Leipzig Test Track)
- Track Coaching
- Guided Driving/Section Training
- Free Driving
- Factory Tour
Should you wish to attend one of these hand-over events, they will be available on a first-come-first-served basis. The available dates are provided, below. Please be advised that these events do not serve as a roll-out for teams. This is an individual customer event only.
In the attached form, please select one date in each column to ensure we are able to schedule everyone accordingly. If you wish to not attend an event, please let me know and I will remove that section from the contract document.
911 GT2 RS Clubsport Customer Event at Leipzig – Dates

Binding participation in driving event for final customers only. Excludes vehicle transportation.

1. Wednesday, August 7, 2019

2. Monday, September 2, 2019

3. Friday, September 20, 2019

4. Saturday, September 21, 2019

5. Monday, October 14, 2019

6. Tuesday, October 22, 2019



Conclusion:
I realize that there is quite a bit of information in this email, so in summary:
1. Please review and provide the necessary information for PMNA to generate a contract. All contract information needs to be received no later than Friday, May 24th to be eligilbe for the allocation.
2. Please review and select a date for the Leipzig hand-over event, should you wish to attend. If you do not wish to attend, please let me know so I can mark you down accordingly.
3. If you do not wish to move forward with the allocation, please let me know as soon as possible, but no later than Friday, May 24th so we can proceed accordingly.
Should you have any questions, please do not hesitate to contact me directly. Congratulations on receiving an allocation for the Porsche 911 GT2RS Clubsport. I look forward to hearing from you soon.
Best Regards/ Mit freundlichen Grüßen,

05-16-2019, 03:24 AM
GT3 player par excellence
Lifetime Rennlist
Member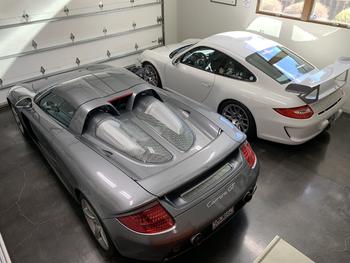 ---

save the money buy more cup car and come out eat real food with me


cars not driven...
and you know what, forget driving them, most cars in "collections" are not even detailed correctly.


I tell my wife my architect's license qualified me to do her OATS procedure... and my ortho friends were surprised how much I know about OATS.. but my wife was smart enough to find a real ortho... a lot of KNOW IT ALL hacks out there.



05-16-2019, 09:22 AM
Addict
Rennlist Member
Join Date: May 2013
Posts: 61

---
With 150 extra h.p. over the GT3R, I expect lap records to be broken. You could not convert a street GT2RS to the Clubsport for the money being asked, $478,000 plus spares, shipping, import duties. You could, however, increase downforce on the Clubsport with the addition of MR parts like the rear diffuser and other body kit parts, maybe not to the level of an R, but more than standard. I understand that the GT2RS CS will have more downforce than a Cup, but less than an R in the stock configuration. It also has stability control, ABS, and traction control. I know real pros turn most of the electronics off, but it is great to have that option. In any case, the new car will be a great addition with less running costs than a Cup, and certainly an R.

05-16-2019, 09:59 AM

---
If I was invited and had the funds I'd buy this car

The street car .2 RS is incredible on the track for what it is

Register in PCA, run open class

Pick on the cup R

And buy a good track insurance policy

05-16-2019, 11:01 AM
User
Join Date: Jan 2018
Posts: 12

---
Do you think this car ends up being flipped for bigger dollars? You're between $500-550k with numbers listed before you add in the TBD price on the spares package. If people are turning them down how is a 1 of 200 Porsche not being gobbled up by these guys?

05-16-2019, 11:44 AM
Addict
Rennlist Member
Join Date: May 2013
Posts: 61

---
Schedule for new GT2RS Clubsport racing at Spa in July, 2019
The first race for the new GT2RS Clubsport will be this summer at Spa.
https://www.blancpain-gt-series.com/...draft%2010.pdf

05-16-2019, 12:26 PM