Can you share what you did to prep your paint after getting your GT3?

11-15-2018, 05:16 PM

---

11-16-2018, 01:04 AM

11-16-2018, 01:42 AM
GT3 player par excellence
Lifetime Rennlist
Member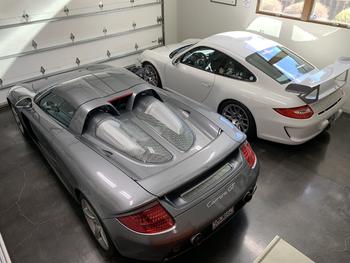 ---
man.. get it straight
if you are really good detailing your car, yo udon want coating. they look wrong. you know like fake *****. well some ppl are blind can't tell difference
if you suck but insist on doing your own detailing, wrap it then coat the film. it sheds water water and you are less likely to fk up
If you pay detailer to work on your car. do not coat it. let them work harder.

11-16-2018, 01:47 AM

---
Originally Posted by bli8
PPF shouldn't go on top of ceramic coating makes sense but why even bother putting ceramic coating on top of PPF? Doesn't most of the latest PPF self heal and negate the need for the coating?
Ceramic coating is applied on top of the PPF
Decals or vinyl lettering goes on top of PPF
Thought explained it earlier.hope this clears any confusion

11-16-2018, 12:41 PM

---

11-17-2018, 01:52 PM
User
Join Date: Feb 2018
Posts: 19

---
Originally Posted by
GrantG
Coating on the PPF makes for a more homogenous look for PPF and not-PPF parts of the car, protects the PPF better and makes cleaning the car much easier (water/dirt run right off). I also ceramic coated the wheels and brake calipers (special stuff for this too). Once done it makes for very easy cleaning of the car (I'm lazy and would rather drive than clean).
+1
And protection for the protection!
The ceramic coating also keeps the film from yellowing over time. This is especially apparent on white cars. I do also agree that it adds a layer of sheen, which makes the PPF appear more natural and paint-like.

03-27-2019, 07:56 PM
User
Join Date: Apr 2017
Posts: 66

Ceramic Coating
---
After full clay and cleaning, i had my detailer apply a Ceramic coating from
https://www.feynlab.com/
Very few detailers have the proper training and certification to work with this stuff so make sure you go to the right person. This stuff isnít cheap, but it is way better than wax. It integrates with your paint/clear coat to seal your exterior. Water and road grime canít adhere. Makes your car look its best, and makes it a breeze to wash the car. I also had my wheels treated. Brake dust wipes right off. This stuff comes with a Warranty. Iím doing this to all my cars.
Gil