DIY Tiptronic Paddle Shift Conversion

03-04-2016, 07:47 PM

---
Some folks have PM'ed me asking for some clarification on the wiring.
Here is a slightly more annotated version of the wiring diagram:
Notes:
On the Porsche wiring harness:
Black = Ground
Yellow = dashboard lights (do not use)
White = Upshift (short to ground to upshift)
Red = Downshift (short to ground to downshift)
On the AMG paddles:
Black = Ground
Yellow = upshift
Blue = downshift
So you connect:
Porsche Harness Black to both AMG paddle switch Blacks
Porsche harness White to right AMG paddle Yellow
Porsche harness Red to left AMG paddle Blue
Porsche harness yellow to nothing, just shrink wrap to prevent shorting.
You can ignore the Porsche Harness Green and Brown wires, they are just travelers used to interconnect the OEM Porsche left and right thumb tiptronic switches.

03-08-2016, 11:21 PM

---
Update...

SpawnyWhippet just did this mod to his Triangular (non-sport) wheel, and from the pictures he emailed, it looks awesome! He also did a much clearer wiring diagram, hopefully he'll post up his pictures, diagram and his experience in doing the mod himself!

03-09-2016, 03:57 AM

---
Thanks to Paul's great post, I found this mod to be quite straight forward. I didn't want to risk chopping up my original tiptronic wheel, so I bought a used wheel and new AMG paddles from ebay and a tiptronic wiring harness from my local stealership for a total of $375.
It took maybe a couple of hours to modify the wheel to mount the paddles, then another hour to insert the new wiring harness and connect it to the paddles. It all checks out fine with the multimeter, so I will install it on the car in the next few days, hopefully in time for a DE day at Thunderhilll.
Take your time getting this part right:
After fitting both paddles:
Note the paddles look like they are not symmetrical or level, but it is only a bad camera angle. They are mounted the same distance from the top and edges on either side.
This is the wiring diagram that Paul worked out, I just cleaned it up a little in Visio:
---
Last edited by SpawnyWhippet; 03-10-2016 at

09:30 PM

.

03-09-2016, 04:45 AM

---
I love it guys! I'm excited for my parts to arrive in the mail.

03-09-2016, 03:49 PM

---
OK Tiptronic guys... I have another "tip tip"!

Try the SprintBooster.

I ran one on my manual 996 and loved it, but it is even better on Tiptronic cars. I run mine in conjunction with sport mode, but if you don't have the sport/chrono sport mode, it is IMHO almost a must have for spirited driving.

No, it will not give you more power, but it does remap the e-throttle in a way that makes the car much more fun and responsive. It is especially nice in combating one of the tip's biggest shortcomings, the second gear start in auto mode. Now instead of having to jam your foot to the floor (or hit the paddle) to start in 1st on a roll-off, a quick blip is all it takes. Overall it just wakes up the car quite a bit IMHO.

It has three modes controlled by a simple pushbutton switch, normal (no effect), sporty (quicker throttle response), and super sporty (much quicker throttle response). I leave mine in super sport almost all of the time (sporty, super-sporty are my terms, not sprintboosters).

About $300, price fluctuates. Buy one from Amazon and try it yourself. Installation is easy, and if you don't like it, just send it back. But nobody I know who has ever tried it has even considered sending it back.

If you google reviews, you will undoubtedly see some negative treatises explaining why the SprintBooster can't possibly be any good. Mind you they haven't actually driven a car with one, they just throw up some charts and analysis and conclude it's no good. I am the first person to not buy in to snake oil sales pitches, but with the mode switch on the SB, it is really easy to A/B compare with and without and very quickly draw your own conclusions!

03-09-2016, 03:55 PM

---
Also...
I recently ordered these anodized aluminum paddle shift extensions from a seller on eBay. They ship from China (boo) so they will undoubtedly take a while to get here, but I'll post up pictures and impressions once they arrive. They are custom made for the AMG paddles, not a generic paddle extension. I do find the stock AMG paddles to just be a bit on the small side, plus I think I mounted mine just a tiny bit too far inboard, so I'm hoping these improve the feel just a bit more.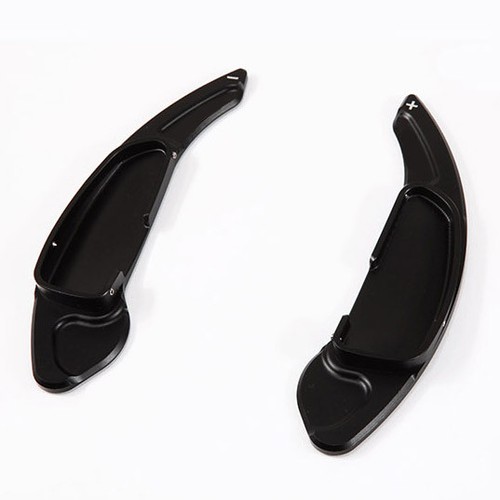 03-10-2016, 07:19 PM

---
Whippet,

Can you please provide the part # for the tip wiring harness?

I just want to make sure I get the right one for my '06CS

03-10-2016, 09:29 PM

---
If yours is the stock, triangular non-multifunction wheel, this is the part number:
997.612.674.02.
I am about to post a complete write up of my modification on renntech.org.

03-15-2016, 04:25 PM

---
Paddle shift extensions arrived yesterday... They seem to be well made, attach with small set screws.
A couple of pictures of them mounted up. No clearance issues, they don't seem quite as large in person as they do in the pictures. Haven't taken a test drive yet, the car is on jackstands getting an exhaust transplant.
Exhaust transplant underway...

03-15-2016, 04:41 PM

---
You do very detailed and easy to follow HOWTOs, @pfb.

How is the exhaust going on? I found one for $275 shipped! Same one, different seller and with no install instructions. I figure I could just drop my car off with the parts and couple of bottles of Bordeaux or Warre's Otima 10. ;-)

+1 on the Sprint Booster. Installed one on my CS last weekend, which isn't even registered, yet. Sport chrono without the dashboard alarm clock.

03-15-2016, 05:51 PM

---
I'll do a write-up on the exhaust when it's done. So far, design, materials and weld quality looks pretty decent. Zero instructions with mine as well, though once you figure out the bizarre/masterful engineering that Porsche used to mount the exhaust systems, it's pretty easy.
Does the exhaust you picked have the bellows/flex-joint in the intermediate pipe? The seller I bought from claimed that most did not, and even his auction pictures don't show it, but he said it had it and sure enough it did when it arrived. I haven't installed yet, but based on some of the previous reviews, the flex joint might help in getting a good fitting installation. Might be worth the extra $20 (I offered/he accepted $295 shipped) if the other exhaust doesn't have the flex joint!
Most of the Cheebay cayman exhausts show the mid pipe without flex joint, I think maybe an earlier version?
---
Last edited by pfbz; 03-15-2016 at

06:14 PM

.

04-16-2016, 03:15 PM
User
Join Date: Sep 2015
Posts: 166

---
Curious if you reused the connector from your old wheel or did you/were you able to buy a new connector?

04-16-2016, 03:47 PM

---
I reused my connector and I think Spawny bought a new cable, mostly for the connector.

04-16-2016, 04:08 PM

---
You can reuse the cable from your old wheel, but you need to cut into it, so I bought a new one, exactly the same.