987 Spyder - a new owner's perspective.

07-07-2019, 01:17 AM
Addict
Rennlist Member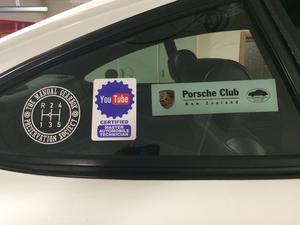 987 Spyder - a new owner's perspective.
---
As my signature shows, I have had quite a range of Porsches. The desire for a 987 Spyder came from the joys of driving a '99 Boxster and my recollection of my Cayman R. It seemed to be the car that would meld the best of both.
To the best of my knowledge there are only three 987 Spyders in New Zealand. Two were brought in new and one was near new ex UK. My UK import will be number four. Three are PDK, one is manual.
The car spec is what I would have ordered new. I get that some see the manual as the pinnacle and I agree on open roads, however given my local traffic and my height (6' 4") I wanted PDK. I still have the manual Boxster and 964 for that stick shift fix.
The car was purchased in the UK, in mid April, put in a container and shipped half way around the World. I received it last week so I'm still working things out.

07-07-2019, 02:26 AM
Addict
Rennlist Member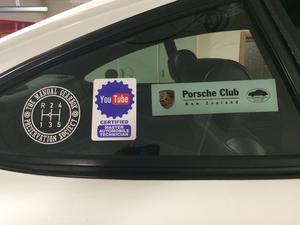 ---
The car came out of the container and had inspections for plant material and emissions. It passed both. The freight forwarder was very keen for me to pick the car up. Unfortunately, it had little gas and a battery with only one start in it. I stopped for gas and couldn't restart it, neither could I open the bonnet. To make it worse, I was blocking a gas pump lane. YouTube helped with instructions but not before I had pushed the red plastic connector out the back of the fuse box. A screwdriver helped take off the cover, then a jump pack allowed me to get the car to the parking area where I called for a new battery. That sorted, I finally got her in my garage.
---
Last edited by John McM; 07-07-2019 at

04:10 AM

.

07-07-2019, 02:35 AM
Addict
Rennlist Member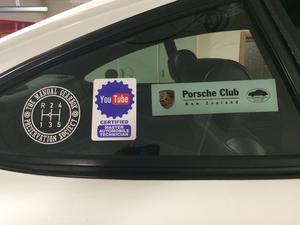 ---
The first port of call was the manual to find out why my PSM had alarmed. Thankfully, it was due to the battery problems and was ok on the second start.
Next up was a check of the car, believe it or not there is only one stone chip and the front spoiler lips are perfect. Either this car has been thoroughly sorted pre purchase or has been pampered. I think a bit of both.
BTW the top removal and fitting process is very easy when done once. I wouldn't rate it as difficult at all.
---
Last edited by John McM; 07-07-2019 at

03:15 AM

.

07-07-2019, 02:42 AM
Addict
Rennlist Member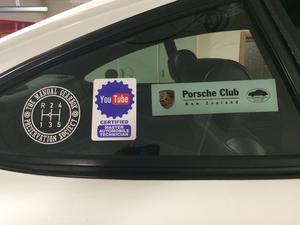 ---
With the inspection over I took it for a drive. Very reminiscent of the R. It feels like a go-kart at the expense of low speed ride quality. I'm driving in Sport mode, but only around the neighbourhood until it's complied for road use. That meant that I took the '99 Boxster for a back road run with friends. A lot more compliant but I had to work the engine to keep up. I think the Spyder would have been near the front of the pack, but not ahead of the 3.8 GT3. What a noise that makes.

07-07-2019, 02:49 PM
Addict
Rennlist Member

---
She looks like a beauty John, congrats!

Hope the registration process goes quick so you can get her out on some back roads and really enjoy it the way it's meant to be enjoyed.

07-07-2019, 03:58 PM
Addict
Rennlist Member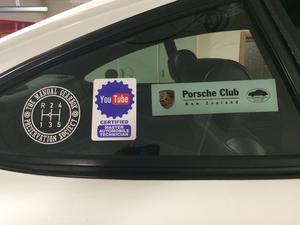 ---
I have only ever seen one other 987 Spyder in person and no 981 Models. There is a White 981 import referenced on this site
https://www.europeancarimports.co.nz/prestige-cars/
so there is at least one in the Country.
It's interesting to me that NZ had 13 examples out of the RHD Turbo 3.6 when they were rarer than RHD Spyders. For some reason Boxster and Caymans didn't sell well new in NZ, but dominate used imports. Maybe it was a pricing issue and people defaulted to 911s? Now the trend is for people to buy new GT cars rather than cooking variety 911s. The World is changing.

07-07-2019, 04:03 PM
Addict
Rennlist Member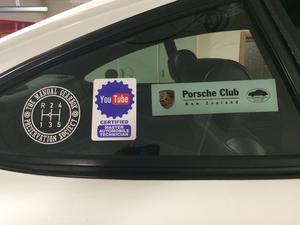 ---
On another point, I've lost a few kg and fit really well in the buckets but lack some backside padding. I love the way the seat inserts come out. Has anyone made up new inserts? I'm thinking custom memory foam made for my physique and maybe pepita cloth.
addendum: just found this
https://rennlist.com/forums/991-gt3-...911r-50th.html
---
Last edited by John McM; 07-07-2019 at

04:23 PM

.

07-07-2019, 11:46 PM
Addict
Rennlist Member

---
Lovely intro to your spyder. Congrats and so glad the journey to the Kiwi land was uneventful. Looks to be in good fettle considering the miles. It certainly is a Bantam weight David in the world of overpowered Goliaths.

07-08-2019, 12:27 AM
Addict
Rennlist Member
Join Date: Oct 2015
Location: Orange County, California
Posts: 1,885
Likes: 0

---