Retrofitting an OEM Steering Wheel to the 968

04-30-2015, 12:32 PM

---
Brown is common. You need to look at the wiring diagrams to determine which one does what. You would have a switch to engage, a switch for upshift and a switch for downshift.
Here is a wiring diagram for an AUDI A8, but it is basically the same set up: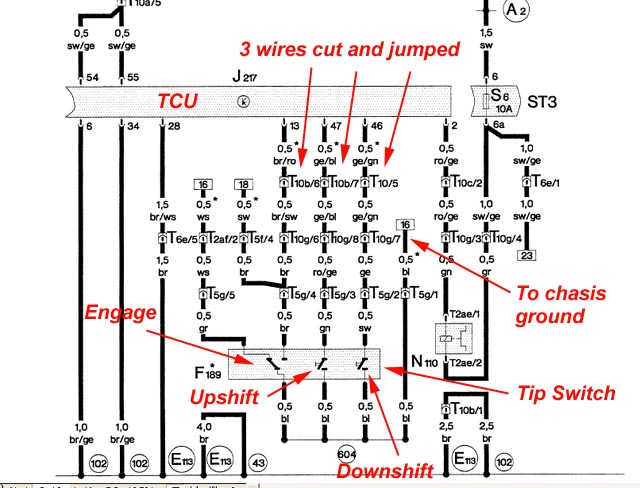 Here is the procedure for the Audi, if you read it, you will get an idea of what is going on:
http://www.audipages.com//Tech_Artic...icupgrade.html
http://www.audipages.com/upgrades/tiptronicwheel.html

07-19-2015, 02:01 PM

---

01-08-2018, 11:09 PM

---
First of all...fantastic thread Paul!

I stumbled onto your post after removing the steering wheel to trace a short...the reason for my search was that when I removed the airbag, from the wheel, the red connector popped off before I never saw the orientation of it's connection to the airbag. Although this connector has a universal horizontal connection (left/right)... I was concerned (did not want it blowing up in my face) that I needed to see if there was an actual picture of the airbag connected. Your photos gave me the confidence that I needed to reconnect it.

As a side note. I have never really been a huge fan of the stock 968 steering wheel...that said, from your post, I see how I can change the wheel with the option of returning it to stock.

Thank you Paul.