me and my 964: an intro

06-12-2014, 12:57 PM
User
Join Date: Nov 2012
Location: Boston
Posts: 1,490

---
well we've learned the centers used were wrong. beyond that, he still claims he doesnt know the offset. i havent bothered with it either.
the front wheels are only 8s somehow, yet they poke beyond the bodywork a legit 1.5inches. this is even running over -2 degrees of camber. there is more front caliper clearance than on the cup1s
the front wheels also wont balance. a roadforce machine shows they will hop. something about way they were built,
the rear fenders still sit on the 245 tire at nearly -3 degrees

06-12-2014, 01:57 PM

---
Wow! A shop who builds wheels can't figure out the ET?!!!! If that isn't a tell tail sign of a shop that DOESN'T know what they're doing, I don't know what is. And it's true, wait time for Rotiform is 2 - 3 times what they say. I dropped off my wheels to be re-built and they said it would take 3 weeks. It's been 2 months now. But a lot of the wait time was dependent on BBS sending them the parts they need. So not all their fault. Good luck with getting your refund back. I hope he man's up and accepts that he messed up and gives you your money!

06-12-2014, 02:39 PM

---
As with most cool ****, Rotiform takes time. The good news is, they have fit multiple sets of wheels in multiple configurations on several 964's so they know what works and what doesn't.

Clearly there's a lot of inaccurate information on wheel and tire fitment that gets posted around here.

06-12-2014, 04:10 PM

---
For sure, and it certainly helps when one of the owners drives an 964

I just wish they would give an honest ETA for once... A week or two extra is not a big deal, several months is.

06-12-2014, 11:31 PM
User
Join Date: Nov 2012
Location: Boston
Posts: 1,490

---
So some good news. They stepped up and refunded me a little more than half today, and the remainder once i ship the wheels back to them.

in other news, finally doing a stereo.. well not really. gonna run a set of componant fronts and an amp with a bluetooth hook up so i can use my phone as a source. sirius and spotify are all i really need.

06-14-2014, 04:40 PM
User
Join Date: Nov 2012
Location: Boston
Posts: 1,490

---
Still trying to source some summer wheels. Anyone have something interesting for sale, or even something not so different? Custom route might have to wait until next season. That way i can make any choice and not need to feel tied to a design because of build time

06-14-2014, 05:17 PM

---
Once I get my wheels from Rotiform, I will be selling my cup II replicas. They are 18 x 8.5/10. ETs are 52 front and 47 rears. Don't know how you feel about the gold. Either you love it or hate it. Kinda what you're looking for, interesting but not so different cuz they are cup IIs. If you're interested PM me and we can talk. Should be getting my wheels within a week or two.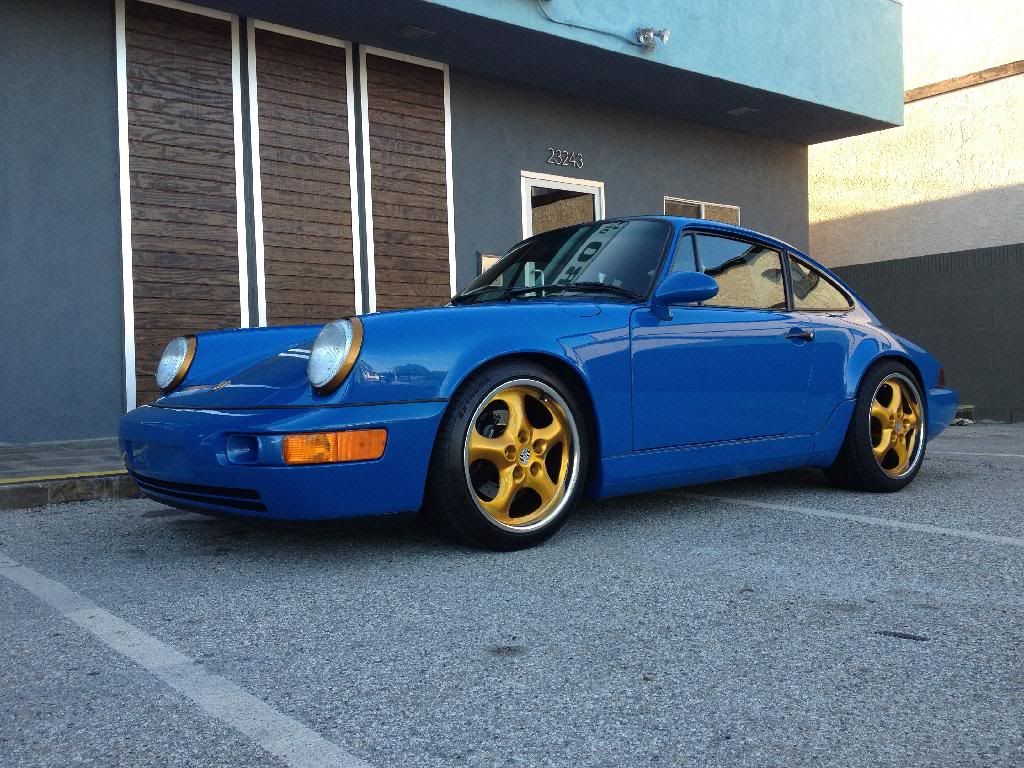 06-17-2014, 02:53 AM

06-20-2014, 05:43 PM
User
Join Date: Nov 2012
Location: Boston
Posts: 1,490

---
good news for a change.

ordered a set of bbs e88 18x8 et51 front and 18x10 et51 rear. that was what bbs recommended so thats what I'm going with.

in other news, the stereo is done! man did i forget how much better driving is with music. jl compnanent fronts to a 2channel jl amp with bluetooth connection, and a usb cable under the passenger seat just in case i need to charge my phone. a rennline radio delete plate to finish off the look.

couldnt be happier with the way it looks and im happy with how it sounds. turned out better than i would have though. the shop was even nice enough to set up my rennline fire extinguisher mount under my passenger seat, which i just hadnt gotten around to doing yet.
big thank you to matt at luxury details . ive had him work on a few of my cars over the years and they always turn out as expected. these guys are meticulous, and hes always been a porsche guy which is nice too. amazing how much bigger his 991 is next to mine.

typical crap quality iphone pics for now. i promise once the wheels are in ill have some real pics taken.