Oil Cooler Question

08-02-2001, 11:15 PM
User
Join Date: Aug 2001
Location: Oregon,USA
Posts: 45

Oil Cooler Question
---
This is the first summer I've owned my 964 (91 C2). As the weather's heated up, I've naturally paid more attention to the engine temperature. The engine seems to run cool (usually no higher than the first mark on the temperature gauge). No matter where or how much I drive my car, I've yet to see or hear the fan on the front cooler kick in. Does anyone know what temperature this fan is suppose to operate at?

08-03-2001, 04:07 AM
---
First of all...how about A LOT of you go and update your personal profile as to where you're from! This really helps, believe it or not...like I would be interested to know if you are concerned about engine operating temperature and you live in Alaska, vice Arizona.

So, to attempt to answer this very valid question...first of all, I dunno the exact temp. at which the fan is supposed to turn on...but I do know that your oil temp. has to be fairly hot.
When I was looking my car over and considering the purchase of it, I ran it for almost a half an hour between test driving it and letting it idle for SEVERAL minutes in a hot black asphalt parking lot (Walmart of course) - I really wasn't doing anything but looking for peculiar things once the car was pretty hot and I heard some type of fan come on...upon investigating this "new noise" I discovered it was in fact the oil cooler fan.
To try and sum it up, the car was pretty hot when the fan came on...so MAYBE that will help? Might I suggest driving it around for 20min. or so to get it good and warm...say a run to Trak Auto for some Mobil One?? ...then let it idle (all on a hot day, I suggest) and wait for the fan to come on?
I'll bet someone like Adrian can provide you w/an exact temp. from his "oodles of specs" collection?


08-03-2001, 05:54 AM
Addict
Lead Rennlist
Technical Advisor
Rennlist
Lifetime Member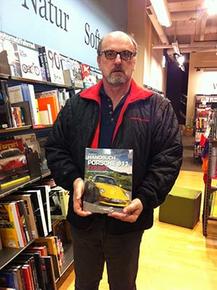 Join Date: May 2001
Location: Parafield Gardens
Posts: 8,027

---
The oil cooler temp/sensor switch is set at 100 degrees C or 212 degress F. The fan will crank up at this temp and you normally cannot hear it. If you hear it you have a problem, with the fan. Just for info. The oil cooler fan is controlled by the aircon/heating control unit. If you disconnect this control unit, do not drive without it,
Ciao,
Adrian
911C4