The For Sale/Trade/Wanted thread *** Posting by paying Members only, please ***

09-09-2009, 11:37 AM

---
Felix, a lot of us have subscribed to this thread and receive an email message every time there is a post. Unfortunately the email message does not contain the title of the post, only the body. So all I got this morning was "WTB."
Just FYI


09-09-2009, 01:43 PM

---
I have the door panels off my RS America for sale. They are OEM, with cutouts for electric window switches and speaker boxes (no speakers). They come with a choice of Black or Yellow (pictured) straps. The door handles have some scratches.
$350 + shipping.

09-12-2009, 01:10 AM

---
Kinesis Supercups in 17x8 front 17x9.5 rear, mid 50's offsets front and rear, perfect for a narrow body 964.
$1590 + shipping
[email protected]

09-15-2009, 11:00 AM

feeler
---
Thinking of selling my set of Cup I's. 8 ET52 and 9 ET55 with brand new 235/275 R888's freshly painted silver lip with black centers. Tires have less than 25 miles on them. I have a third rear R888 275 i would throw in never mounted. $2200 for the set plus $200 for shipping ConUS only. Local pickup available. North Jersey. Black center caps $150 additional. These also have metal racing valves. Great DE setup. I use a 7 mm spacer with these I have set of RUF hub centering spacers for the rear If interested I will sell these for $200 along with the wheels only, these are NLA from RUF at least they told me they sold me the last set and they aren't cheap from RUF.

These are the only pics i have right now. If anyone is interested I can take more. These were driven on just this one time <25 miles and have not been on the car since.

09-16-2009, 12:45 PM
F1 Resident Adult
Rennlist Member
Small Business Sponsor


---
Original Bosch Hammer. Factory rebuilt unit (never used after rebuild). Looks brand new. $1500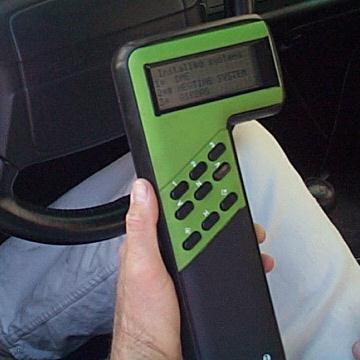 __________________
Larry Herman
2016 Ford Transit Connect Titanium LWB
2016 Chevy Volt - Electricity can be fun!
National PCA Instructor
Past Flames:
1994 RS America Club Racer
2004 GT3 Track Car
1984 911 Carrera Club Racer
1974 914/4 2.0 Track Car
CLICK HERE
to see some of my ancient racing videos.

09-16-2009, 01:13 PM
Addict
Rennlist Member
Join Date: Jan 2002
Posts: 458

---
1992 RS rear side trim:

-Carpet pieces (under rear quarter windows), both sides, black, part number 964 551 071 00 5FV and 964 551 072 00 5FV

-covers for seatbelt reels, black, part number 964 555 328 00 5FV and 964 555 327 00 5FV

Parts are factory new in the packages.

Factroy prices are INSANE for this stuff. Pelican quotes 1400$ for all 4...

Make me an offer around 40% of that.