997 GT2 buckets in a 964?

03-09-2018, 11:55 PM

---
Originally Posted by LPMM
Brian's (from Rotiform) 964 with the A8s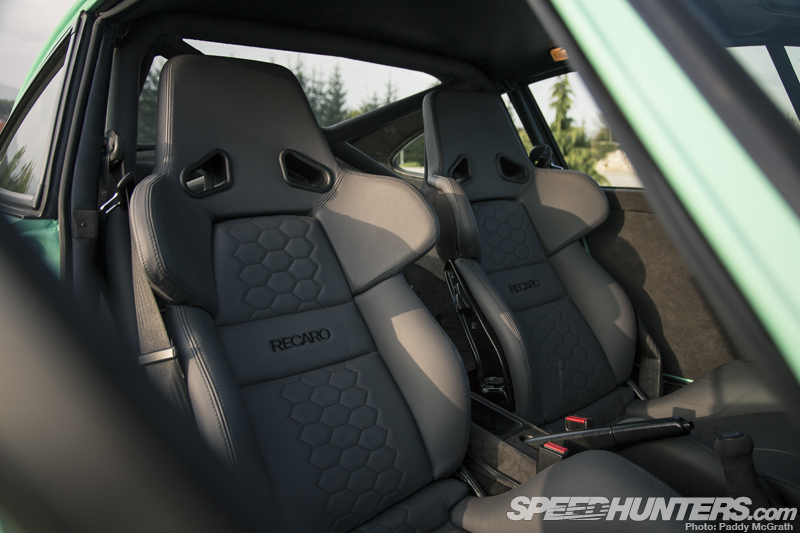 Mikke's (Mikke_Possu) 964 with the A8s
Tims' (Tmistry) 964 with the Recaro LS
GT2 Buckets in 993 TT
I have always loved Recaro A8s. They are just so hard to find in very good - excellent condition and after locating a set, shipping, duty (as they are often overseas) and a re-trim to make them right they become a very expensive venture - but probably so worth it... I just never took the leap.
Peter, I received your message and will address some of your questions here. I am 6'2 and a big framed guy. I personally like the GT2 seats, for a guy that is 6'3 - 6'4 with a thin build and broad shoulders I think you will be ok in a GT2 seat. I would recommend sitting in any seat before buying it especially if you think the harness hole height and a longer torso may be an issue.
As far as Recaro goes the Sportster CS is an option as well as the new Sportster GT (iirc), I can send you measurements/specs of any of the Recaros if you need them. (Peter) I'll shoot you a response to your PM when I have more time tomorrow as well.

03-10-2018, 08:55 AM

---
Thanks for all the photos. I don't see a single seat I don't like.

03-10-2018, 12:40 PM

03-10-2018, 12:45 PM
Addict
Rennlist Member
Join Date: Jul 2017
Posts: 260

---
David, thanks for the info. Looking forward to hearing from you regarding various options.
What do you guys think of the SPX?
Spx

03-10-2018, 06:22 PM

---
What is the material used on the A8s? All the A8's I have seen for sale are either original cloth for $3300, or newly recovered "leatherette" for $3300. I don't like the idea of sitting on plastic. Are the leatherette seats pretty standard? If I pay $3300, I honestly don't want to have to recover. but I also don't want to give up the customized center section...

03-11-2018, 07:56 AM

---
They came in full leather as well. If they were retrimmed, that's on the person doing the work. There are plenty of shops than can do them to original spec.

03-11-2018, 01:58 PM

---
Maybe its the idea, when I look at the pictures i find the chairs to big except the singer style for the 964.

03-12-2018, 10:04 PM
Addict
Rennlist Member
Join Date: May 2017
Posts: 9

---
Any 996/997/boxster seats will bolt right in with the adaptors. I have two sets of the adaptors that I got intending to use with a set of 996 seats I bought and then never ended up using, if anyone is interested. One set still in packaging, the other set was opened up and installed for a test fit, then taken out and never used.


03-12-2018, 11:36 PM

---
If you want a reclining seat with a sub slot you may want to look at the Corbeau A4 or CR1. The leather option doesn't have the bold Corbeau lettering.

03-28-2018, 02:29 AM

---
Originally Posted by
butzigear
Great info from Laurent. I second this. I personally have them in my 996TT, they are great seats. More closely related to modern seats in an air-cooled, I also have Euro GT3 Recaro buckets in my 86 911. While they are newer, more modern, they are awesome and look the part... I am a motorsport junky. If you are interested in a set of GT2, GT3, or Recaro seats (amongst others) please let me know and I will get you some "Rennlister" pricing. If I may make a suggestion, I think a Sportster CS would check all your boxes and depending on the look/use of your car, they will fit right in. It's hard to go wrong with a great Recaro seat... hence my lack of hesitation to pop the GT3s into my "old car". haha
To fit 996 GT3 Euro buckets into an aircooled 911 (a 964 for instance), does it work the same way as described above for fitting a 997 GT2 LWB seat? (Meaning use Brey Krause adapters for the seat rails and Tarrett lowering brackets as needed?)

03-29-2018, 04:03 PM
Super User
Join Date: Nov 2006
Location: Clifton, NJ
Posts: 12,313

---
its trivial. Cut a locating pin, and bend down a tab and they bolt right in.

03-29-2018, 06:35 PM
Addict
Rennlist Member
Join Date: May 2017
Posts: 9

---

03-29-2018, 10:26 PM

---
I can take photos of my 996 GT3 swag mounted in my G-body and my GT2RS seats mounted in my 996 Turbo for reference if needed. Being that they are both Recaro seats, it shouldnít be hard to adapt them into any 911 chassis.
I had to make some custom brackets to bridge the gap for Cobra seats going into a 1977 911 this week. The Cobra mounting bases were about 2Ē narrower than the oem 911 sliders, quite a gap to bridge. Some precise measuring, drilling of steel stock and properly matched hardware made it come together flawlessly. Pics of the simple (now that they are done) brackets are on my Instagram. Iíll post installed pics as the project progresses. Sorry for the long post, just thought Iíd share since similar brackets can be used in 964s.