Phase two of my project - turbo swap pictorial

01-18-2009, 11:47 PM
Super User
Join Date: Jun 2003
Location: San Diego, CA
Posts: 9,971
Likes: 0
Received 0 Likes on 0 Posts

---
Yup, with the K26/6 it put down 264/264 at 14psi on a 95 degree day. Im really hoping to see around 315whp @ 15psi with the HiFi, all the while keeping full spool in the sub 3400rpm range. I had never checked previously what the K26 spooled up at until the last night i had it on the road before tear down.. i was getting 15psi @ just under 2700rpm and i used to think that was bad turbo lag.. im a little nervous to see what i end up with now.

01-19-2009, 12:27 AM
Super User

---
Haha...Yea, I hear ya on that Jon. Spool up with the stock 26/6 seemed like eternity at times...it's really going to suck having to wait 500-700rpm later for your turbo. Hell, I'm looking at 700-1000rpm later...but man, you know what they say...
"When the turbo spins, the bull**** ends!"


01-19-2009, 01:01 AM
Super User
Join Date: Jun 2003
Location: San Diego, CA
Posts: 9,971
Likes: 0
Received 0 Likes on 0 Posts

---
Well i figure the increased lag will be offset by the nice onset of power as the boost hits. I figure by then ill forget all about the extra turbo lag


01-19-2009, 07:24 AM
Addict
Rennlist Member

---
I'm used to a bit of lag and then the horse kick. I like it. Makes you plan in the future while you drive. You see a gap that's a few hundred yards away and you just aim for it, knowing that by the time the boost is into it's stride you're going through that gap. It's fun. You have to like changing gears though. Turbos aren't for lazy or unskilled drivers.

01-20-2009, 10:41 PM

---
Jon, yeah I'm really wondering about the spoolup, I really hated the lag of the K26/8, but I had a broken
exhaust manifold stud that may have been contributing and stock exhaust didn't help. I think I made 15#s between 3300 & 3400. I drove an eclipse that didn't hit max boost until 4200 @ 24 #s, just too hard to
drive around town, all or nothing.

01-21-2009, 01:06 AM
Super User
Join Date: Aug 2001
Location: Hudson Valley
Posts: 10,485
Likes: 0
Received 2 Likes on 0 Posts

---
I have the same turbo with a not 100% tune and a few small exhaust leaks. in 5th gear I get 15psi ~3200rpm
in gear 2-4 I get 10psi by 3K and anything from 13-18 builds up VERY quickly past it.. no later than 3400rpm.

The turbo lag is hardly an issue, passing 60mph traffic in 5th gear does not even require a downshift. Above 3.5K rpm boost is instant. Very streetable

01-21-2009, 01:13 AM
Super User
Join Date: Jun 2003
Location: San Diego, CA
Posts: 9,971
Likes: 0
Received 0 Likes on 0 Posts

---
Im hoping to start it up thursday and take it for a short run around the block. Im a little nervous because ive basically had the past month and a half to think...and thinking turns into "man did i remember to ___" or "damn i really hope i did ___ right". Im really itching to get it running so i can work out any potential problems. Plus i still have another month and a half before it will be back on as my daily driver..so it can get torn down again if need be....which hopefully wont happen!!!!

01-22-2009, 07:11 PM
Super User
Join Date: Jun 2003
Location: San Diego, CA
Posts: 9,971
Likes: 0
Received 0 Likes on 0 Posts

---
Partial success today. I tightened up the alternator belt and while i was under there realized i forgot to put the O2 sensor back in. So after that was done, i put the battery in and cranked it with the DME relay out to build oil pressure. After a few cranks it came right up, i loosened the inline oil filter feed line to ensure oil was making it too the turbo... oil gushed all over the place so that was good enough evidence for me.
I put the DME relay back in and cranked it over a little more, it fired right up once the fuel pressure came up. I let the car idle for about 10 minutes and was happy to see no more huge cloud of white / gray smoke from the exhaust due to oil burning off. I took the car cover off completley for the first time in about two months and instantly remembered why i love this car so much

. Its not often a piece of machinery puts a smile on your face just by looking at it. Also there were no noticeable leaks of any kind and the car was cooling properly at idle. I took it around my development a few times and put about 4 miles on the car. Such a great feeling to be behind the wheel again, i practically forgot what it was like driving the car as ive been in a nice and plush MB E320 the last month and a half.. i cant believe how rough a ride the 951 is..

.
Anyhow, the extra turbo lag is definetley noticeable, but not bad really. I didnt really have a chance to open the car up at all, i hit 10psi for a brief second in 2nd gear and was going alot faster than i had expected

. One thing that i sort of miss is the really loud induction noise from the bent compressor blades on my K26. This turbo is not nearly as loud (a good thing i guess!).
I pulled the car back into the driveway and took a peak underneath, still no leaks so i was pretty happy. I took a close look at everything under the hood and did notice some oil seeping past the oil feed fitting. The leak is not bad enough to cause any external dripping, but did pool ontop of the inlet flange and i did notice some oil had dripped onto the turbo center section. I was hoping to be able to take the line off with the intake manifold still on, but its far more trouble than its worth. It only took me about an hour and 15 minutes to get the hardpipes out and the fuel rail and intake manifold disconnected. My guess is on the install i did not put enough teflon tape on the fitting causing the oil to make it past the NPT threads. I am going to reassemble everything tomorrow and hope for the best.
The only other thing i figure i mention, i really highly recommend the LR steam vent kit. This is the 2nd time i had to refill the car with coolant and its very nice no longer needing to bleed the air out of the back of the block. The fitting basically allows all the air to get pushed into the expansion tank. As soon as the thermostat opens for the first time, you see a stream of bubbles getting pushed through the line, then a solid flow of coolant.
Finally together after a month and a half..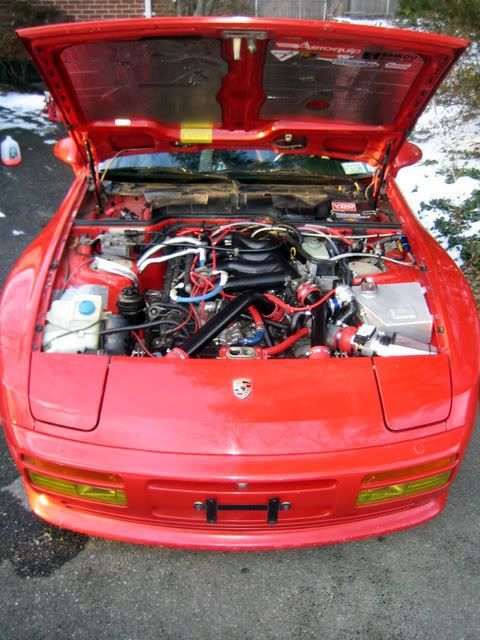 Bogus oil leak..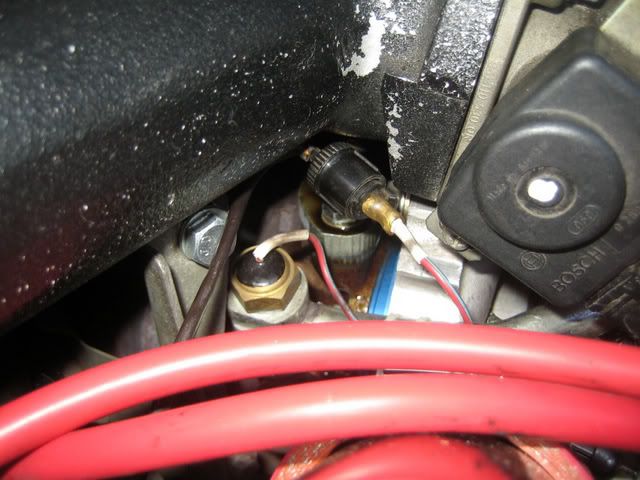 And apart again in about aslong as it was running..

---
Last edited by Techno Duck; 01-22-2009 at

08:00 PM

.

01-22-2009, 07:36 PM
Super User
Join Date: Aug 2001
Location: Hudson Valley
Posts: 10,485
Likes: 0
Received 2 Likes on 0 Posts

---
Looks good. On 10psi mine does not feel that fast... it really comes alive 15+ psi

Your car looks great BTW.. I'm so pissed off as I still don't have a properly fitting nose panel and your car is like mine.. but better

At least you don't have coilovers (right?!)

01-22-2009, 07:38 PM
Super User
Join Date: Jun 2003
Location: San Diego, CA
Posts: 9,971
Likes: 0
Received 0 Likes on 0 Posts

---
lol, no coil overs yet Mike. My summer project is KW's i think..or atleast my 'finally done with school' gift too myself.

Im going to probably take it around the block again tomorrow just to make sure i fixed the oil leak for good. Its unfortunate i cant really open it up though, dont want to draw any unwanted attention too myself, especially with the wastegate still dumping under the car. Hopefully the threat of snow subsides by mid March.

01-23-2009, 05:09 PM
Super User
Join Date: Jun 2003
Location: San Diego, CA
Posts: 9,971
Likes: 0
Received 0 Likes on 0 Posts

---
Here was attempt #2 at sealing the fitting, still leaking unfortunatley, except not nearly as bad as before. Its just a little bit of oil seeping past the threads now. Attempt #3 is going to involve using teflon paste, which is what i should have used in the first place because that stuff basically seals anything. I use that all the time onboard ships for fittings. I chalk that up too me being lazy and cheap..

. Drove the car again for a few more miles.. i really cant wait until it gets warmer out!
Also check out my voltmeter now.. brand new 14.4v adjustable voltage regulator and finally replaced the cable between the alternator and the starter. So Iceshark's battery cables are compeltley installed now. Ive never seen this gauge go this high before!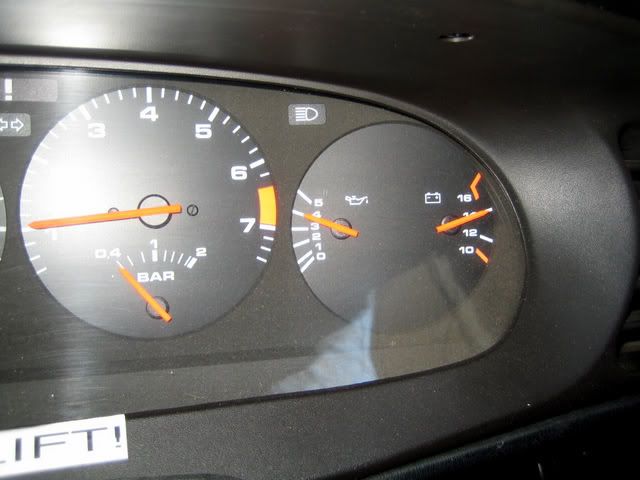 Unfortunatley its going to be apart again in a few weeks.. but atleast it looks complete..

.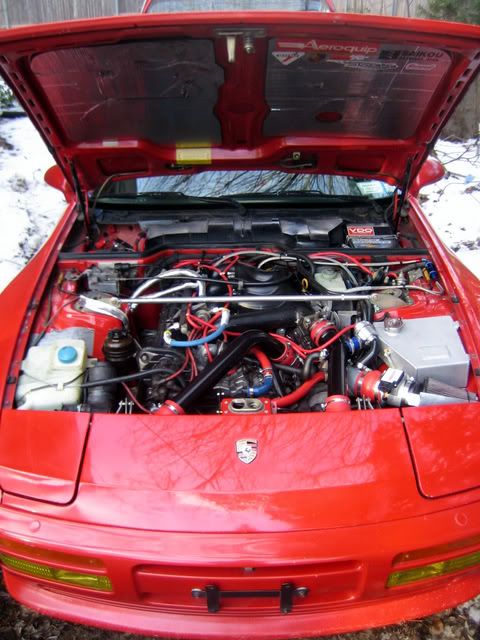 And here it will sit, tucked away next too the house until March. What a tease.