Phase two of my project - turbo swap pictorial

12-28-2008, 04:07 AM

---
Are you positive that is a 60-1 wheel? Usually turbonetics uses the gold back plate for 3 inch exducers and blue for 3.2"

Have you measured the wheel?

Edit: Just looked again and that is a to4b housing so maybe that is why?? you can tell the difference b/c it uses the smaller 2 bolt clamps on the back rather than the 3 bolts found on the to4E

12-28-2008, 05:25 AM

---
Very good thread Jon. Wish I would have read it before I tore my car apart! We are at the same state of tore-down-ness, and doing similar mods.
I actually found all of the exhaust to be the biggest bitch every, especially that crossover bolt. That's why I'm going 2 piece crossover now. F messing with that bolt again.
I also didnt think the turbo mount bolts were that bad. I may just leave them in, but I need to replace a torn tie rod boot on the driver side anyways.
Altenator wasn't nearly as bad as you seemed to have thought lol. I WILL be going with the small nissan unit (mainly cus I will get it insanely cheap; working at O'Reillys has its advantages! Lol). That MAF is just a real PITA with that big ugly stock altenator, so its going bye-bye.
Looks good though. I'll be sure to watch this thread. My car won't be getting reassembled till June probably. Making the money I do and wanting the things I do, is gonna make me have to wait that long...

Good luck man!

12-28-2008, 09:01 AM
Super User
Join Date: Aug 2001
Location: Hudson Valley
Posts: 10,483

---
hey sid, fwiw my turbo looks identical (blue on the compressor housing and all) and is a 60-1 hifi.
Jon, I made the decision to get a vitesse MAF/Chip..hopefully I will have the beans when the January sale rolls around. Considering how my chip is off (my god I wish I had my maxtronic) and how fast it is I can't wait to have a proper tune. I think you'll be happy with the turbo


12-28-2008, 01:51 PM

---
Sid, as Mike said its a HiFi which has the 2.75'' inlet.

I just rolled out of bed and its a beautiful 60 degrees out. I need to finish installing IceShark's battery cables today, been putting this off way to long. After that its just the waiting game from UPS for my parts on tuesday. With my luck, they will drop them off they will drop them off at the end of the day making it useless to me!

12-28-2008, 05:09 PM

---
Cory, i do plan on eventually going with the V-Flex software but its just way out of my budget right now. Id also have to get the piggyback which severely bumps up the total cost. My summer project as of right now is either the addition of the piggyback / V-Flex or working on the suspension (KW V3's planned).

12-28-2008, 05:27 PM

---
Another hour and a half of work and finally installed the battery cable between the alternator and starter aswell as put the headlight harness in. These have been sitting in a box in my closet for the past 2 years i think now. I replaced the ground cables and battery to starter cable back when i did my headgasket. The headlight harness i removed from my '87 prior to selling it and has also sat in a box for about a year.
Top - headlight harness
Center - Supplemental positive, still have not installed and dont plan to for another couple months

Bottom - Alternator to starter cable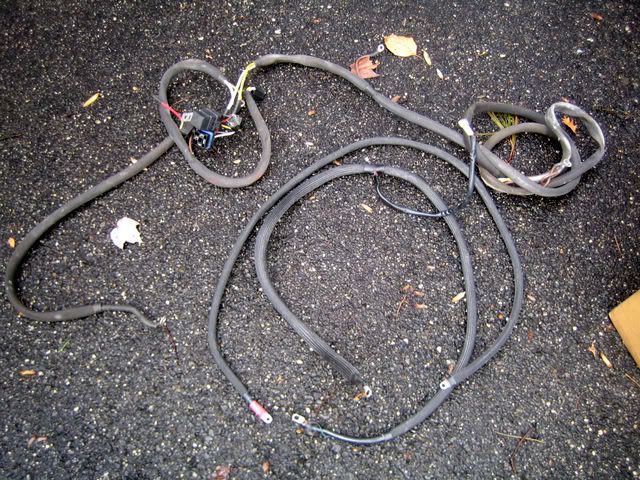 Original alternator to starter cable and the replacement. For IceShark's cable, you need to remove the original blue wire to the alterantor (this is the electrical load sensing wire) and the starter to ignition switch connector (2pin white connector right over brake booster). He includes a piece of metal wire in the fiberglass sleeve so you can fish the old wires through the insulation and heatshrink it all together. Luckily the guy i bought these cables from a few years ago had already done this making my life alot easier. One thing i just noticed today actually was that Dan put a 175amp inline fuse on the starter end of the alternator / starter cable...talk about complete overkill!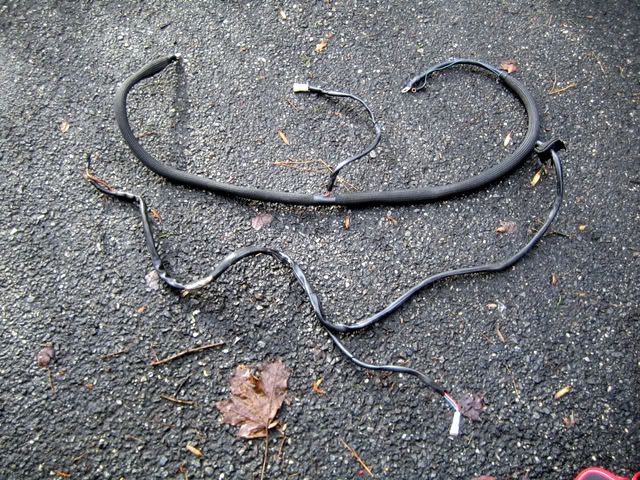 With the headlight harness now in, it adds two more grounding lugs to the frame rail. I have so many lugs on the left front frame rail i had to use a longer bolt. The things grounded there; supplemental ground cable to block, MAF ground, 2x headlight harness grounds, 2x original harness grounds.
I was a little concerned about figuring out how to route the headlight harness to the other side of the car because i am too lazy to take the front splitter off. But this very easy method worked perfect..right over the intercooler ducting (actually tucked inbetween the bumper bar and bumper cover).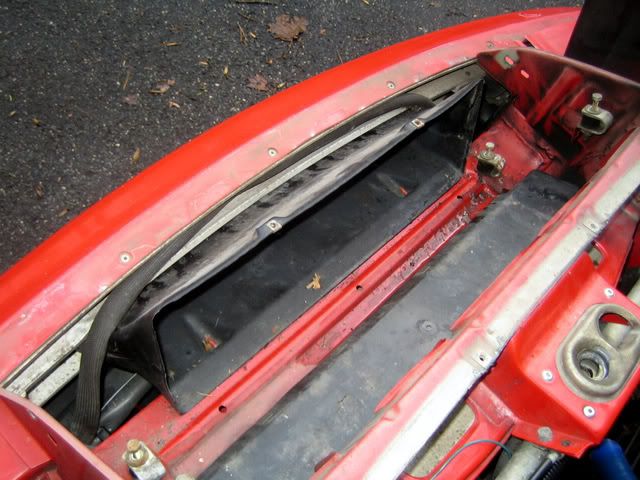 Also put in a new voltage regulator since the alternator was out. The original has about 111k miles on it, probably would have been good for another 20k miles truthfully!
Tomorrow i am going to wrestle my freshly cleaned intercooler back in and put the nose panel back on. Not looking forward to doing that as getting it out was a major pain in the ***. Also going to pop the steering rack out of the mounts to prepare for the turbo reinstall. Other than that, its the waiting game for the rest of the parts to be delivered on tuesday. I really hope they get here early. Usually the UPS guy comes before 11am or after 6pm for the route my house is on.

12-28-2008, 06:31 PM

---
I just wrestled my intercooler back in the other day. That quite honestly was one of the most annoying things I've had to do on this car. Getting that stupid plastic ducting **** to line up correctly took far more work than it should have.

12-28-2008, 06:39 PM

12-28-2008, 07:38 PM

---
Whats so wrong with the plastic? it takes me 10 minutes to remove the bumper and splitter as a whole and gives me access to everything! lol

Jon- Good deal! I plan to go V-Flex, but like you said...it severly stretches the budget considering you have to buy two things and the V-Flex alone is going to run me $625 bucks.

I did look up a Nissan Quest alternator and it's $124.50 with my discount at work (normally like $180 bucks). I hope i can convince someone to weld up mounting tabs for it.