Removing Spare Wheel Well? Anyone done this?

05-01-2019, 10:12 PM

Removing Spare Wheel Well? Anyone done this?
---
I'm thinking of cutting out the spare wheel well in my S2 and putting in a removable box there for my Cool-Suit reservoir.

Has anyone removed the spare wheel well and if so why and are there any issues?

I'm partially wanting to do it because to change a clutch plate or anything on the drive train means removing the gearbox, downwards and I have heard of folks removing the spare wheel well to make this easier.

It's a track car pretty well only now, so I don't need to carry a spare wheel.

How? I was thinking of using a nibbler .. (?)

Any links to photos of this having been done most appreciated.

05-04-2019, 12:39 PM

---
have seen it done plenty of times, want to do it myself someday when i have time, but only so i can better see the gearbox and rear suspension from behind the car

nibbler would take a long time, i'd wire wheel the undercoating off and just use an abrasive cut off wheel.

05-05-2019, 05:45 AM

---
You're right of course, that undercoating or soundproofing stuff is pretty thick isn't it .. wow

I was trying to avoid anything that produced sparks as I don't want to remove the fuel tank to do this if possible.

05-05-2019, 08:30 AM

---
A few of the guys i race with have removed it in order to make gearbox remove/installs easier, i can confirm to you that i would have
very much appreciated that option after i had to replace a gearbox by myself in the paddocks with limited tools ...
In my case , the car came with a 10 gallon fuel cell that was installed by the PO in the wheel well so it's too late for me !

05-07-2019, 04:24 AM

---
I can't be of much help, but it was done to my car by a bodyshop. Not the neatest job from underneath, but it does the job.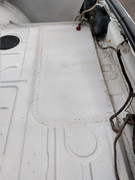 https://i.postimg.cc/X73ysDZ9/IMG-20...9206-HDRed.jpg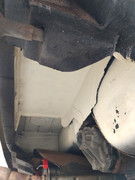 https://i.postimg.cc/3xx0T4FR/IMG-20...83156660ed.jpg

05-09-2019, 02:26 AM

---
Wildcat077 - I would love a smaller fuel cell, I have the standard enormous German original fuel tank. We are right hand drive out here so the driver and most of the gas tank is on the RHS. You get used to it but when scaling the car you see the weight effect very clearly. Thanks.

V2Rocket - oh yes, and finally justification to buy a recipricationg saw! Thanks

Peter Empson - Thanks, those are very helpful, I was trying for functional, trying to make a clutch change easier more then a thing of beauty. That's a good job, very solid on top and thanks for the high res photos. I thought putting in nutserts and screwing a plate in would be the way to go, but that's welded and would be much stronger.

I need to find a boiler maker I think.