Rear hatch mount problems

11-19-2017, 01:02 PM
User
Join Date: Nov 2017
Posts: 22

Rear hatch mount problems
---
Hi guys, New here and to the 944 world with an 83 that I picked up a few weeks ago. Runs and drives great so far, full service records back to 1992, a bunch of extra parts, and I've fixed a few things here and there. EXCEPT for this darn rear hatch, which actually then makes the car un-drivable because it pops open when I hit a bump. The rear locking pins were completely rusted and spinning freely in the pin mounts because the pin mounts were corroded. So my first plan was to try and get the pins out and replace them and the mount. But in order to do so I have to get the bolts on either side out to put the new mounts in. Those are also rusted completely and the PO stripped the heads. So now I am at the point of trying to extract them, until one extractor broke off in the screw. So now I am trying to drill them out, very slow and painfully.
My question is:
Do I continue to try and drill these bolts out while these upper mounts are on the rear hatch or do I take the upper mounts (dremel the glue off?) off the rear hatch and drill out or replace with new? I can't find out how they are attached to the rear hatch, a bunch of epoxy it seems? And those upper mounts are ~$100 each so I was hoping to salvage and chase the threads to re-use them. But, I don't want to keep tearing this section apart until I can know how I am going to put it back together. Any help appreciated.
Completely rusted pin in mounts, my starting point.
During extractions, the heads came off so at least I was able to remove the cover, get the pin and pin mount out...but then the actual bolts
Bolts, in the holes, waiting to be drilled out or have this whole thing ripped off the hatch and start over.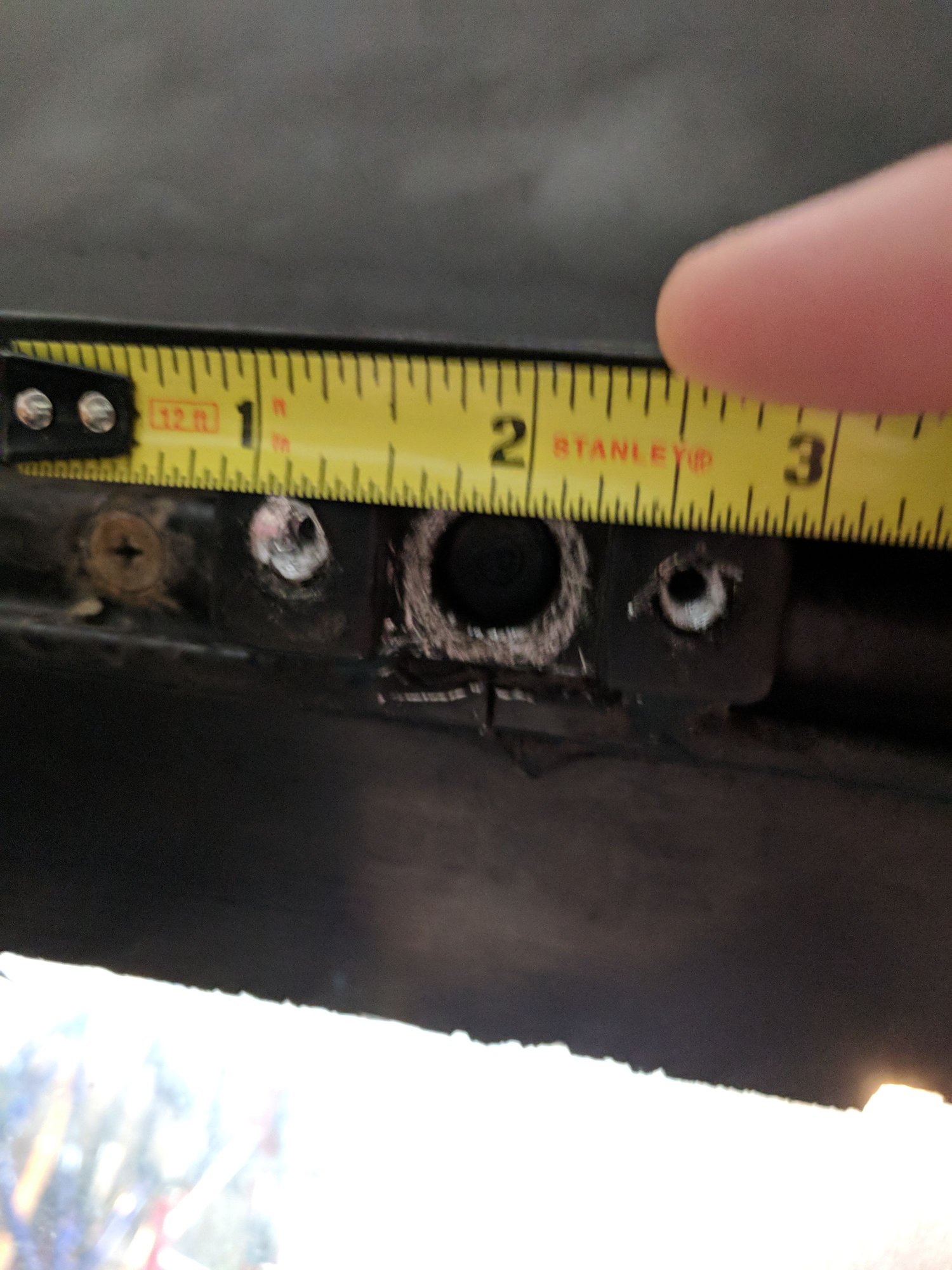 The other side waiting patiently until I have a working plan

11-20-2017, 10:41 AM

---
Use a left-handed bit for better removal during drilling. If I remember correctly those are 6 mm shank bolts. Use some PB blaster on them for a couple of days before attempting to drill them out. Stainless pins are available..You'll probably have to really loosen up the receivers and replace parts there too, rubber cushions, etc. Pelican parts can help, too as well as other parts vendors. You'll really enjoy crawling over the top of the back seat to release the lock rods (use vice grips) when you go to adjust the pins with all the new seats, rubber etc..have a buddy with the key handy so you can open and close the hatch in case you get it stuck.

11-20-2017, 01:26 PM

---
if those are 6mm, i'd drill/tap them to 5/16"-18 and be done with it. maybe find some nice stainless screws...
you might need to re-drill the countersink a little bigger though but no big deal.

12-29-2017, 02:02 AM

---
Get hatch pin seats too. These combined with new pins will solve your issues. I had issues with my hatch too. Did the pins only and it won't solve your issues. You need new seats (unless yours are good, which I bet they aren't). Clean the mechanisms and put new seats in. This solved 2/3 of my hatch nightmares, the third is my hatch separating.... again. Some people will never install new hatch struts (typical start of hatch separation), but I wish we could just have a solution to the weak bond between the frame and glass. Anyway, I digress from your issue. Here is the link.
https://www.only944.com/instructions/hpsinstructions/