Ott Fender install v2

05-11-2017, 09:52 PM
Addict
Rennlist Member
Join Date: Dec 2001
Posts: 24,269

Ott Fender install v2
---
There is a great thread where some long time rennlist peeps put some ott fenders on an S4 somewhere in the east, or NW.
I will be attempting this trick as well over the next few weeks on the white 88 S4 auto that has been purchased by a cool person in the Southeast
I am at the trial fitting stage before I drill any holes and cut (more) virgin metal.
The decision has been made, and the deposit has been absorbed, so please no "why would you do this" messages.
Starting on the driver's side, I have run into an early issue. The fender seems to sit as if it is very long compared to how the passenger side fits. I line it up with the most non-changable object - which is the rear bumper horizontal lower area where the bumper normally meets the bottom edge of the steel fender. I have removed that part of the metal fender so as to aid the lining up of the fiber fender.
When this is done and taped, the front edge of the fiber fender goes quite a ways into the driver's door opening, and because of this the fender seems to need to be cut quite a bit, removing the opportunity to mat the metal against a relatively flat area of the fiber panel.
Pictures better than words.
General placement
This is lined up as I think it should be.
Some expected cutting of the rear edge seems to scale:
BUT, when you look at other dimensions, I may be doing something wrong:

05-11-2017, 09:54 PM
Addict
Rennlist Member
Join Date: Dec 2001
Posts: 24,269

---
The reason I am asking is before I 'make it fit' I would like to make sure I am not overlooking something.

05-11-2017, 10:00 PM

05-11-2017, 10:04 PM
Addict
Rennlist Member
Join Date: Dec 2001
Posts: 24,269

---
I emailed Louie. I know some others here have done this so I would like to publicly both resolve and log what happens.

05-11-2017, 10:12 PM
Petie3rd
Rennlist Member
This Post Sponsored by:
Dow Corning« & DeoxIT«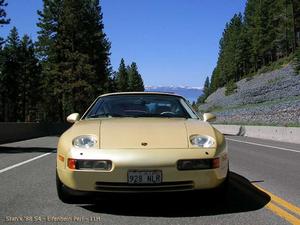 Join Date: May 2004
Location: Philly PA
Posts: 21,857

---
Their was also another thread where someone, I think they were across the pond ,
had a metal man use the existing metal, and made the rear fenders flair by cutting and welding in more small pieces.
This left most of the quarter panel intact and minimum bondo.

05-11-2017, 10:20 PM
Addict
Rennlist Member
Join Date: Dec 2001
Posts: 24,269

---
I have done that before. Without the welding. But we are not doing that here.

05-12-2017, 01:35 AM

---
Looking forward to this! I'm searching for a set of fender flares just like this, but I have serious reservations until I see a finished product. The venders only have a few pics, not enough to make me cut up my car.. can't wait

05-14-2017, 06:53 PM
Addict
Rennlist Member
Join Date: Dec 2001
Posts: 24,269

---
I'm just not used to working with fiberglass panels.

I have screwed in the driver side and have started on the passenger side.

The evac expansion plastic thing is in the way on that side but I got both side mostly evened out so false alarm on any real problems.

The screwing into into the existing body is required for the gluing I assume because of how stiff the fiberglass is.

05-24-2017, 03:32 PM
Addict
Rennlist Member
Join Date: Dec 2001
Posts: 24,269

---
I got the other side positioned and started screwing it in place.

I Have not removed them yet to start the cutting and shaping. I am back to 40 hours a week so it is just weekends again. I can see where if you get it cleaned up and ready to install, which is most of the work, installation is just pretty quick, and then hours and hours after to get the blending right.

09-10-2017, 04:30 PM
Addict
Rennlist Member
Join Date: Dec 2001
Posts: 24,269

---
Was putting this off a bit, but recently got into it. More progress has been made on the passenger side that has what seems like a more difficult process.

09-10-2017, 04:33 PM
Addict
Rennlist Member
Join Date: Dec 2001
Posts: 24,269

---
The gas cap area is interesting. Whether I actually do this right may not prove through until I'm closer to done. I cut out a door shape and will smooth the hole in the installed fender, and hope that I can find a good way of supporting a workable hinge.

09-10-2017, 04:47 PM

---
I would look at the factory GTS hinge... expensive but functional.... I think all the parts added up to $150.... see if someone locally has a GTS and will let you borrow the hinge assembly to test the functionality... or wait until December and see if 928 intl will have one..

09-10-2017, 04:51 PM

---
The challenge with the GTS fuel door is the frickin' spring, been NLA for a long time and there's nothing else on the planet that looks/works like it. Would love to petition Porsche classic to have it remade.

09-10-2017, 05:01 PM

---
you can get all of the pieces individually... I know... I bought them...