Project 89

10-17-2018, 09:51 AM
Addict
Rennlist Member
Join Date: Oct 2004
Location: Australia
Posts: 1,575

---
Hi Rob,

Is that radiator the Chinese one? I bought one and sent it back and made them build a proper one. They now have modified side tanks that are level with the top of radiator and the fan shroud screws are level with the core like the original. They are built fairly well from the look of the one arrived.

Cheers
Scott

10-20-2018, 06:48 PM

---
After swapping the engine, it would start fine and run for about 30 seconds then slowly die, regardless of the amount of throttle. i discovered the front harness blue/green and green/white wires were badly deteriorated. So I swapped harnesses, but the problem persists. Starts fine settles to a idle, then idle keeps dropping to a stall.

10-21-2018, 12:19 PM
Petie3rd
Rennlist Member
This Post Sponsored by:
Dow Corning« & DeoxIT«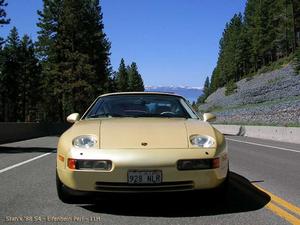 Join Date: May 2004
Location: Philly PA
Posts: 22,577

---
check the spark plug wires for proper routing,
keep an eye on the cats if they are glowing red then its dumping lots of unburned fuel into them, so you have an ignition issue,
probably a coil wire shorted out on a piece of metal.
NOTE red hot cats will ignight the body shutz
pull the vacuum lines off the damper and smell for fuel any that are leaking will flood the engine

10-21-2018, 04:55 PM

---
Green is left bank (5-8 side), so odds are either a coil, coil wire, or possibly ignition amplifier. You can check the ignition amplifier by swapping plugs on it and seeing if the red led goes on instead in the IMS.
Ah - one other thing to check as I made an assumption above.. when you swapped engines, did you also swap the temp sensors for the ignition monitoring system off the 89 engine? 87/88 didn't have them. They screw into M12 threaded ports just below the exhaust outlets at the manifold. They would have been on cylinders 4/8 on the '89 engine, altho factory moved them to 3/7 from 90 onwards (so that's where I'd install them - system is otherwise the same). If you did put them on the earlier engine, I'd also check they're connected properly.

10-22-2018, 05:55 AM

---
The 89 engine had them removed and I bypassed the ignition relay.
While checking the FPR and tps and cps and distributor I found the coil wire not seated due to wrong connector. Cranked it and it started and didnt stall. Plugged in the MAF and it stalled. Swapped the MAF and it ran better not perfect. Guess the plugs are soaked.

10-22-2018, 12:24 PM

89 temp sensors
---
did you also swap the temp sensors for the ignition monitoring system off the 89 engine? 87/88 didn't have them. They screw into M12 threaded ports just below the exhaust outlets at the manifold. They would have been on cylinders 4/8 on the '89 engine

anyone have pics and or part #'s for these?


10-22-2018, 08:46 PM

---
Neither cars I had had those components. I simply bypassed the relay to get it running.
What I don't understand is with the bad engine I didn't have the problem and all the components are for the most part the same.
I pulled the plugs this morning, which didn't look too bad. I cleaned and reinstalled them. It no longer stalls but runs only marginally better. Still very rich and or a terrible miss.
I know the wires are weak but again, it ran before.
Now I'm hearing a rattle from the torque tube, which I rebuilt, at low idle.

10-22-2018, 11:18 PM

---


Time to bust out the Troubleshooting LH/EZK section of the WSM, in the back of VOlume 1A.

Page D24-9 is the start of the test plan, and you should pretty much go through each of the tests there, although first check 2 items which I don't think that plan covers..

1. The right Coding plug is attached
2. If its a car coded for cats, that the O2 sensor is attached - or if its a non-cat car, or you're using a non-cat coding plug, O2 sensor should not be connected, and instead a bridge between 2 of the pins installed, and also the 1kohm potentiometer attached to the 3-pin Bosch connector in the footwell to provide MAF calibration to an exhaust gas analyser.

Then walk through all the tests and see what passes or not. I would recommend testing at the LH connector, to make sure the issue isn't a short in the wiring which you had to piece back together from a very hacked-up state.

10-23-2018, 06:41 PM

---
Hi Hilton,
Thanks for the input. It has the proper coding plug. It has cats but the 02 sensor is not connected, but the plug hasn't been bridged.
I think the ignition is the issue since for sure there is fuel.

10-24-2018, 09:23 PM

---
Correcting the crossed 6&7 wires did it now she starts and idles fine. Next find out what's causing the rattle from the mid rear of the drivetrain. But before that...
While filling the June bought radiator from EBay
Leak!!
The car refuses to get done!!!

10-27-2018, 04:24 AM

---

10-27-2018, 11:39 AM

10-29-2018, 08:57 PM

---
So here it is.
1989 Porsche 928 S4
VIN: WPOZZZ92ZKS841153
98,000km
Black on Black
Sunroof
Leather interior, except dash board
5 litre 32valve motor
4 speed automatic transmission
List of work done:
Engine swap due to thrust bearing failure on original motor
Thrust bearing end flow 0.2mm on used 88 engine #M28/42 81H05845
Timing belt
Water pump
Front cam shaft seals
Front and rear crank shaft seals
Flywheel bolts
Oil pan gasket
Left and right head gaskets
32 valve seals
Timing belt tensioner boot and gaskets
Oil filter
Spark plugs
Low pressure Power steering hose
Alternator clean and voltage regulator check
Cleaned and painted fuel injectors
New front and rear fuel hoses
Air pump delete and head port plugs
Used front wiring harness
Rebuilt MAF sensor
2 new knock sensors
New radiator with atf and engine oil cores
Rebuilt torque tube bearing
Transmission torque converter cover bearings
New transmission fluid hoses
Transmission filter and fluid
Rebuilt instrument cluster wiring hardness
Cleaned CE
Cleaned power window motors and regulators
New steel braided brake hoses
Brake pads and rotors well within specs.
New fuel pump, bypassed in-tank pump
All electrics work except for Air Conditioning.
To make it perfect:
Slight rattle from the torque tube, possibility shifter bearings.
Dent on left front wing near side marker
Rear bumper clear coat peel
Minor dent on left and right rear fenders
Small rust around rear glass
Missing engine under guard
Oil pressure gauge doesn't work due to digital dash/2 prong oil pressure sender incompatibility
ABS light on due to deteriorated wiring connectors
I will try to address some of those issues the longer I have it.
Reason for sale is a change in my career requires me to be away. I won't have time to address the remaining issues.
I really and truly love the 928. But it's not practical for me to keep it.
I have photos and parts receipts of all the work done.
https://photos.google.com/share/AF1Q...F6YUZSNG9FZ2VB