FS - FIRE DAMAGED 1987 S4 Auto

03-20-2017, 11:59 PM

---
If MAF location is the only way water could get in, the filter housing unit melted over the MAF to seal it.

03-21-2017, 12:25 AM
Petie3rd
Rennlist Member
This Post Sponsored by:
Dow Corning« & DeoxIT«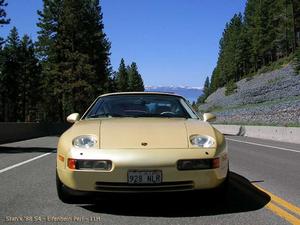 Join Date: May 2004
Location: Philly PA
Posts: 20,869

---
after you remove the MAF to verify their is no water the throttle body,
pull the plugs and crank it over then put some MMO into each cylinder

03-21-2017, 12:31 AM

---
I understand that you know the transmission/TT were OK before the fire but a buyer doesn't and since there is no way to test it, these parts will be a gamble to assume they are fine. Because, once they buy this car, all the problems become theirs​ and test driving is part of reducing the risk. Otherwise the buyer should assume the worse and mark off anything untested as it need replecememt or completd rebuild. Therefore, the selling price should reflect that.

To me, this car is a tripple didgit car.

03-21-2017, 12:34 AM
Rennlist Emeritus
Lifetime Rennlist
Member
Join Date: Jun 2000
Location: Insane Diego, California
Posts: 36,541

03-21-2017, 10:30 AM

---
I wish you the best of luck with your sale but I feel that $6000 is about $5000 too high. Call me crazy but I just bought my '89 S4 for $7500 w/ only 110k miles. Mind you it wasnt running, but all the issues were simply mechanical. No accidents or fire damage.
I would try to sell the extra parts separate and start parting out the car. I think that's your best bet to recover the most money.

03-21-2017, 11:14 AM

---
Thanks for the feedback. I will try and repair myself. If I can't, I'll part it out. It was running so good I wanted to try and save it first.

03-21-2017, 09:59 PM

---
Years ago I bought a burned GTS with super low miles. The restoration went pretty smoothly and I drove it for years before selling to another Rennlister.

03-22-2017, 06:22 AM

---
I'm hoping mine will go that way. It really didn't look that bad once I got the engine pulled. I'll get into the engine this weekend.

03-22-2017, 10:08 AM

---
Once you get into it I think you may be surprised at just how quickly it will come together if the engine internals are not corroded. Fitting another fender and a bonnet is just not difficult.
One has to wonder just how wise it was to build the fenders and the bonnet out of aluminium they way they burn out. Not convinced the weight saving [a few kg?] was worth the attrition they seemingly take.
Wishing you a speedy recovery.
Rgds
Fred

03-22-2017, 10:57 AM

---
I have both front fenders and a hood (in black). IF you want to rebuild it, I'll donate them to you. You'll have to figure out how to get them from southeast PA to TN, however!!

Gary-

03-22-2017, 10:59 AM

03-22-2017, 12:26 PM

---
Class act Gary. I pm'ed you

03-22-2017, 12:34 PM

---
Doesn't matter what they are made off. During a fire even sheet metal will warp and become useless. Just go visit your local junkyard and see what the burnt cars look like.

03-22-2017, 01:13 PM
Super Moderator - Cracklin' Rosie
Lifetime Rennlist
Member

---
I'm going to go out on a limb here and guess the aftermath of a car catching on fire doesn't go into their design parameters. If it did, carbon fiber would be outlawed since it is highly toxic, so is fiberglass.
On that note, why are houses made out of wood?

I'm sure some engineer could justify it by stating the rapid melting aluminum helps move heat away from other vital parts of the engine and helps fire fighters extinguish the flames by giving them a hole to spray water into. Many cars suffer extended damage from a fire from being unable to open the hood.

03-22-2017, 01:47 PM

---
It should also be noted that Mark has the worlds largest personal stash of 928 parts, and has seen more burned 928's than anyone. Not to mention taken apart more 928's than any other 10 people on earth combined.
Thread
Thread Starter
Forum
Replies
Last Post
944 Turbo and Turbo-S Forum

Posting Rules
You may not post new threads
You may not post replies
You may not post attachments
You may not edit your posts
---
HTML code is Off
---