2017 Hershey Porsche Swap Meet April 21-23

03-07-2017, 12:08 PM

---
Welp, i got the 928 up and running. Need to scramble to make it reliable now! otherwise I'm taking the Turbo

03-08-2017, 12:29 AM

---
Originally Posted by
Keppy1970
Hi Gang. I'm a new rennlister. Does anyone have a bead on what may be going up for sale at this event? I am looking for a 911 SC Coupe. (the whole car, not just parts ;-)

Looking forward to replies. 1,000 pardons from the new guy if this is not an appropriate use of this forum.

Thanks!
Not inappropriate, just wrong group: we're all water cooled here.
I've never seen a list, lots of organizing prior to, but the whole participant thingy is kind of spontaneous, so I doubt there is one. Doesn't mean it doesn't exist. I would google the event. There is a website where basic information on events is advertised. People just show up and enjoy the day, but be there early.

03-20-2017, 05:06 PM

---
Anyone from Chicago area going ?

04-07-2017, 08:57 PM

See you last year??
---
I just checked out Google Maps and when I zoomed in on the Hershey area, the date of the high detail image is 4/16/2016!!! Last year's Flea Market on Google Maps!! Pretty cool,Eh??
---
Last edited by STRIKEMASTER; 04-07-2017 at

09:18 PM

.

04-09-2017, 09:17 AM
Petie3rd
Rennlist Member
This Post Sponsored by:
Dow Corning« & DeoxIT«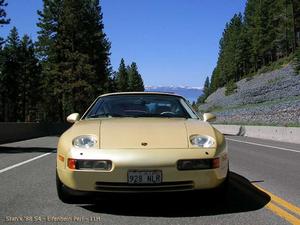 Join Date: May 2004
Location: Philly PA
Posts: 20,869

---

04-09-2017, 10:20 AM

---
weird, I don't see Blumaxx unless the photo changed the color of the blue. I was parked beside Droo (green) and George (coral) on the other side. George's car looks like garnet.

04-13-2017, 01:49 AM

---
Linderpat, I couldn't come up with a timestamp, just the date. Maybe the colors look different because the satellite "sees" colors slightly different. Wouldn't it be crazy to log onto Google maps next year, zoom in on Hershey and find this year's flea market ???

04-13-2017, 08:13 PM

---
It figures! The one 928 with it's hood up is missing the jump post cover and it looks like a headlight circlip as well.
Maybe you guys can't see it. I have google earth NSA edition.

04-13-2017, 10:37 PM

---
Pretty good Ross!

How about dinner at Palmeros around 6:30 or 7 pm? I think that is where we went last year. Glen is coming up to join us for the evening too.

04-15-2017, 11:19 PM

---
Planning on going Saturday, been awhile. Will probably take my 88 928, trying to sell it!

04-16-2017, 08:16 PM

---

04-16-2017, 10:45 PM

---
Friday night Shawn; we'll be gathering in the White Rose parking prior.

04-17-2017, 03:40 AM

---
It's unlikely that I can get my release bearing done in time to make it this year. Crap!

04-17-2017, 09:21 AM

---
Bring something else Ross. Come up for the evening anyway.

04-17-2017, 10:58 AM
Thread
Thread Starter
Forum
Replies
Last Post

Posting Rules
You may not post new threads
You may not post replies
You may not post attachments
You may not edit your posts
---
HTML code is Off
---