Remove hatch release from carpeting

01-01-2017, 12:54 PM

Remove hatch release from carpeting
---
I've been fiddling with trying to get the rear hatch switches out so I can wash the carpeting and I'm having difficulty figuring out how these come apart. Here is a photo (with the cap removed). I thought I just unscrewed them, but something isn't releasing. Any advice?
Thanks.

01-01-2017, 02:48 PM
Addict
Rennlist Member
Join Date: Mar 2015
Location: Portland, OR
Posts: 960
Likes: 0

---
The **** will unscrew from the metal shaft. Then the plastic base will also unscrew. Then the switch can be removed from underneath
---
Last edited by Michael Benno; 01-01-2017 at

04:33 PM

.

01-01-2017, 07:25 PM
Addict
Rennlist Member

Rennlist
Site Sponsor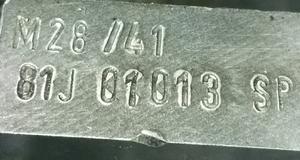 Join Date: Jan 2003
Location: Double Oak, TX
Posts: 15,720
Likes: 0

---
Hatch Switch Cap with symbol 928 613 437 00 70B = $3.99
__________________
Does it have the "Do It Yourself" manual transmission, or the superior "Fully Equipped by Porsche" Automatic Transmission?
George Layton March 2014
928 Owners are ".....a secret sect of quietly assured Porsche pragmatists who in near anonymity appreciate the prodigious, easy going prowess of the 928."