Resistor / bimetal switch changed - blower going at full tilt

08-03-2015, 06:52 PM
User
Join Date: Oct 2012
Location: Denmark
Posts: 39

Resistor / bimetal switch changed - blower going at full tilt
---
Hi
My blower haven't worked for a long time on my 1984 Euro 928S. Only on defrost (slider to the far right). However the temp settings works - but only with the air that naturally flows trough the system at high speeds.
So I finally got around to changing the resistor pack - the old one was shot (se picture).
However the system still wouldn't work. Caused by a bad relay. I loaned a similar one from the fog lights (marked with "24" on top) so now the blower works and I can control temp and direction of flow.
However the blower works at max speed even if the dial is set to 1, 2, 3 or 4...it only shuts down when direction is set to the far left ("0").
So...where is the fault? The resistor pack is brand new from 928intl and I also tried with the old one just to check - but its still running at full tilt.
I have A/C delete of the affects anyting (or rather: the PO just pulled it out).
Suggestions are very welcome. And a part no for the relay would be great - just to double check that I have the correct one.
old and new resistor pack
Thanks
Lars
1984 928S Euro, auto, ac-delete.
Copenhagen, Denmark

08-04-2015, 12:04 AM

---
Lars, when installing the new blower resistor pack in both my '86.5 and '87 I had to
reroute
the pins, otherwise the fan would be blowing all the time.
This is an excerpt from Alan Moore (the resident 928 Electrics expert)'s post exactly seven years ago:
https://rennlist.com/forums/928-foru...ml#post5669080
If you switch pin 6 with pin 8, it will work.
I hope this helps.

08-04-2015, 04:19 PM
User
Join Date: Oct 2012
Location: Denmark
Posts: 39

---
Scott,

Thank you for your suggestion.

My resistor pack is 928.616.101.00 which I guess is for the wrong year then :-(

I just tried a quick switch of 6 and 8 before a rain storm drove me inside. But its still running at full tilt.

However I just found another Rennlist guide that suggest that 8 should insulated and 6 moved to 8 (enclosed). I'll give that a try tomorrow.

Thank you for your help so far

Lars

08-04-2015, 04:39 PM
Addict
Rennlist Member

Rennlist
Site Sponsor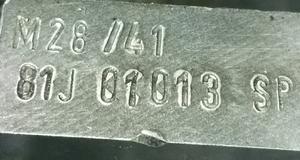 Join Date: Jan 2003
Location: Double Oak, TX
Posts: 15,555

---
Lars - you have the correct resistor pack - just move 6 to 8 as you have noted.
__________________
Does it have the "Do It Yourself" manual transmission, or the superior "Fully Equipped by Porsche" Automatic Transmission?
George Layton March 2014
928 Owners are ".....a secret sect of quietly assured Porsche pragmatists who in near anonymity appreciate the prodigious, easy going prowess of the 928."

08-04-2015, 05:21 PM
User
Join Date: Oct 2012
Location: Denmark
Posts: 39

---
Thanks Roger, I will give it a try tomorrow. Its a start that the blower runs, but going at it at max speed quickly gets old :-)
On another note: I just sent you an email (
[email protected]
) concerning the aftermarket GTS windshield noise killer silicone-thingie. After I changed all the old insulation the wind noise is suddenly much louder

Lars

12-23-2018, 08:58 PM

---
Hello Lars,
I have the same issue with my blower as you had.
I have a question :
since my AC needs to be overhauled, my condenser , radiator en pump have been removed.
but I left the AC electrical fan in place.
Since a year now my blower worked normally, as well as the electrical fan ( only operates in summer when really hot)
But since a week now, both my blower as electrical AC fan keep running at full speed, even in winter.
Any ideas what could cause both running? Is it all linked with the resistor pack, or can a bad temp sensor ( the one in the air tube to the alternator)
cause this?
Gerrit