Official 80-95 928 VIN & Option check request thread - Cannot run VIN checks on 78-79

12-19-2017, 12:35 PM

---
WP0ZZZ92ZCS841442

1982
C00- German Market
M28.11- engine serial # range 82 C 0001>5000
G28.05- transmission serial # range 11C 0001>9999

M489 - Switches and insignias in german language- West Germany, Belgium Luxembourg, Italy, Netherlands, Austria, Switzerland, Sweden, Denmark, Norway, Finland, France
I499 - Sekuriflex windshield
M568- Tinted windshield and side glass
M650- Sunroof

12-19-2017, 01:11 PM

12-19-2017, 07:11 PM

---
WPOJBO929ES862633 Please and thank you!
---
Last edited by Jacob Hallenbeck; 12-19-2017 at

09:43 PM

.

12-26-2017, 12:56 PM
Petie3rd
Rennlist Member
This Post Sponsored by:
Dow Corning« & DeoxIT«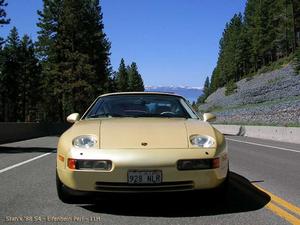 Join Date: May 2004
Location: Philly PA
Posts: 20,828

---
This is a VIN from possibly the 1987 Euro 10th anniversary show car?
WP0ZZZ92ZJS840251

12-27-2017, 06:41 PM

---
WP0ZZZ92ZJS840251 is an automatic 1988 S4 delivered in Germany.
Equipment:
I139: Seat heating left
I299: Prepared for unleaded fuel, automatic transmission
I326: Radio - Blaupunkt Berlin
I340: Seat heating right.
M462: Sekuriflex windshield
I513: Lumbar support - right seat
M533: Alarm
I538: Right seat with positrol and lumbar
I570: High output air conditioner
I586: Lumbar support - left seat
M650: Sunroof
I980: Seat cover - draped leather

Is it consistent with the car?

12-27-2017, 11:20 PM

---
WP0JB0929ES862633
MY 1984 928S
C02: US Market
Motor: M28.20
Transmission: A28.01
Options:
I158 - Blaupunkt Monterey SQR23 (2 channel)
M185 - Automatic 2 point rear seat belts
M190 - ncreased side door strength / Doors with safety bars- US, Canada, Australia
I218 - License brackets front and rear
M418 - Rubstrips
M438 Comfort Seat - Right - Electrically Adjustable
I464 - Without compressor and tire pressure gauge
M484 - Symbols and insignias for switches and instruments, US market
M490 - Hi-Fi sound system
M494 - Additional Amp
I498 - Without rear model designation
M533 - Alarm system
M576 - Without rear fog lamp
M650 - Sunroof
I912 - Vehicle without identification plate

01-01-2018, 11:33 AM

01-01-2018, 01:10 PM

---
WP0ZZZ92ZFS841018

1985 Euro S

C10- Swiss Market
M28.22- potentially a 9.3:1 compression motor rather than 10.4:1, since it's Swiss market. Pull a plug and have a look at the piston dish (?)
A28.06- transmission serial # range 16 F 05001> 11000, R&P 2.54:1

I139- Adjustable Seat Heating - Left
M220- Limited Slip Differential, 40%
I340- Seat heating - Right
I395- Light metal wheels - forged, silver colored anodized, 7JX16, tire 225/50 VR 16
I415- Widening of the gauge on the track on the rear axle
I454- Automatic speed control
I525- Alarm with continuous sound
I593- Antilock brake system
---
Last edited by Rob Edwards; 01-01-2018 at

01:26 PM

.

01-12-2018, 09:54 PM
User
Join Date: Oct 2013
Posts: 71

---
Good day, I am looking at a nice 1988 S4 and the rear hatch option sticker is gone
Anyone could tell me the option of this car WPOJB0927JS861104
Thanks in advance

Marc

01-12-2018, 09:56 PM

---
WP0JB0927JS861104
1988
C36 - Canadian market
M28.42- engine serial # range 81J 00001 >05000
A28.12 -transmission serial # range A2812 1J 00001>10000
M018- Sport steering wheel with elevated hub 30mm
M139- Adjustable Seat Heating - Left
I158- Blaupunkt Reno SQR46
I302- Type designated on rear end
M340- Seat heating - Right
M418- Protective side mouldings
M494- 87-88 Additional amp Blaupunkt BPA420
M533 - Alarm
M650 - Sunroof
I980 - Seat cover - draped leather

Yesterday, 09:46 PM

Today, 01:53 AM

---
92A0810901

1980
C02
000000 - No engine code but should be an M28.13, engine serial # range 810 0001 >5000
G00000 - No trans code but should be an A22.01, transmission serial # range 16 00001>03000


M197 Stronger battery (88 Ah)
M261- Outside mirror - plain-Passenger's side, electrically adjustable and heatable
M437- 6-way Comfort seat left, electrically adjustable, 78-84
M438- 6-way Comfort seat right, electrically adjustable, 78-84
I490- Hi-Fi sound system
M563- Automatic air conditioner
M650- Sunroof

Today, 02:34 AM
User
Join Date: Dec 2016
Location: Santa Rosa, CA
Posts: 8

Vin Check Please
---
1989 S4
1989 S4
1989S4
1984 928S Euro - Destroyed by Wildfire
1984 928S Euro - Destroyed by wildfire
Hi Rob ,
My 1984 928 burned in the October Fires in Norcal. I have a 1989 928 S4, Vin
WP0JB0928KS860786
. Thanks Jim Fletcher
---
Last edited by 1984928s; Today at

03:54 AM

. Reason: Add Pictures

Today, 02:44 AM
Addict
Rennlist Member
Join Date: Jan 2017
Location: Los Angeles
Posts: 6
Thread
Thread Starter
Forum
Replies
Last Post

Posting Rules
You may not post new threads
You may not post replies
You may not post attachments
You may not edit your posts
---
HTML code is Off
---