Bilstein vs. Koni vs. Sachs

11-26-2012, 01:04 PM
User
Join Date: Apr 2012
Posts: 98
Likes: 0
Received 0 Likes on 0 Posts

Bilstein vs. Koni vs. Sachs
---
I have read most of the threads I could find on here and Pelican, but haven't seen a comp review.

My right, front shock on my '84 US is n/g (tire rub on even minor bumps). The car will never be raced. I see that the Sachs is least expensive, with the Bilstein at the top price point. Is there a need for Konis or Bilsteins for a nice "daily driver"? Do they all fit without modification (the sales sites say "yes", but I've seen scuttlebutt to the contrary). Any help would be appreciated, I could save up to $200/ pair, but not be happy.
---
Last edited by illini-heel; 11-26-2012 at

01:54 PM

.

11-26-2012, 01:16 PM
Super User

---
Get the Boge/Sachs. You'll appreciate the new shock ride and save a few bucks.

The issues with shock replacement are in using and re-using the height adjusters. The issue you face is if the threads are seized or the rear tubes won't press off. Find some pics or the PET drawings if that's not clear.

11-26-2012, 02:56 PM

11-26-2012, 03:47 PM
Petie3rd
Rennlist Member
This Post Sponsored by:
Dow Corning« & DeoxIT«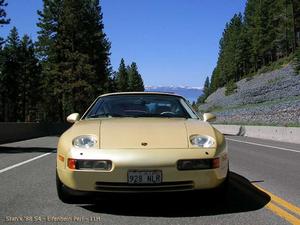 Join Date: May 2004
Location: Philly PA
Posts: 22,679
Likes: 0
Received 0 Likes on 0 Posts

---
I would suggest to get a full set of Bilstiens,
they will come with new perches and collars,
then its a simple process of swapping over the springs and the top mounts.

They work very well with stock springs,
you will lose the floaty Caddilac ride that you get from the Boges

11-26-2012, 07:02 PM
Addict
Rennlist Member

Join Date: Jun 2003
Location: Helsinki, Finland
Posts: 9,278
Likes: 0
Received 0 Likes on 0 Posts

---