Andre Hedrick

07-23-2012, 01:50 AM

---
RIP Andre
____________
Jimmy
89 S4 Black Black

07-23-2012, 02:49 AM
Been selling Twinkies on Ebay,
have some extra cash right now.
Rennlist Member
Join Date: Jan 2010
Location: Tejas
Posts: 5,516

---
I will post about Val's response in the Off-Topic thread, maybe some who don't frequent the 928 forum will post here.

07-23-2012, 03:03 AM
Been selling Twinkies on Ebay,
have some extra cash right now.
Rennlist Member
Join Date: Jan 2010
Location: Tejas
Posts: 5,516

---
Copied from my post in Off-Topic, so Val can see.

I rode down I-5 with him last October to Sharktoberfest, and we shared a room together. We had some genuine good times playing "avoid-the-cops" on the way. I was the eyes and he was the brains, with his front and rear detectors. Avoided a for-sure ticket around a left turn with his gadgetry, he was very proud of that near miss, I gave him a high-five.
There was a flatbed truck going as fast as we were in his BMW down the grapevine, with it's mudflaps flying out horizontal. "Like Superman's cape" he quipped and we laughed and laughed as the truck spent several miles alongside us, like a comic-book hero.
He had recently been diagnosed with diabetes, and had to check his sugar regularly, which was a new routine for him.
My thoughts go out to his family, he seemed so dedicated to them. Home-schooled, the whole bit.

07-23-2012, 03:04 AM
Spell Checker
Rennlist Member
Join Date: Jun 2004
Location: City of Alexandria, VA (second home: Tokyo, Japan)
Posts: 16,755

---
Story about Andre: Andre and I argued about linux and its general applicability all the time. We were both kernel hacks (way way more than me of course, I only did it in graduate school). Both filesystem guys (more so he then me, of course, I ended up a patent attorney after school). The arguments were always well reasoned, but we respectfully disagreed. The same is true of his last posts on this board; arguing about immigration and the constitution. While my responses were quip, I had/have a lot of respect for Andre. See you other side Andre; please make sure to build me a 2.4 kernel machine to hack on, I won't know how to work on anything else.

07-23-2012, 04:45 AM
Addict
Rennlist Member
Join Date: Mar 2002
Location: California
Posts: 1,617

---
A terrible loss of life and my heart goes to his family and friends.

A cruel reminder to cherish the lives of others every day, cause you never know.

Rest in peace.

07-23-2012, 11:56 AM
Supercharged
Rennlist Member
Join Date: May 2002
Location: Back in Michigan - Full time!
Posts: 18,796

---
Val,

Thank you for your courage and your stoicism. Your note makes me realize how precious the ones around us are and how we all too often take them for granted.

While I never met Andre face-to-face, he and I were certainly friends. If we had been in close proximity, I am sure we would have hung out all the time.

Andre's passion for the the Porsche 928 and this community was infectious. A number of years ago, Erik Scharinger from Green Bay, WI put together a drive to raise funds for one of our community racers, Mark Kibort, who had blown an engine. Andre, like me, loved reading and watching Mark's accounts of racing. He made it feel like we were there on the track in our own car.

This arm-chair racing was obviously worth something to both of us. As I remember it, we were trying to raise about $5,000. The idea was if we got 50 people to each donate $100, Mark would be able to get the now motor, get back to racing, and start winning a few races.

Well the best laid plans, don't always work out. The fund raising stalled out a number of times and each time, it seemed like it was either Andre or me would re-re-kick start the new round. I wouldn't say we were in a bidding war, but we were certainly thinking along the same lines.

Andre always seemed passionate about life and didn't sweat the small things. I appreciated this viewpoint and I hope your children will embrace this too as the navigate life's challenges. The 928 community is more about the people than the car. It's just the common theme that has always brought all of us together.

Andre's passing is a loss for us all and we will all miss him dearly. His spirit will remain and continue to guide us all. If we are open to it, our lives will be filled with signs of his spirit.

07-23-2012, 12:32 PM

---
This is very upsetting news. Andre was a gentleman and a pleasure to converse with via Rennlist. Smart, articulate and always willing to give a helping hand when he could, its little wonder why there are now over 100 posts expressing condolences. For someone who was fighting with his inner demons, he sure had a great sense of humor, which makes this tragedy all the more shocking and confusing.

RIP, my friend.

To his wife and children, I hope you have the strength and wisdom to look back at your dear Andre's life and focus on his accomplishments, his kindness and decency and remember him for the wonderful person he was.

God Bless.

Reposted from O/T

07-23-2012, 08:43 PM

---
Val,

My heart and prayers are with you and your family.

God Bless

07-23-2012, 10:40 PM

---
Val,

My heart is breaking for you and your family. So very, very sorry.

07-23-2012, 11:44 PM

---
Bill called earlier and gave me the news. I'm very sadden by his departure. He seemed to
love his car and enjoy so many things in life. He was especially proud of winning the
"Used but not abused" awards at the prior Sharks in the Parks events.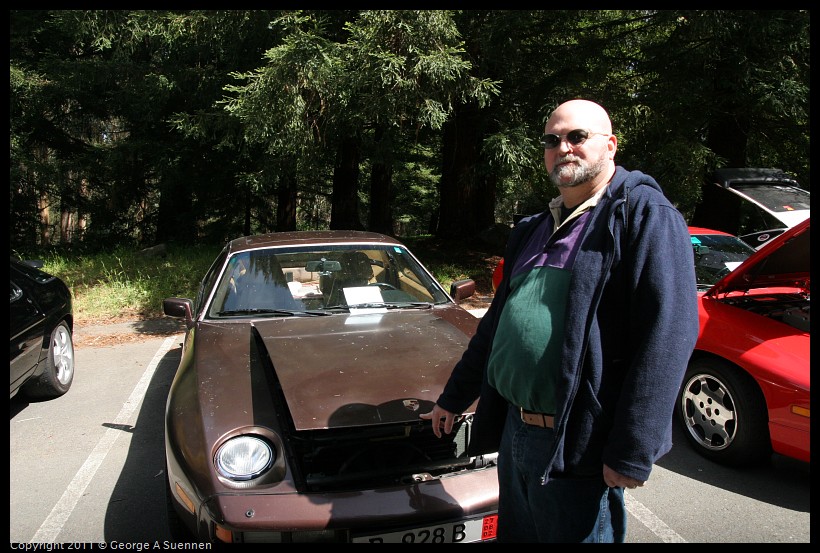 We'll miss him.

07-24-2012, 01:08 AM

---
Man, I just don't know what to say here. Very sad news and so hard to read through this thread. My heart goes out to Val and her family.
RIP Andre, you will be missed.

07-24-2012, 01:56 AM

---
Disheartening news.....to leave a family behind like this...will not say the one word which comes to mind.

God bless the family and may God lead you through this

07-24-2012, 02:15 AM

---
I think Andre's car won the "Used but not Abused" award at Sharks in the Park every year. His kids stuffed the ballot box. I will retire that award.

07-24-2012, 04:11 AM
Cottage Industry Sponsor
Lifetime Rennlist
Member
Join Date: Oct 2001
Location: Silly Valley, CA
Posts: 24,842

---
The three older kids were with him quite often at 928 related evens. Apart from Sharks in the Park, I remember seeing them at fun drives, and at wrenching gatherings/parties. Great, very energetic and smart kids!

07-24-2012, 09:34 AM

---
Thread
Thread Starter
Forum
Replies
Last Post
Racing & Drivers Education Forum

Posting Rules
You may not post new threads
You may not post replies
You may not post attachments
You may not edit your posts
---
HTML code is Off
---