airbox mortgage

07-06-2010, 07:38 PM
Been selling Twinkies on Ebay,
have some extra cash right now.
Rennlist Member
Join Date: Jan 2010
Location: Working the local street corner for $$$
Posts: 6,025

---
I used the bungie cords from HD with a plastic ball attached. They are called "Elastic Ties" or something like that, and are sold in an 8-pack for about $6. Break off the ball with a hammer, then untie the individually knotted ends, then tie them back together into a simple knot, thus forming a loop. Wedge the knotted part into the rear attachment part for the straps on the airbox, slide the little "keeper" down to secure it there, then hook the loop over the front.
They look good, work great, and you will have 4 spares when you're done! That's less than $1 each


07-06-2010, 07:58 PM

---
I also was looking at nylon straps with plastic locking clips. My local ace sells the nylon straps for about .75 cents a foot with an additional .50 cents for the plastic clips.

Tomorrow i am going to see if a 911 air box strap would work on my car.

thanks, please keep the ideas coming. I was just told by a Porsche supplier that the straps has went close to $60 bucks each. .... 60 x 4 = 240 bucks

07-06-2010, 09:04 PM
Addict
Rennlist Member

Rennlist
Site Sponsor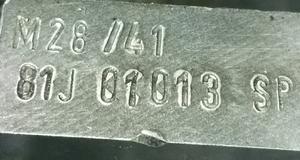 Join Date: Jan 2003
Location: Double Oak, TX
Posts: 15,609

---
The early straps will not work on the 85 through 95 32v cars - sorry.
Current price on the later type is $50.23 - daylight robbery.
I guess we will not be selling many of those
__________________
Does it have the "Do It Yourself" manual transmission, or the superior "Fully Equipped by Porsche" Automatic Transmission?
George Layton March 2014
928 Owners are ".....a secret sect of quietly assured Porsche pragmatists who in near anonymity appreciate the prodigious, easy going prowess of the 928."