Sleeping Shark

12-18-2009, 08:33 AM

Sleeping Shark
---
After the misseries described in my previous post, bad luck struck me again

But when I took the pictures, she woke up a little and pulled up one eyebrow:
And when I took her out for a spin in the snow it was party-time!!!


12-18-2009, 09:58 AM

---
Groan... Here in balmy Virginia we have a forecast for up to ONE FOOT of snow over the next 24 hours. I lived in central New York for 30 years so I am used to it, but it's also why I moved back down here - to get away from it! And BTW, I think you would need some kind of borescope to tell, but if that stray piece of metal in the cylinder was a part of a ring, I think you would find a segment of the piston crown is missing. Compression check as already suggested is a good first step.

12-18-2009, 10:35 AM
Petie3rd
Rennlist Member
This Post Sponsored by:
Dow Corning« & DeoxIT«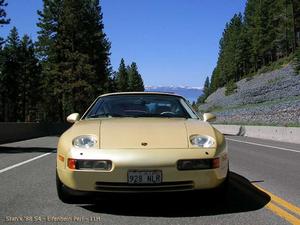 Join Date: May 2004
Location: Philly PA
Posts: 22,608

---
for the snow on your car, i would suggest to clean off as much as you can, so when the sun warms the car the snow wont melt and fill up the hatch area or the CE panel or the sunroof area with water.
Usual leak spots, rear hatch seal,
rear spoiler through bolts on the hatch
sunroof seal on the roof
and the blower box seal just above the CE panel
also make sure there is a hot post cover fitted,

And for an extra measure cut a piece of inner tube and fit it under the hot post cover to assist in water not fouling the connections.
Also open the hatch and inspect the ground point as this is where the water that leaks through the hatch will go and cause charging/starting problems
I have seen this all to often the snow seems to find ways of filling the car with water in much different ways than a normal rain would.
A cover would be good for the car but dont let it sit for days covered and wet, this would damage the paint

12-18-2009, 10:43 AM

---
Brings back BAD memories of living in New Jersey and seeing my XK150 like that. Had a garage BUT that was for mom and dads cars, wait it was just dads cars that got in there.
Another thing that the freeze and snow will do is age your leather almost as bad as the sun does down here.
Mine is outside today since we drove it yesterday and did not put it back in teh shop. Well it is raining so I guess I will find if there are any leaks in the new one or not.
Just do a sun dance and hope for warmer weather, you know GLOBAL WARMING. Looks like you will shovel about 6" of GLOBAL WARMING.


12-18-2009, 12:03 PM

---