does any one have a 1992 porsche 928?

11-25-2007, 12:32 AM
Addict
Rennlist Member

Rennlist
Site Sponsor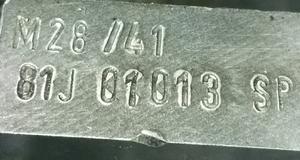 Join Date: Jan 2003
Location: Double Oak, TX
Posts: 15,663

---
There are lots of 92 GTS's around the World and in the States.
All the early Stateside GTS's were built in 92 and called "Early 93" due to lots of 91 cars still on the dealers lots.
Shocki had an 92 Euro over here until he returned to Germany.
What is the point you are trying to make?
__________________
Does it have the "Do It Yourself" manual transmission, or the superior "Fully Equipped by Porsche" Automatic Transmission?
George Layton March 2014
928 Owners are ".....a secret sect of quietly assured Porsche pragmatists who in near anonymity appreciate the prodigious, easy going prowess of the 928."

11-25-2007, 12:38 AM

---

11-25-2007, 11:02 AM

---
928 was officially introduced to public March '77 in Geneve regardless if there is pictures of this event or not. Few weeks before in February '77 selected journalists had been invited to south of France to drive pre production models. Pictures taken there appeared in many period magazine articles. Those demo cars were not yet build on normal production line. Instead they were build in one corner of factory to rehearse how production line should work. Around time when 928 was on stand in Geneve production started in normal production line. All these, protos and production cars, were '78 MY models with '78 MY VIN. Early on, ROW production was much more common than US models. In summer '77 ROW VIN was going in 00750 range while only under 100 US and just few Japanise models had been build up to that time.

'92 MY GTS is very common in ROW. Well, as common as any GTS can be. It could also be argued that early '93 US cars are '92 MY as they have same parts as real '92 ROW cars. For example block still has studs to keep lower half in place just like '92 ROW GTS engines. Early '93 VIN was just marketing trick used as Porsche could get away with it when US production was halted for several months to clear unsold late S4's and GT's from distribution network.

Its highly likely also ROW GTS production started some months later than usual as its impossible to find GTS registered before November or December '91 from Germany. Usually first cars for each model year had gotten plates late summer already. Still, at least one prototype each had been ready for ROW, US and UK markets as photos for '92 MY brochures were taken in June '91 in Italy.

11-26-2007, 02:32 AM

---
No unless its US model. '93 MY ROW production started in 08/92. All ROW GTS made before it were '92 MY with N in VIN to indicate this.
There are mistakes in my previous long post. Special colors addition was dated 10/89 and thus is obviously for '90 MY. Out of its 10 metallic colors Oak green was only one which was added to '91 MY brochure standard set. Tahoe blue and 8 other colors were not included to this next years list but most of them were in '92 MY GTS brochure. In anycase there were more colors available than most MY basic brochures show without resorting to paint to sample option. As some of the colors were not as well advertised this alone was probably enough to make them more rare. Combined with most buyers being cautious during early nineties economic climate and Porsche having unsold cars in dealers which most were basic white, black etc demonstrators its no wonder so few have more adventurous colors.