928UK 9th anniversary pics!

11-24-2007, 06:35 PM

a few more pics
---
it was another good opportunity to get together with those in the uk who could brave the cold weather and make it to oxfordshire. andrew brierly had made an excellent job of organising things right down to laying on security especialy drafted in from the motherland (see last pic)

---
Last edited by drnick; 12-07-2012 at

12:45 PM

.

11-25-2007, 12:26 AM

---
One of the very few cobalt blue 928. Nice Car.

I have seen about 3 cobalt blue with light grey interior (2 in the US and this one),
but only one with blue interior like mine.
I have seen it here one Rennlist on a video.

Does anybody have seen another one?

11-25-2007, 08:47 AM

---
Interesting. I just noticed that in a couple of rear shots, there are two rear fog lights present. Any "euro" I've seen in the states always has just a single fog light on the left side. I thought they all came that way, never saw one with two until now. I wonder why?

11-25-2007, 11:19 AM

---
It seems to be UK thing and not in all of them either. On continent LHD ROW models have only one on drivers side.
Mafia boys look fairly convincing.


11-25-2007, 12:11 PM

---


Reason why Cobolt blue, Tahoe blue, Oak green, Amethyst and several other colors are relatively rare is that they were introduced in 10/90 on special single page color brochure. I think it was attempt to generate more sales on quickly fading market. Page was meant to be added between pages of '91 MY color brochure but who knows how many times it was left out. Some of these 10 special colors like Cobolt, Oak and Amethyst were added to normal '92 MY brochure and remained in GTS brochures for years. Few colors like Tahoe didn't even make it to any later MY brochures and are even rarer. Tahoe was available later too if one knew to ask. If salesman didn't have this special brochure around very few people found out such color was even available.

Very few people did select these more common colors either as number of sold cars was so small compared to earlier years. When sales is smaller its only natural that there are only very few buyers who are bold enough to take out of the ordinary color combination. Sales personel sometimes even try to discourage buyers from taking certain colors since they know its very likely same car ends up in their used car lineup in few years time. Then they will have hard time selling it to next customer. Thus they can't give as much for it in exchange than what they could give for some easier color. Plus they usually have few common color like silver, black, white, basic red etc. cars in dealer network ready for delivery means they try to cut deal on those instead of ordering something which can take months to get.

11-25-2007, 12:29 PM
Addict
Rennlist Member

Rennlist
Site Sponsor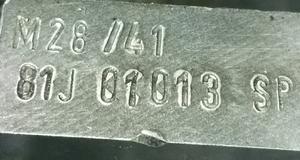 Join Date: Jan 2003
Location: Double Oak, TX
Posts: 15,663

---
As A Brit and IIRC the law in the UK stated that 2 rear fog lights had to be used.
The rear fogs were mostly built in to the rear light cluster on all cars unles it was an older design like the 928.
I am sure one of the British Renn members will concur or put me right.8>)
__________________
Does it have the "Do It Yourself" manual transmission, or the superior "Fully Equipped by Porsche" Automatic Transmission?
George Layton March 2014
928 Owners are ".....a secret sect of quietly assured Porsche pragmatists who in near anonymity appreciate the prodigious, easy going prowess of the 928."