interior light question

11-24-2007, 07:20 AM

interior light question
---
sorry for the newb question but i just got to drive my 928 for the first time yesterday and was unsure of a few issues.
its an automatic so when you shift into gear the dash lights up with the gear but i am wondering if the notations on the side of the shifter are supposed to be lighted as well. in the dark it is not as easy to see where the shift lever is going other than to look at the dash. is this broken or are there no lights on the center console/shifter?
also, i think my cig lighter is fubar. if you press the lighter in there is a light that comes on right above it but the lighter doesnt stay pressed down like in other cars. doesnt seem to get red hot either. do i have a faulty lighter? guess i am wondering since i might need to use it to power an ipod or something. and whats with the light above it?
thanks all

11-24-2007, 10:26 AM

---
Originally Posted by
macfly4
sorry for the newb question but i just got to drive my 928 for the first time yesterday and was unsure of a few issues.
its an automatic so when you shift into gear the dash lights up with the gear but i am wondering if the notations on the side of the shifter are supposed to be lighted as well. in the dark it is not as easy to see where the shift lever is going other than to look at the dash. is this broken or are there no lights on the center console/shifter?

also, i think my cig lighter is fubar. if you press the lighter in there is a light that comes on right above it but the lighter doesnt stay pressed down like in other cars. doesnt seem to get red hot either. do i have a faulty lighter? guess i am wondering since i might need to use it to power an ipod or something. and whats with the light above it?
thanks all
1) I'm quite sure there is no light on the center console/shifter. There's no light on mine either. But you can buy a kit to install there. I think Nicole (Hoocked On Cars) has it.
2) I think you have a problem with your lighter only. I had the same problem with mine and fixed it by cleaning everything in the lighter itself. If there is no power, check the fuse for the lighter power. Sorry but I don't remember witch one it is.
Good luck anyway.
---
Last edited by Bertrand Daoust; 11-24-2007 at

12:15 PM

.

11-24-2007, 12:25 PM
Addict
Rennlist Member

Rennlist
Site Sponsor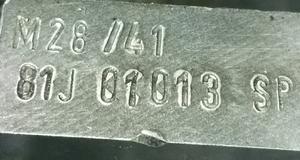 Join Date: Jan 2003
Location: Double Oak, TX
Posts: 15,662

---
Betrand is correct about the light on the shift plate and I also thought Nicole had a kit for updating the shift plate. Could not find it on her web site.
www.hookedoncars.com
.
Email and ask her and also do a search on the list.
__________________
Does it have the "Do It Yourself" manual transmission, or the superior "Fully Equipped by Porsche" Automatic Transmission?
George Layton March 2014
928 Owners are ".....a secret sect of quietly assured Porsche pragmatists who in near anonymity appreciate the prodigious, easy going prowess of the 928."

11-24-2007, 01:51 PM

---

11-25-2007, 01:30 AM

---
thanks for the info. thought i was going crazy or the light had burned out. seems kind of strange that it isnt lighted though. at least they could have made the letters glow in the dark like the door handles!
and i figured out that the lighter does work but i have to press and hold it down to get it hot. its not like other cars where you press it in , it sticks and then pops out when its done.
i have to say im impressed with this car. it seems , at first sight, that it would feel a bit like a boat since its so big but it is amazingly nimble and turns in like nothing i have driven before. and the turn radius is to die for. seems ilke this thing turns so tight. love my 'new' car.