MM Replacement question

11-25-2007, 06:22 PM
Addict
Rennlist Member

Rennlist
Site Sponsor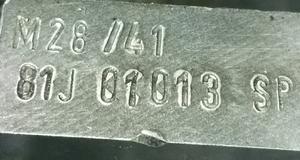 Join Date: Jan 2003
Location: Double Oak, TX
Posts: 15,663

---
Hi Michael,
Could I have one of the your old MM's to cut up please for my thesis on MM's 8>)
Roger
PS: I will reimburse the shipping of course.
__________________
Does it have the "Do It Yourself" manual transmission, or the superior "Fully Equipped by Porsche" Automatic Transmission?
George Layton March 2014
928 Owners are ".....a secret sect of quietly assured Porsche pragmatists who in near anonymity appreciate the prodigious, easy going prowess of the 928."

11-25-2007, 06:51 PM

---
Yes, of course. Give me sometime to package and ship. Dont worry about the shipping cost, maybe you can give me break when I'm ready to order other stuff.

I highly reccomend Rogers MM to the Anchor MM.

11-25-2007, 07:04 PM

---
I installed Roger's solid mounts as well. Fit pretty well, no issues. Did make a pair of aluminum washers from an old stop sign as shims under the mounts so that pan was a just even with crossmember. Was overkill, could have installed without.