Cam belt idler pulleys S4

06-20-2007, 09:37 PM
Petie3rd
Rennlist Member
This Post Sponsored by:
Dow Corning« & DeoxIT«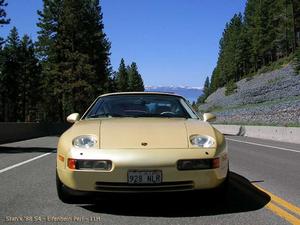 Join Date: May 2004
Location: Philly PA
Posts: 22,610

---
the rollers help to keep the belt from jumping a tooth if it should lose tension, this could save you set of rebuilt heads, of course on a race car you probably check the tension of the belt before you go racing, it is still cheap insurance to leave the rollers in place

06-21-2007, 06:00 PM
Addict
Rennlist Member
Join Date: Aug 2005
Location: South Africa
Posts: 105

---
Thanks for all the input. I have completed the refurb, did a very thin zinc plating, probably only microns, bearings went back in without any hassle.

I wanted them coated as the left roller never seems to touch the belt, and there was a bit of corrosion on it, the right roller does contact the belt so that will keep it clean & the coating will do no harm, & as you say it will wear off, like the cadmium plating on the tensioner rollers.

04-25-2014, 07:37 AM

---
Bearings on single roller version are common std 6200 series bearings IIRR but how about two roller version? Does it use same bearing as single version what was used before and after '87.5-90.5 dual version?

04-25-2014, 08:39 AM

---
Great, thanks. I have two new bearings around I got for single roller version and one local '89 S4 needs new ones. They are so cheap that might as well change them whenever belt is changed. In this case drivers side roller got very hot when bearing failed. Belt was touching it only on idle. Maybe that was reason why it was left off in middle of '90 MY. Since later MY engines don't seem to have more failures than ones which use dual roller version its very likely unnecessary.

04-25-2014, 07:19 PM

---

10-20-2014, 06:51 AM
Addict
Rennlist Member
Join Date: Aug 2014
Location: Adirondack Mountains, New York (For NYC residents: "near Canada")
Posts: 1,950

---
Removing my idler roller bracket was the worst part of the job. Only one pin was corroded, allowing me to wiggle it a bit, pry on it, and walk it off. Had both pins been corroded, it would have been hell. Those circlips were a test of hand-eye-headlamp coordination. But when the crank pulley came off with just a bit of tapping, all was forgiven.

The idler roller(s) is (are) apparently intended to prevent a loose belt from skipping teeth on the crank pulley. I think Porsche engineers have always been concerned that the belt might be loose when the engine is cold, beyond what their peculiar tensioner can deal with.

That they went from one to two idler rollers in '88 suggests they actually had some failures that they blamed on loose belts (rather than the peculiar tensioner). From my reading, you are the only owner to report a shiny (used) roller (the added port-side roller; I've not seen anyone report a shiny starboard roller). They went back to one roller in '92? That suggests they had a problem that they blamed on the second, port-side roller. Or did something with the tensioner to make it unnecessary. Odd. I understand they eventually dumped the peculiar tensioner in the 968 engine; some stubborn engineer must have retired.

I think it might be bad luck to leave out the roller, though. I sanded the posts smooth, slathered on the anti-seize and put it back, cursing those circlips. Twice, since I forgot to put the rear cover on first.

I'm mostly speculating, and I'm new to this - I hope someone corrects me.

05-08-2017, 04:10 PM